As the cliche goes, what doesn't kill you makes you stronger. That was certainly true for the 2015-16 Pittsburgh Penguins, and it could very well be the case again in 2017.
Pittsburgh is currently without five key players – Kris Letang, Conor Sheary, Bryan Rust, Trevor Daley, Olli Maatta – from its Stanley Cup winning team last spring. Letang could be back this week, but the other players are all out long term.
Yet, the Penguins keep on winning. Since losing Sheary, Pittsburgh is 7-1-3; since Maatta and Justin Schultz, who returned from his concussion Saturday, both went down on Feb. 16, the Penguins are 2-1-1.
Last season, Pittsburgh went 13-2-0 without Evgeni Malkin in March and April, and the Penguins also lost Marc-Andre Fleury during that span. Those injuries ended up making Pittsburgh stronger because the team learned to play without them. Then once Malkin returned, the Penguins were the NHL's best squad. Let's take a look at the benefits of Pittsburgh going through the injury bug again this season.
Blue Line Depth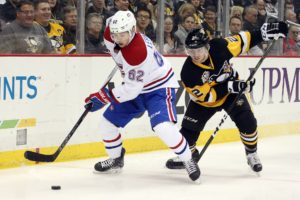 As a whole, the blue line has struggled when just one of the top six defenders is out of the lineup. Steven Oleksy and Cameron Gaunce have filled in admirably, but they aren't players the Penguins want in the lineup come playoff time.
However, one defender coach Mike Sullivan has come to trust a little bit more is Chad Ruhwedel. He's averaged 16:27 per game in 15 contests, which nearly equals the amount of games Oleksy and Gaunce have played combined. Ruhwedel played a season-low 12:37 on Saturday versus Philadelphia, but he scored a key insurance marker in the 4-2 victory. In his 15 games, Ruhwedel has two goals, four points and a plus-6 rating.
If everyone is healthy, Ruhwedel is now the number eight defender after the trade for Ron Hainsey, but if problems arise during the playoffs, Ruhwedel has shown he is capable of holding down the fort in a bottom pairing capacity. And while the regular defenders are out, he's gaining valuable NHL experience. Despite being 26, Ruhwedel had just 33 games at the NHL level prior to this season.
Im really liking what Im seeing from Chad Ruhwedel. Comfortable in all situations. Will make mistakes. But, is definitely an NHL defenseman.

— Mike Kearney (@MKPGH) February 19, 2017
Trades More Likely
Without the injuries, it's very likely that general manager Jim Rutherford wouldn't have felt the need to trade for defenseman Ron Hainsey. Many Pittsburgh fans didn't initially like giving up a second-round pick for a soon-to-be 36-year-old, but even when completely healthy, Hainsey could prove to be an important addition to the Penguins roster.
Pittsburgh has steadily improved while shorthanded recently, killing 19-of-21 penalties (90.5 percent) since Feb. 14, but the Penguins are still ranked just 21st in the NHL for the entire season. Hainsey is an excellent penalty killer. He averaged 3:03 shorthanded minutes in 56 games for Carolina, who has the top penalty kill percentage this season.
Just got off the phone with Ron Hainsey. Out of the chute bringing it: "If you could pick a place, this would be the place."

— Jason Mackey (@JMackeyPG) February 23, 2017
Even when Letang, Daley and Maatta all return, Hainsey will probably remain in the lineup because of the likely impact he will have on the penalty kill. And without the injuries, there's a pretty good chance Rutherford wouldn't have acquired Hainsey. Pittsburgh finished ranked sixth in penalty kill percentage last season, and if the unit can get hot in March, it's much more likely the Penguins will make a deep run in the playoffs.
Developing Depth at Forward
In addition to the loss of Sheary and Rust, Malkin and Carl Hagelin have both missed games since the All-Star break. Pittsburgh was without all four for a couple games this month.
This is obviously not ideal, but it has given guys like Tom Kuhnhackl and Eric Fehr more playing time. Those players being back in the lineup could be a reason why the penalty killing unit has improved in February. The injuries have also given career AHL players such as Carter Rowney and Josh Archibald a chance to receive a taste of the NHL.
What a great night outdoors! #StadiumSeries #Penguins pic.twitter.com/KjjEP3y4Zc

— Eric Fehr (@EricFehr) February 27, 2017
Similar to the defense, Rowney and Archibald aren't players the Penguins want in the lineup long term, but the more they play, the more prepared they will be if called upon for a playoff game. Archibald scored a pair of goals in one of the two games he played with the Penguins.
Not to mention having Sheary and Rust sidelined gives other young players like Jake Guentzel a chance to play with Sidney Crosby. That will only help in the long run because Guentzel is really thriving with the chance to skate with the best player in the world.
From a Pittsburgh fan's perspective, these injuries are scary because they could prevent the Penguins from fulfilling their full potential. Despite the success in February, Pittsburgh isn't quite where it needs to be to go on another deep playoff run. The team is giving up far too many shots and pinned deep in its own zone too often as of late.
But there's still a good chance most, if not all, the injured Penguins players return for the postseason, and at that point, Pittsburgh will be a better team for having gone through the injury adversity.
Carter Rowney discusses team depth on this week's episode of Pens Pulse with @PensJG. pic.twitter.com/IkHE3w8ND3

— Pittsburgh Penguins (@penguins) February 16, 2017
Dave Holcomb is excited to join The Hockey Writers team, covering the Pittsburgh Penguins. Holcomb began his NHL work as a fantasy columnist at The Sports Network. In 2015, Holcomb joined the fantasy NHL team at FanRag Sports, where he eventually worked into a beat writer position, covering both the New York Islanders and Pittsburgh Penguins. He continues to cover the Metropolitan division, along with the NFL and Syracuse basketball, for FanRag Sports. To find more of his work, follow Holcomb on Twitter at @dmholcomb.