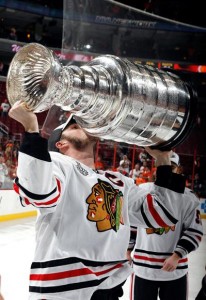 The Chicago Blackhawks are wrapping up one of their most successful seasons in franchise history, a season where they went undefeated in regulation for the first half (21-0-3) of the year. Chicago already has first place in the Western Conference locked up and have secured home ice advantage for the first three rounds of the Stanley Cup playoffs. A huge reason for the Blackhawks success has been the dominating play of captain Jonathan Toews. Heading into this season captain serious as he is affectionately called by teammates and fans has stepped up his game and forces his way into Hart trophy consideration.
Jonathan Toews is only 24 (turning 25 April 29th) and has already captained the Blackhawks to a Stanley Cup championship while winning the Conn Smythe as playoffs MVP, an Olympic gold medal, 2 World junior gold medals and 1 World championship gold medal.
Ever since being drafted it was well known with Toews you got a premier two way forward with excellent leadership abilities, those abilities had him named captain at the young age of 20 years old.
This season in addition to his continued excellence on the defensive side, Toews has developed his offensive game and is producing more than a point per game average for the first time in his NHL career. While averaging his best point per game production he is playing just 19:31 average ice time per game, his lowest average ice time since the 2008-09 season.
| | | | | | | |
| --- | --- | --- | --- | --- | --- | --- |
| Season | Games Played | Goals | Assist | Points | +/- | PPG Average |
| 2010-11 | 80 | 32 | 44 | 76 | 25 | 0.95 |
| 2011-12 | 59 | 29 | 28 | 57 | 17 | 0.96 |
| 2012-13 | 45 | 21 | 25 | 46 | 27 | 1.02 |
Toews has always had a knack for effortlessly getting through even the heaviest of traffic and make plays when it seems impossible. When you think of the player that means the most to the success of his team Toews is one of the first names that comes to mind.
With 46 points in 45 games he ranks outside of the top 10 in NHL scoring but Toews plays the game to make his teammates better and ensure the long term success of the Chicago Blackhawks.
This season Toews has played on a line with Hossa and Saad and has played a huge role in mentoring the rookie Saad to such a successful season that he is in contention for the Calder Trophy as rookie of the year.
Jonathan Toews is a coach's dream, excellent vision on the ice and can anchor the top penalty kill as he has this season with 2 shorthanded goals. Toews has already equaled his 4 game winning goals that he had in 59 games last season.
Toews has always been defensively responsible ever since entering the NHL, his worst plus minus rating was a +11 his rookie season. This season Toews sits third in the league with a +27 rating, a career high.
Heading into the postseason you can bet that winning the Hart is the last thing on Toews mind as he prepares to make an extended run towards his second Stanley Cup Championship. Toews has proved to be an integral piece of the Blackhawks success and is one of the main reasons the franchise has done a complete turnaround from their struggles of the early to mid-2000's. While it remains to be seen who will win the Hart Memorial Trophy, there is one thing that every Blackhawks fan knows, Jonathan Toews always plays with hart.