When Jonathan Toews of the Chicago Blackhawks was selected for the 2017 NHL All-Star Game, everyone was a little confused, including Toews himself. Toews has not had his best season, which is disappointing to Blackhawks fans because of his superstar status. Earlier this season, his puck control was absent along with the image of the dominant 22-year-old who led Chicago to their first Cup in 49 years in 2010. With his recent play, the captain is back to dominating again.
An Outstanding Career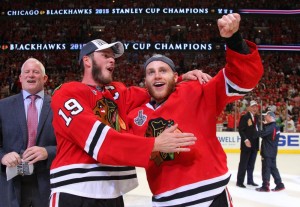 Even at his worst, Toews still plays well above average — the current average points for an NHL player is 14.8, Toews has 33. He is also currently above average in goals and assists. To be above average in a subpar season is worth noting.
Toews made his NHL debut nearly a decade ago and has had a remarkable career so far. His long list of accomplishment includes becoming one of the youngest NHL captains at only 20 years old, three Stanley Cups, one Conn Smythe Trophy, one Selke Trophy and one Mark Messier Leadership Award. On Jan. 27 2017, he was named one of the greatest 100 players in NHL history along with teammates Patrick Kane and Duncan Keith.
Is It the Back?
Since it is impossible to get inside of Toews' head, we can't know the exact reason for his slump in the first half of the season, which is where speculation comes into play. The most probable cause appears to be a back injury that kept him out for nine games.
Prior to his absence, Toews racked up four goals and eight assists in 21 games. When asked about his injury, his low-performance level began to make sense. He told Chris Hine of the Chicago Tribune:
"There's not a whole lot of things that any of our guys wouldn't play through," Toews said. "And for myself in this case, I feel like it's something that when everything's on the line you suck it up and deal with whatever the aftermath is in the offseason.

"But in this case, we've got a long ways to go. The tough thing is almost just being extra cautious to make sure it's not something that will gradually get worse the rest of the season if we don't deal with it now."
Return to Superstardom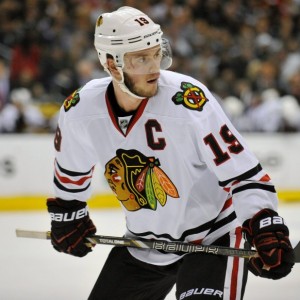 Toews struggled for a bit after returning from his absence, yet has had a steady rise back to the top. He tallied four points in a victory against the Vancouver Canucks on Jan. 22, including the game-winning goal. In a game against Dallas on Feb. 4, he scored at the last second for a 5-3 win. He tallied three points and scored the overtime goal against Minnesota on Feb. 8, ending their regular season losing streak against Minnesota.
It is clear that Toews is back to being on fire and only good things can come for the Blackhawks if he keeps it up. When asked about his recent play, he told Mark Potash of the Chicago Sun-Times: "I'm just trying to find that groove every night where I'm working hard, playing with confidence with the puck, playing the right way and not getting ahead of the play. Sometimes when you're not thinking offense, the offense just seems to come."
Illinois State University graduate and lifelong Chicago Blackhawks fan. I also write for The Odyssey at Illinois State and Fans Talk Sports. Other than hockey, I love to write historical fiction and nonfiction.