Hockey is a sport known for being fast-paced and fiercely competitive. Most of all, some people see hockey as good for one thing: violence. Fighting is the blood that flows through hockey's veins, but a lot has changed since the Rock'em Sock 'em, no-helmet era. Player safety continues to become more important as the league changes and develops. Still, no amount of fines or suspensions could stop these five players from dishing out some of the most infamous and dirty plays of all time.
5. Simon on Ruutu
It's not common to see blatantly malicious on-ice behavior in the NHL — at least, not to the extent of Chris Simon.
Simon was never the finest specimen of the league, being infamous for landing eight suspensions over the span of his 16-year career. The two most notable of these were both in 2007, both record-breaking at the time, and both due to a deliberate intent to injure another player.
His first that year was a 25-game suspension after a vicious slash to the face of Ryan Hollweg as a member of the Islanders. It took a mere 27 games for him to receive his second and longer suspension from the league, and this offense was exponentially worse than the last.
During a stoppage in play on Dec. 15, 2007, a scrum began to form around Isles forward Tim Jackman and Penguins forward Jarkko Ruutu. As the tension dissolved, Simon kicked Ruutu's feet out from underneath him, stomping on his ankle with the blade of his skate in a violent exhibition of intent to injure. Ruutu was luckily not injured on the play and would finish the game on the Pittsburgh bench, while Simon was assessed a major penalty and sent off the ice immediately.
"We dug out the clips on the things he has done in the past and looked at them and think we have been fairly kind in assessing a low number of games to a couple of those incidents. It just hasn't been a deterrent. So what is a deterrent?" said Colin Campbell, former Director of Hockey Operations, to the New York Times in Dec. 2007.
"When a player repeatedly evidences the lack of ability to control his actions and conducts himself in total disregard of the rules, as well as the health and safety of other players on the ice, each subsequent incident is deserving of enhanced scrutiny and more severe discipline," Campbell continued.
"I never met Ruutu in life outside of hockey. I am sure he is a good guy. We had a lot of run-ins on the ice, when I played for Calgary, and he was at Vancouver. And he always did everything underhandedly. So we had a decent feud going. But he is not a fighter, so I could never fight him. … By the way, when I see Ruutu playing in international games, surprisingly, it turns out he can score and pass."
After the incident, Simon left the Islanders to get counseling while serving his 30-game ban. He played only one more game in an Islanders jersey before being traded to the Minnesota Wild. Simon retired at season's end, moving on to play in the KHL until 2013.
The "repugnant and totally unacceptable" behavior from Simon deserves a spot on this list, not for its aftershocks and impact but for its purely brutal nature.
4. Hunter on Turgeon
Dale Hunter was responsible for a great deal of frustration back in his playing days. He was a fan favorite wherever he went, but was among the most hated NHL players in every other city. Not only did Hunter have a knack for scoring, but he'd beat you up right after he scored the game-winning goal; Hunter is the only player in NHL history to have tallied over 1,000 points as well as 3,000 penalty minutes over his career.
"When we traded Dale Hunter [to the Washington Capitals in 1987], we lost our soul," said the former president of the Quebec Nordiques, Marcel Aubut, to Sports Illustrated in 1995.
In fact, many people, including former teammates, say that it was this infamous hit that cost him a spot in the Hockey Hall of Fame.
The rivalry between the Islanders and the Capitals during the 1993 Stanley Cup Playoffs was intense. It was Game 6 of the first round, and it was a must-win if the Capitals wanted to stay alive. The Islanders got out to a commanding lead, which was cushioned by Pierre Turgeon with time dwindling down.
Dale Hunter received a pass behind the net, and in an attempt to move the play up ice, he gave it away to Turgeon. Turgeon easily scored and skated away in celebration, unaware of the danger that was lurking behind him. Hunter followed Turgeon to the far side boards, crushing him with a hit as his back was turned. The hit blindsided an unsuspecting Turgeon, and separated his shoulder causing him to miss most of the Islanders' playoff run.
"As I replay it in my mind, I still cringe seeing Pierre going to me," Islanders play-by-play man Ken McDonald recalled to the Washington Post. "I saw Dale coming. I knew that Pierre's head was turned, he had no idea, couldn't hear anything, the crowd was going crazy of course. You could just feel … this isn't going to be nice, this isn't going to be something you want to see."
McDonald went on to describe the hit as "not only a dark moment for the Capitals, a dark moment for the game."
Pierre Turgeon won the Lady Byng Memorial Trophy at the end of the 1993 season for his resilience following the injury. He finished his career with a total of 1,327 points in 1,294 games played.
Despite the controversy, Hunter's #32 was retired by the Washington Capitals in 2000. As an added bonus, he was given the penalty box from the Capital Centre, where the Capitals played their home games. Nowadays, Hunter is behind the bench for the London Knights of the OHL. He coached them to a Memorial Cup victory in 2016.
GAME DAY!

Your Knights take on the Saginaw Spirit. Tonight is head coach Dale Hunter's 1000th game! Congrats Dale!

Puck drops at 7:05pm. pic.twitter.com/4i5zCqswgh

— London Knights (@GoLondonKnights) January 14, 2017
3. Torres on Silfverberg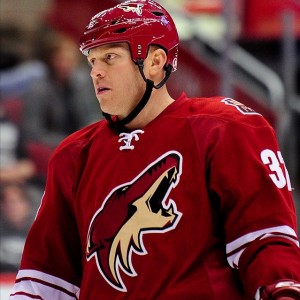 At the time of this incident, Raffi Torres had already earned his reputation around the NHL. Though not considered a repeat offender under the CBA, Torres had been suspended four times, fined three, and warned twice by the NHL for illegal checks, most notably the hit that concussed Marian Hossa in the 2012 playoffs.
Still, this hit from 2015 ranks among the dirtiest on Torres's laundry list of offenses, both objectively and subjectively; it resulted in the NHL's third-longest suspension of all time at 41 games.
Playing for the Sharks in a preseason matchup, Torres landed a vicious check on Anaheim Ducks' Jakob Silfverberg. Torres was far from the play at the time and took several long strides leading up to contact. Silfverberg's head was the principal point of contact, evident by Torres leaving the ice and raising his shoulder in order to initiate the check. To top it all of, this came 0.8 seconds after Silfverberg had lost possession. This is "well past the length of time allowable for legally finishing a check," as explained by the NHLDPS.
Even former teammates came out to denounce Torres' behavior.
"Same player every year," Ryan Kesler, Torres' teammate in Vancouver for one season, said to Sportsnet. "I played with the guy. He needs to learn how to hit. That has no part in our game anymore."
2. McSorley on Brashear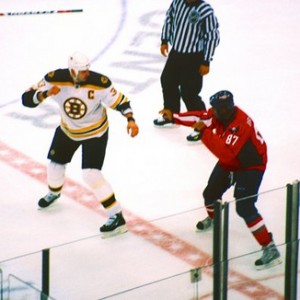 Remember in entry number five when I said that intentionally malicious on-ice plays were few and far between? Marty McSorley's lumberjack swing at the face of Donald Brashear is one of those few.
Both of the players involved were career tough guys. McSorley is best known for being the shadow to Wayne Gretzky, ensuring The Great One was left untouched by opponents. Brashear, meanwhile, still holds the Vancouver Canucks record for most penalty minutes in one season.
It was as a member of the Canucks that Brashear fell victim to one of hockey's most vicious infractions. McSorley and Brashear had already fought once on Feb. 21, 2000, but McSorley was looking for more action after Brashear injured Bruins goalie Byron Dafoe that night.
McSorley made it clear throughout the game that he had Brashear's number, according to SI. He attempted to engage in a fight numerous times without Brashear taking the bait. His frustrations were magnified by the Canucks' tough guy showboating; Brashear "skated near the Boston bench and taunted the Bruins by flexing his muscles."
With time running down on the clock, McSorley took his stick and two-handed Brashear directly on the side of his head. The blow knocked Brashear down to the ice, where he violently hit his head and was immediately knocked unconscious. Brashear suffered a Grade III concussion and an on-ice seizure because of the incident.
"It was the worst thing I've ever seen," Mattias Ohlund said to the Vancouver Sun after the game. "That guy [McSorley] should be treated the same as if he tried to kill a guy on the street."
McSorley was promptly ejected from the game and subsequently handed an indefinite suspension from the NHL. He was additionally charged and found guilty of assault with a weapon by a British Columbia court, though he was not given jail time. McSorley only served 23 games of his year-long suspension before hanging up his skates for good.
"I have no halo," McSorley said in an interview with Sports Illustrated. "Look, I take responsibility for what happened. I feel bad that Donald got hurt. But when somebody says that I intentionally struck him in the head with my stick, I have an issue with that, because that goes to the core of who I am and the player I've been over the years."
McSorley testified in court that he was aiming to hit Brashear "high in the body, up around his shoulder area" to instigate a fight. He claims he never meant any harm. "I'm not comfortable with what happened, but I am comfortable with what I intended to do," he said in the same SI interview.
1. Bertuzzi on Moore
The notoriety of this incident alone would have been enough to earn it a spot on this list, but coupled with both intent to injure and the disastrous aftermath of the play, Todd Bertuzzi's cheap shot on Steve Moore is unquestionably one of the most brutal of all time.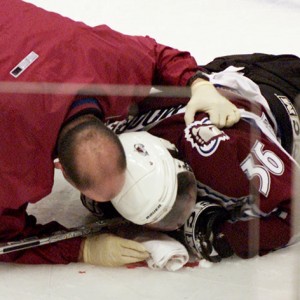 In order to understand the scope of this incident, you have to backtrack several weeks. Steve Moore was a rookie for the Colorado Avalanche when he crumpled Canucks captain Markus Naslund with an explosive, but legal, open-ice hit on Feb. 16, 2004.
Moore's hit was described by then-Canucks coach Marc Crawford as "a cheap shot by a young kid on a captain, leading scorer in the league" and "a marginal player going after a superstar with a headhunting hit" as reported by the Georgia Straight.
Naslund suffered a concussion on the play and set off a chain reaction of intense games between the Avalanche and Canucks. Brad May was reported by Sports Illustrated as saying there would be "a bounty" placed on Moore's head.
Moore had a target on his back from the beginning of the game on March 8, 2004 with players like May laying the body on hard. But no one took it as far as Todd Bertuzzi did. Bertuzzi lurked behind Moore as the play moved up ice, grabbing an unsuspecting Moore by the back of the jersey and decking him with a sucker punch to the neck. Both men collapsed to the ice as a pile-up began to form on top of an already injured Moore.
"[It was] the worst thing I've seen," said Derek Morris, an Avalanche defenseman at the time of the incident. "That was a premeditated act. We got a guy hurt because of that. It was disgusting. There's no other word for that."
It's unclear exactly when each injury occurred, but by the time the bodies had cleared, Moore was left with three broken vertebrae in his neck, a serious concussion and facial cuts. He was laying on the ice for 10 minutes before being stretchered off. He never stepped foot on the ice as a professional hockey player again.
After that game, there was a lot of threats being made by [the Canucks]. I started to think this is not normal. The next thing I know, I'm lying on a stretcher with doctors standing over me, cutting off my equipment.
Per NHL protocol, Bertuzzi was issued a match penalty and suspended indefinitely. The incident led to a nearly decade-long legal battle in three different courts across the U.S. and Canada. Moore and his family sought significant monetary damages from Bertuzzi and the Canucks organization, with Moore claiming injustice that his NHL career was ended before his rookie season concluded.
"I lost my entire career in my rookie year," Moore said to ESPN. "I think any player put in that situation would do the same thing. I can't recover anything else. I can't recover my career, the experience of living out my dream from the time I was 2½ years old of playing in the NHL."
In the end, the parties reached an out-of-court settlement in August of 2014. Global TV reported that the settlement was worth $22 million – $15 million paid by the NHL and $7 million split between Bertuzzi, the Canucks and John McCaw, who was a part-time owner of the Canucks.

Dishonorable Mentions
Tie Domi's elbow on Scott Niedermeyer – 2001 Eastern Conference Semifinals
In his autobiography titled "Shift Work", Tie Domi called this unnecessary blind-side elbow "the dumbest thing I did in my career." Devils defenseman Scott Niedermayer was skating innocently behind the play when Domi raised his elbow and caught Niedermayer in the face. Initially, players and refs were unsure how Niedermayer sustained the injury since it occurred so far behind the play. However, a livid Scott Stevens alerted on-ice officials from the penalty box.
"I don't think there is any question what happened was over the line," Niedermayer said to the New York Times days after the injury. "It doesn't do anything good for hockey. That's for sure."
Domi, a notoriously tough player, was said to have threatened Niedermayer several games before the incident.
"He said he was going to take a suspension on me," Niedermayer said in the same article. "If you look at it very simply, what he said is what happened."
Domi was suspended for the remainder of the 2001 playoffs plus eight regular season games in 2001-02.

Matt Cooke's career-ending hit on Marc Savard – March 7th, 2010
If it wasn't for this hit, Marc Savard would still be playing in the NHL, according to the man himself.
"Just not to be able to be on the ice with the guys, knowing that I could contribute, was probably the toughest thing,'' Savard said to the Boston Globe following the Bruins' 2011 Stanley Cup championship.
Though Savard went on to play in seven playoff games in 2010 and 25 in the 2010-11 regular season, the Grade II concussion he suffered on this play was the beginning of the end. Cooke caught Savard in the head with his shoulder behind the play, leading to outrage from players and fans – but no penalty was ever called, and Cooke was not disciplined by the league in any way. Given Cooke's laundry list of suspensions and controversial hits, this is one that Bruins fans will perhaps never get over. Savard, on the other hand, tries to be positive about it.
"At the end of the day, I guess I'll be known for that," he said to TSN while discussing the league's subsequent revamping of player safety rules. "It's for the best of the game. Unfortunately, at the time, there wasn't a penalty to be served for what had gone on, a blindside hit. I'm glad that something good happened out of it anyway."
Claude Lemieux's hit on Kris Draper – 1996 Western Conference Finals
This hit is one of the NHL's most infamous, and though I don't think it should rank among the dirtiest, it undoubtedly deserves a mention on this list. In Game 6 of the 1996 Western Conference Finals, Colorado forward Claude Lemieux effectively sparked a heated rivalry between the Avalanche and Red Wings that would last for years. Red Wings forward Kris Draper was playing the puck only feet from the boards, and Lemieux decked him with a dangerous hit from behind that sent Draper face-first into the front of the Red Wings bench.
Lemieux was promptly ejected from the game and suspended for two games. Meanwhile, Draper required reconstructive facial surgery for a broken jaw, cheekbone, and orbital bone. The Avalanche eventually won the series and went on to become Stanley Cup Champions for the first time in their history.
Red Wings tough guy Dino Ciccarelli famously remarked after his team's loss: "I can't believe I shook this guy's friggin' hand after the game. That pisses me right off."
Emma Miller is a journalist-in-the-making with a passion for all things hockey. She is currently studying Journalism at Ithaca College, where she received the Rod Serling Communications Scholarship for excellence in the field of communications. Before her venture as a Winnipeg Jets contributor for THW, Emma completed several internships with Swimming World Magazine which allowed her to explore her love of on-the-fly sports journalism and live radio broadcasting. She is also proud to have been recognized by the Garden State Scholastic Press Association for Honorable Mention in Sports Writing across all high school journalists in the state of New Jersey. Above all else, Emma wants to convey her love for the sport of hockey through her writing and hopes to gain experience for a possible career in this field. You can follow Emma on Twitter at @emiller04 or shoot her an email at emiller8@ithaca.edu.