The Eastern Conference wild card race is as contested as ever in 2017. Five points separate the second wild card seed and last place in the conference. In the Metropolitan Division, the top four seeds are pretty much set in stone, as the Washington Capitals, Columbus Blue Jackets, Pittsburgh Penguins, and New York Rangers currently have more points than the Atlantic Division's top team, the Montreal Canadiens. The New Jersey Devils' best bet at making the playoffs involves stealing the other wild card spot.
In a year like this, any small addition could prove to be the difference between playing hockey or golf in mid-April. An inherently risky option, trading could also cause a team to waste assets as they watch some other team get hot at exactly the right time (like the Ottawa Senators in 2014-15).
Should he choose to wheel and deal, GM Ray Shero has plenty of tools at his disposal to add more talent to the Devils. That said, it is critical that any talent coming in either has term left on his contract after this season, is set to be a pending restricted free agent (RFA), or is a superstar who would sign at the right price.
If Shero finds a team looking to trade one of those talents, which is happening more than ever before these days, he should consider offering up some of the team's plentiful assets.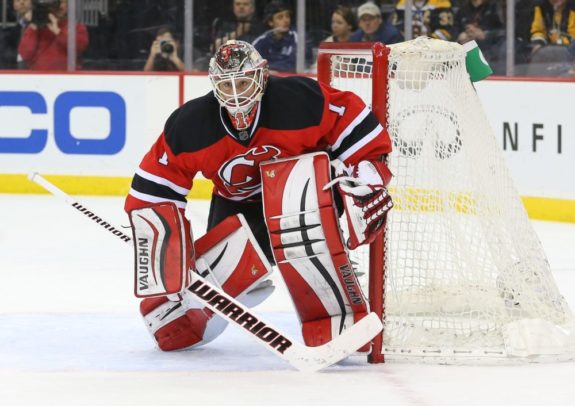 Pending UFAs
This year, the Devils have just three main roster unrestricted free agents: PA Parenteau, Kyle Quincey, and Keith Kinkaid. All three of them could fetch a nice return at the deadline, either in a player-for-pick swap or as part of a larger deal.
PA Parenteau
Parenteau currently has 12 goals and 24 points in 52 games. Last year, Parenteau was believed to be one of the better players on the trade market when he had 16 goals and 32 points in 60 games at the deadline. In the end, Maple Leafs GM Lou Lamoriello couldn't find the right deal for the winger, letting Parenteau play out his contract in Toronto. This year, Shero should avoid making the same mistake Lamoriello did and trade the winger before he leaves at season's end.
Parenteau's problem the last few years is not a lack of production, but playing for poor teams. He scored 67 points in 2012 with the New York Islanders, then one of the worst teams in the league. He signed with the Colorado Avalanche that summer and was nearly a point per game player on the second worst team in the league. He would have another solid year with Patrick Roy's Avalanche before being shipped out of Denver.
His next stop, Montreal, was short-lived; he was back in free agency after the 2015 season. Last year, he had a productive season with the Maple Leafs but was not re-signed and made it through free agency mostly untouched. Now he's on a mediocre Devils squad that could be looking to trade him away.
Kyle Quincey
Quincey could also be a viable trade candidate. Teams cherish all pending free agent, veteran defensemen around deadline time. Given defensemen's heavy workload, injuries are frequent and having a stopgap solution like Quincey can go a long way in patching up a defense.
He's a Devil that fans love to rag on, but the reality is that he has picked up his play since being bought out by the Red Wings last year. Even if he's just a sweetener in a deal, Shero should pursue all trade options, unless he decides Quincey is worth keeping for re-signing purposes.
Keith Kinkaid
Finally, Kinkaid could be a great asset for a team looking to raise the quality of its goalie rotation. Of the 52 goalies who have played in a quarter of their team's games, Kinkaid is 16th in save percentage. For comparison's sake, Cory Schneider is 29th. On top of that, just three of the 15 goalies above Kinkaid are not their team's full-time starter and all three are on top playoff contenders. All told, Kinkaid is one of the league's top backup goalies and is the best backup goalie available.
.@Unionmhockey alum @Blockaid1 is making a tougher goalie decision with his solid play https://t.co/oOf0HN7FRT pic.twitter.com/sMFAF0VLp0

— ECAC Hockey (@ecachockey) January 26, 2017
Kinkaid's name doesn't have the same league recognition like Marc-Andre Fleury or Ben Bishop, but he is outplaying both and on a far cheaper contract to boot. He is also an unrestricted free agent at year's end, meaning that no team will need to protect him for expansion draft purposes. The goalie market usually belongs to buyers and there always seem to be more available than demanded, but Kinkaid may just be one of the most appealing names out there right now.
Prospects
For the first time in almost 20 years, the Devils have stockpiled draft picks and have a prospect pool that is oozing with potential. THW named the Devils' prospects the ninth-best in the NHL in their preseason prospect rankings. The cupboard is well stocked at most positions and only stands to grow in the future.
Forward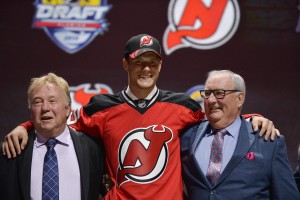 At center, the team has two of its major blue-chips in Pavel Zacha and Michael McLeod, both former first-round picks. Zacha has picked up his game significantly in recent weeks and resembles a top draft pick. McLeod is having a solid season of his own in Mississauga of the OHL.
At wing, the Devils have several youngsters pining for an opportunity. John Quenneville, Joseph Blandisi, and Miles Wood all have NHL potential and have proven skillful when given a chance in New Jersey. Nathan Bastian and Blake Speers both play a hybrid RW/C position in the OHL and should vie for NHL roles in the next two years.
Defense
On defense, the Devils are limited but they do still have some talented names on the list. The left side is pretty barren but the right side has a few impressive blue-liners.
Steve Santini is clearly an NHL defenseman and may be the team's best chance at having a shutdown, minutes eating blue-liner. He's having great success in New Jersey since his call-up. Josh Jacobs has had a unique journey since being drafted in 2013 but has since carved a role for himself in Albany. He's only 21 years old. The rest of the team's defensive prospects are young and unproven at the moment.
Goalie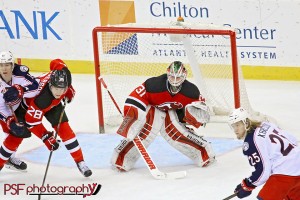 Goaltending is certainly the team's (and maybe the league's) most impressive positional group. At the top of the pecking order is Scott Wedgewood, who has steadily improved in Albany over the last three years. He's out for the season with an injury but seems to have paved the way to a spot in New Jersey.
Mackenzie Blackwood is the Devils' blue-chip goalie prospect. He was a second-round pick in 2015 and continues to live up to the hype. He's struggling in Albany, but he's only 20 years old and is still getting his first taste of minor league hockey. Rounding out that group are Ken Appleby, currently first among AHL rookies in save percentage, and Evan Cormier, a 2016 fourth-round pick currently toiling in in the OHL's Saginaw.
Certainly, Shero has plenty to offer up if a team demands prospects in a trade. At forward, defense and in net, the Devils are well endowed with young talent. And in a year with an expansion draft, where young players are exempt from being selected, the value for prospects could be at an all-time high.
Draft Picks
If there's been one noticeable difference in the way that Lamoriello and Shero have collected assets, it's that the Devils' current GM likes holding his draft picks. The Devils currently have 10 draft picks in the 2017 NHL Draft and seven in the first four rounds, most in the NHL. Since Shero arrived in 2015, he has acquired seven draft picks and only traded away three.
Draft picks are great for unearthing young stars at the entry draft, but they also have standalone value in trades. In the past, GMs typically used picks to acquire veterans who could bring their team over the hump. Lately, picks have been used in new sorts of trades like those involving prospects and star players.
Devils trade Vernon Fiddler to Predators, continue to load up on 2017 draft picks https://t.co/coUhU6Akqr

— NHL on NBC Sports (@NHLonNBCSports) February 5, 2017
A big reason for Shero's desire for draft picks is to build a younger team. After all, the Devils have not been a playoff-caliber team in recent years. However, should the team continue to show signs of a turnaround, Shero could certainly put some picks up for trade in a buying attempt.
There are several teams looking to get rid of some players before the expansion draft and free agency. An abundance of entry level draft picks in 2017 could put the Devils in a favorable position to score a quality talent.
Cap Space
Like the previous three assets, cap space is valuable because it allows Shero to enter into negotiations in which he would otherwise have no business. The Devils' $9 million in cap space – third-most in the league – will put them in a position to take on a bad contract as part of a "cap dump." These types of moves benefit the seller because they free up cap space, at the expense of a desirable prospect or draft pick.
Cap Dump
In June 2016, Shero worked out a similar deal, acquiring Marc Savard and a 2018 second-round pick for Paul Thompson and Graham Black. Essentially, the Devils got an empty contract and a future 2nd round pick for two players who never found success in the NHL.
Panthers Trade Marc Savard Contract to Devils https://t.co/A0QEX7sS5u #THW

— The Hockey Writers (@TheHockeyWriter) June 11, 2016
In even better news, a recent report by the NY Post's Larry Brooks predicts that the NHL salary cap will remain relatively flat in 2017-18, meaning that teams near the ceiling will have little comfort room. That could force a team's hand much like last year when the Panthers traded away 2015 first-round pick Lawson Crouse for pennies on the dollar to get rid of Dave Bolland. Similarly, the Blackhawks traded prized youngster Teuvo Teravainen so that they could also unload Bryan Bickell's contract.
Contract Dump
The rules of the expansion draft all but guarantee a "contract dump" trade in 2017. As teams try to comply with the rules for exposing players – a certain proportion of a team's payroll must be exposed while players with a no-movement clause must be protected – the Devils will be in great position to take on a troubling contract.
Appearing on Devils All-Access last week, Shero mentioned that he has the opportunity to spend to the cap. Losing some cap space for a bad contract makes sense for the team if it also nets a valuable asset.
For example, the Ducks will hypothetically try to retain defensemen Sami Vatanen, Cam Fowler, and Hampus Lindholm in the expansion draft. However, Kevin Bieksa is still under contract and with an NMC, meaning that he will need to be protected as well. Unless the Ducks are willing to give up one of their three young star defensemen, they will be scouring the trade market.
The timing of the expansion draft could not be better for the Devils and could mean a busy trade deadline for Shero. The team has three solid pending free agents, several prospects at every position, draft picks, and cap space that few other teams can boast. In what will likely be a buyer's market in March, Shero must be ready to bring his chips to the table and keep an eye on potential bargains.