When Nashville Predators winger Jordin Tootoo voluntarily entered the NHL's substance abuse program last year, missing 23 games of the 2010-2011 season, this writer feared the worst.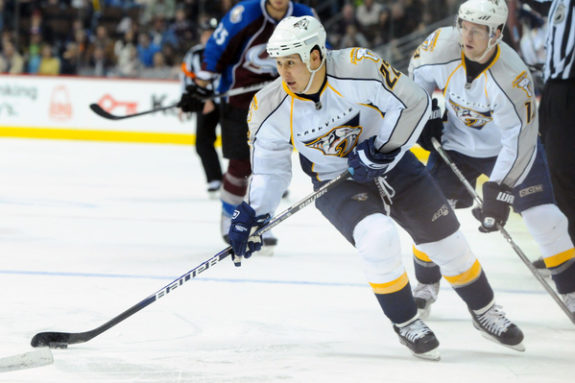 After spending several years volunteering with substance abuse patients at mental health facilities in middle Tennessee — seeing the throes of addiction and alcoholism undo marriages, jobs, families and the like; watching once happy and productive citizens experience excruciating mental anguish as they were confronted with the facts of their ugly realities; and realizing that single-digit percentages of people afflicted with these issues actually ever get well again — I wasn't sure whether or not Fans of the Fang had lost one of their favorites forever.
The feisty Tootoo, who has worn three numbers since coming into the league (#14, #55, and, after Greg Johnson's departure, #22), had to literally pound his way into the lineup, delivering game-changing blows and never backing down from fisticuffs. The deceptively diminutive Inuit eskimo — the first in the NHL's history — has been reviled in at least 29 other cities (and a multitude of comment threads on hockey blogs) for "playing dirty," making Sports Illustrated's "Notable Pests of the NHL." He currently leads the Predators all-time in PIMs with 633.
With many Predators fans eyeing developing negotiations with Olympian-franchise-player-captain Shea Weber, Olympian defenseman Ryan Suter, and Vezina runner-up Pekka Rinne, some still feel Jordin Tootoo is bound for a career year — not least because he, too, enters a contract year this September. His cap hit will be $1.25 million this year. Expectations are running high in the locker room for Nashville's fourth-round pick (98th overall) from the 2001 Entry Draft.
"He's got his life in order," said Predators head coach Barry Trotz. "He's had a lot of demons and a lot of things that get in the way. If your life and your head is not clear, then it's just full of clutter. You don't have the motivation, you don't have the instinct, all of those things. He couldn't grow as a hockey player anymore.
"When he came back, I thought he had the best stretch of his career. Not only is he still a force with the physical contact and as a tough, game-changing type of guy, but those skills that we knew he always had are starting to come to the forefront.
"He's capable of producing a lot, he's capable of being a higher contributing guy in our lineup and he wants to do that. He's very proud of the fact he had to change his life and it's not really easy."
Playing the "best stretch of his career" is no hyperbole. As Dirk Hoag On the Forecheck guest contributor Paul Nicholson noted in his annual report card following the end of last season,
Tootoo turned in one of his strongest offensive performances to date while continuing to broaden his game into a more balanced, two-way game. He was a valuable player that Trotz frequently rotated between the 2nd, 3rd, and 4th lines, and on rare occasions he even saw special teams ice time. While you'd like to hope he could have contributed more on the scoreboard, he was a solid player that generally made his line better. On-Ice grade: B+
Just what did Barry Trotz and his scouts know about Tootoo's offensive game that the rest of us didn't?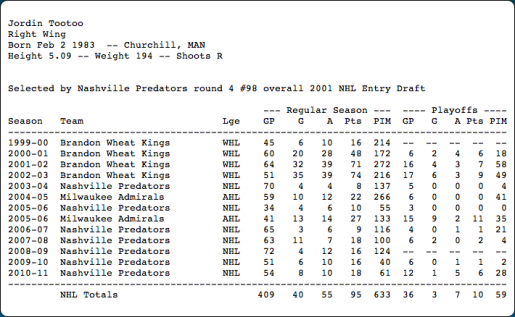 Tootoo's best year on the score sheet came in 2002-2003 with the Brandon Wheat Kings of the WHL — the year directly preceding his jump straight to NHL action (he would later split time with the Predators' AHL affiliate, the Milwaukee Admirals, before earning full-time duties again). He notched 74 points in just 51 games with a +13 rating, and while statistics don't necessarily translate well from the WHL to the NHL (saying nothing of post-lockout era changes to gameplay), Tootoo clearly possesses some offensive upside that hasn't yet borne fruit at the NHL level. In preseason match-ups this year, though, Tootoo has 4 points (1G, 3A) in three games with a +1 rating and 2 4 PIMs. He's also averaging 15:03 in TOI.
What does 2011-2012 hold in store for Jordin Tootoo? That story has yet to be written, and three preseason games (not to mention Tootoo's post-treatment record at the end of the regular season last year and the playoffs) is too small a snapshot to accurately predict what might happen for #22. But regardless of what happens on the score sheet, Preds Nation will be watching closely as what is arguably one of the most important and compelling human interest stories in the National Hockey League continues to unfold.
Many thanks to the Nashville Predators for providing quotes from head coach Barry Trotz.
In his day job, George is a political consultant in Washington, DC. He grew up in the south, but has lived all over the country. He bleeds gold and blue for the Nashville Predators.