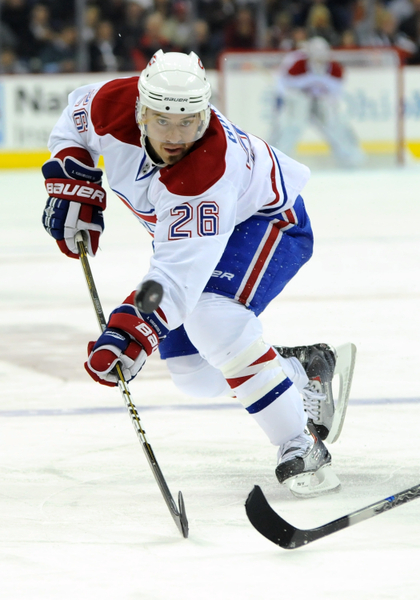 Deep in the majestic mountains of Kelowna, British Columbia lives a humble giant. Twenty-six years old, prime of his career, rehabilitated knee, and passion for the game. Josh Gorges wakes up with the eyes of the hockey world upon him. A one-year contract for $2.5 Million. No arbitration. No long term deal. No bed of roses. What's going on here? What the puck is going on here?
This off-season for the Habs has been utter madness. Insanity. The hockey equivalent of the film One Flew Over The Cuckoo's Nest. …Let me explain.
For those of you unfamiliar with the film Cuckoo's Nest won the "Grand Slam" of Academy Awards in 1976: Best Actor, Best Actress, Best Director, Best Screenplay, Best Film, Best Goat Herder, Best Everything. Jack Nicholson gave one of the most iconic performances in film history as McMurphy, the charismatic criminal who scams his way into a mental hospital to avoid a prison sentence. It's almost too good to be true.
Watch the trailer:
Kirk Muller is McMurphy
I miss Captain Kirk already. He's been gone less than a fortnight. I miss his love of the game. His jokester joie de vivre. I miss his leadership. And I miss his devilish Jack Nicholson grin. Its been pointed out to me already that Kirk's replacements on the Habs bench are nowhere as good looking as he is.
I actually met Kirk in the summer of 2006 in Kingston, Ontario on the day he signed to be the Canadiens assistant coach. We bumped into each other in the aisles of a beer store in Ontario where we were both filling up on road pops for the weekend. Kirk was happy as a lark, and looking forward to his big break after coaching university hockey for a year. McMurphy was similarly gleeful at the beginning of Cuckoo's Nest when the police dropped him off at the asylum and undid the handcuffs.
Pierre Gauthier is The Superintendent
After McMurphy does a dance and kisses the police officer, the Superintendent of the asylum to see just how crazy he is interviews him.
Pierre Gauthier was promoted to Canadiens Assistant General Manager the same summer Kirk Muller was brought in. He studied Kirk's file, scout Kirk's coaching, and judge his ability to work in hockey mad city like Montreal. After all, the franchise was the midsts of massive upheaval in the front office and on the ice. Everything was being turned on its head. And like McMurphy, Muller was prodded, tested, and eventually welcome onto the ward.
Bob Gainey is Michael Douglas
Wait a minute…Michael Douglas was in this movie??? Nope. But believe it or not, Douglas produced this movie a decade before he became a movie star. Shocking. He assembled a rag tag team of no-names, washed up actors, and the enigmatic Nicholson, found a real mental hospital to shoot in, and turned the film into box office gold. Go figure.
Likewise Bob Gainey made deft moves to draft young stars like PK Subban and thoroughbred Carey Price, trade Craig Rivet for the rights to Josh Gorges and Max Pacioretty, And take on the massive contract of Scott Gomez to use as bait to draw in Brian Gionta and Mike Cammalleri. He also brought in some guy named Halak. The Habs playoff performances the last two seasons speak to Bob Gainey's wisdom. We miss you too, Bob.
Andrei Markov is Mr. Martini
A short, young, unknown actor at the time named Danny DeVito played Mr. Martini. It was his first major role, and surprisingly brought him to the Hollywood stardom. Tinsletown is known for its tall, handsome, youthful stars, so for a dwarfish, balding, average looking fellow to have 30 years of Hollywood has been quite a surprise in the world of the Clooney's, Pitts, and Damons.
Andrei Markov was also a long shot to stardom, drafted in the sixth round with the 162nd pick overall by the Canadiens in 1998, he worked hard his entire career and became an all world defenseman no one expected him to become. And like DeVito, Markov has a funny look to him, stays away from the Rogaine, and keeps a very private life when the camera is off.
Mike Cammalleri is Tabes
The super talented character actor Christopher Lloyd played Tabes. He's best know for playing the wacky Doc Brown in the Back To The Future movies. Lloyd has been known to do tons of preparation for every film role. For Cuckoo's Nest he actually lived in a mental institute for a few weeks and modeled his character after one of the patients.
Always the bridesmaid, never the bride–Lloyd has made a long career doing smaller roles in films, but has never had the opportunity to be a leading man in over thirty years of cinema. Quite sad really.
Mike Cammalleri is also one for doing lots of mental preparation before big games. Look at this great pre-grame footage:
And like Christopher Lloyd Mike has a reputation as a sniper with great skill. But not one to lead a team into battle. He'll be a career long Assistant Captain.
Brian Gionta is Cheswick
Cheswick is much like Brian Gionta, small in stature, nonagressive, and soft spoken. He can't handle Nurse Ratchet rationing off his cigarettes, he can't drive the boat by himself when the guys are out at sea fishing. He's just not a natural born leader.
I am still trying to figure out why Gionta was chosen as the captain of the Habs. Yes I know he has two rings, but rings do not necessitate leadership. He no Captain Kirk. He's no McMurphy. When the crap hits the fan, Gionta is not going break the nurses' station glass and gets his cigarettes. Or steal the bus and drive the guys to the marina. Or stand up to the oppressor. That's what leaders do, and that's not in Brian's DNA.
PK Subban is Billy
Brad Dourif was nominated for an Oscar for his performance in Cuckoo's Nest. The craziest thing about it was that it was his very first film. Reminds me of PK Subban's rookie performance during the 2010 playoffs fresh off the bus from Hamilton.
Towards the end of Cuckoo's Nest Nurse Ratched shames Billy after he sleeps with a young woman in the hospital. She tells him that she's going to tell his mother and totally derides him in front of his friends. It reminds me very much of Jacque Martin benching young Subban and publicly shaming him this season.
Jacques Martin is Nurse Ratched
Martin rules Habs Nation with an iron first. Emotionally vacant, old fashioned, and cold blooded; he's Nurse Ratched minus the dress and bonnet.
I really don't see how Kirk Muller and Martin could have gotten along well behind closed doors; their personalities and styles are very different. Kirk liked to keep things light and up-tempo, and Jacque liked to grind things out like sausage, and keep every thing even keel. Very much like Nurse Rachet versus McMurphy in the mental ward. And after Billy is shamed by Ratched, McMurphy tried to strangle her to death.
Kirk Muller's AHL Lobotomy
We all knew Kirk wasn't going to be with us forever. Just like we knew that McMurphy didn't belong in the mental hospital. Kirky brought a wonderful energy to our beloved franchise, he taught PK to harness the wonderful slap shot that we will see for years to come. His charm and passion for teaching will be missed by all.
But we all knew that Kirk would NEVER be head coach of our team. He wasn't Quebecois and he wasn't bilingual. And in this town, you generally need those two stamps of approval. Kirk never made an attempt to learn French, so as far as I'm concerned, he set himself up for an AHL lobotomy. He'll be back in the NHL someday, but the pillow is going to be in his face for a few years to come.
Josh Gorges is Chief
They say that in the eye of the storm there is always a peaceful centre, untouched by the madness surrounding it. That would be Josh Gorges and Chief.
Chief spends most of the film silently in the background, acting as a deaf and dumb patient in the asylum. His only escape from reality.
He learns how to be strong and prideful from McMurphy; how to lead, how to fight for yourself and your friends.
Kirk Muller absolutely taught Josh Gorges the same things. Gorges went to work every day blocking shots, killing penalties, fighting, being critical, leading on and off the ice. They were both huge cogs behind the Canadiens playoff run in 2010.
Josh played through a torn anterior cruciate ligament for six years. Six full years. It's likely a record for all professional sports.
His heart and his passion and his leadership is unmatched on our beloved Glorieux.
Take a look at the intangible plays like this that Gorges brings to the ice every night:
You would think that would warrant a long-term contract and a "C" sewn onto his sweater. The man has done everything we have asked of him, and is just getting into his prime years.
But no, the suits upstairs give big money and big years to Andrei Markov who's been on the shelf for half of the Obama administration and is getting a little long in the tooth. And offer a one-year deal to the man who is the peaceful eye of the storm. It doesn't make any sense.
Then again, what's supposed to make sense in a hockey mad town like Montreal?
So with Muller lobotomized, Gauthier pulling the purse strings, and Nurse Martin ruling with an iron first—Josh Gorges has plenty on his mind this morning. Plenty going on in the nuthouse. And I look ahead to July 1st 2012.
Because that's the day #26 gets up early, puts on his jacket, grabs the water cooler, breaks the Bell Centre window, and flies over the cuckoo's nest.
Bon voyage, Josh.
Marc Griffin is a Montreal based filmmaker, jock, and journalist. He writes about the Montreal Canadiens for The Hockey Writers and Sports & Pop Culture for The Poutine Wall. Follow Marc's insanity 24 hours a day on Twitter.