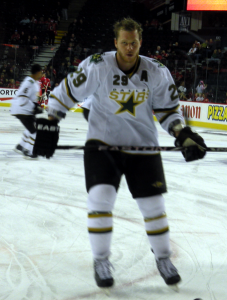 As far as Steve Ott is concerned, there's nothing that he can't accomplish once he sets his mind to it.
The Dallas Stars can vouch for that; when the team needed Ott to become an effective, relentless penalty killer, he focused himself and worked to become one; when the team needed him to be one of their top faceoff specialists, especially in clutch moments, Ott did that too. Ott's done so much bouncing from wing to center over his career so far that it's impossible to say where he's a more natural fit.
It's also hard to tell if Dallas asked him to become the league's most notorious, infuriating pest since Sean Avery, but it certainly seems like that part of the game comes naturally to him.
But it's what the Stars are likely to ask of Ott next that might be the biggest challenge for him thus far into his NHL career: become a consistent, top-6 point-producer.
With the trading of James Neal late last season, and the departure of Brad Richards and Jamie Langenbrunner to free agency, a hole opened up on Dallas' top two lines. The Stars plugged the hole a bit, with the signing of recent Cup champion Michael Ryder, but all signs point to the team asking Ott to take his game to the next level.
Ott is no stranger to the offensive side of the game, scoring well over 200 points in his 3 junior seasons with the OHL's Windsor Spitfires, which was one of the main reasons why Dallas selected him in the 1st round, 25th overall, in the 2000 NHL Entry Draft. But with the Stars still clinging to core parts of their 1999 Stanley Cup-winning roster well into the mid-2000s, Ott had to focus on his hitting, fighting, and pestilence skills in order to crack the team's 4th line.
The problem was that Ott was a little too good at frustrating and stifling the opposing players, as the team used him primarily on the checking line, giving him few chances to show the scoring touch he exhibited in Windsor.
That is, until Stars captain Brenden Morrow went down with a serious knee injury early into the 2008-2009 season. Needing a physical grinder to fill in on the line with Mike Ribeiro and Jere Lehtinen, Ott was finally given his chance to crack a scoring line; he didn't disappoint, scoring a still-career high 46 points in only 64 games.
However, once Morrow returned it was back to the checking line for Otter, where he's been quietly paying his dues to the team (while loudly annoying everyone else) ever since.
But that's all likely to change once October rolls around.
The Stars will need help offensively, and with the free agent signings of Vern Fiddler, Radek Dvorak and Jake Dowell for the 3rd line, there's a very good chance that Dallas will once again ask Ott to cater his game to the team's needs and move up to the top two lines; and knowing Ott, he'll once again succeed.