It was announced today that Minnesota Wild goalie Josh Harding has suffered an ankle injury in an off-ice incident. While it is unknown how long Harding will be forced to sit out, we know that he will not be able to participate in the team's training camp, which starts on Friday. Last year, Harding was only able to play in 29 games before going out with complications with Multiple Sclerosis. He has yet to play a game in 2014. Before the injury, Harding was the leading Vezina candidate with other worldly numbers, posting a 1.65GAA and a .933Sv%. The Wild thought they would have that stability in the crease again this year but, once again unfortunately, Harding's health has become an issue.
Wild Options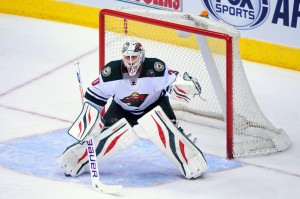 So, what does this mean for the start of the Wild's year? It will be much as the same of the 2013-14 campaign. Right now, Niklas Backstrom is healthy, but how long can that really last? Behind him is RFA Darcy Kuemper, who is in the midst of contract talks and is supposedly more than willing to sit out training camp, per his agent. UFA options are still available as well. The likes of future Hall of Famer and all-time wins and shutouts leader, Martin Brodeur, is still looking for a contract. Former Stanley Cup and Conn Smythe Trophy winner, Tim Thomas is available. As is the 'wild' and unpredictable, Ilya Bryzgalov, who had a fairly successful stint with Minnesota after the trade deadline last season. 'Bryz' also made it very clear that he would love to put on the Wild sweater again.
Kuemper's Contract
What does Harding's injury mean for Darcy Kuemper's RFA situation? Well, its definitely a boost for Kuemper's case. Currently, Minnesota is insistent on a 2-way deal, which would give Kuemper a far lower salary while playing AHL. However, Darcy and his agent are insisting on a 1-way deal, to ensure he gets an NHL calibre salary whether he's in the NHL or AHL. However, with today's news, GM Chuck Fletcher may have no choice but to give Kuemper the 1-way deal, as he is only looking at only one goalie for his big league club right now. This injury is great news for Kuemper, and terrible news for the Wild.
Best Choice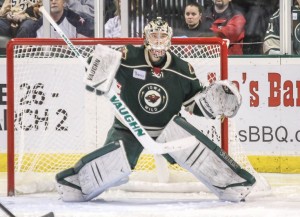 The Minnesota Wild definitely have a variety of options to fill Harding's spot, but the one that seems to make the most sense would be to give Kuemper his 1-way contract. He's a young goalie who has shown plenty of promise in his time in the NHL. Plus, he's just beginning to find his potential and, as we know, goalies tend to develop later than players, so we may be seeing just the start of what Kuemper can do. Give the kid a chance, and don't force a terrible situation.