You know the important chunks of St. Louis Blues history – the three Stanley Cup Final appearances at the beginning, the Monday Night Miracle and Brett Hull's fabulous 86-goal season – but do you know everything else? How Pavol Demitra was brought to town, Noel Picard's short stint as a Bruins benchwarmer and… The St. Louis Apollos? Those are just a few nuggets from Blues beat writer Jeremy Rutherford's new book, "100 Things Blues Fans Should Know & Do Before They Die."
The "100 Things" series from Triumph Books has provided sports fans across the country a glimpse into their favorite franchises, including the 2012 title, "100 Things Cardinals Fans Should Know & Do Before They Die," written by Derrick Goold of the St. Louis Post-Dispatch. Rutherford was the obvious choice to write the Blues' edition, as he has been the team's primary reporter since the 2005-06 season. More importantly, Rutherford has followed the team since he was a young man growing up on the south side of St. Louis.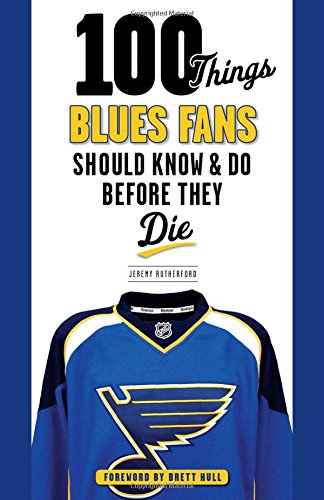 Contrary to what you may believe, though, Rutherford's foray into being an NHL fan is not where this book begins. Far from it.
"It's 100 Things About the Blues," Rutherford said during a phone interview. "I mean, that starts in 1967 and if I wasn't around or I don't have many details on it, then it was my job to find the details and talk to the people who were involved in those stories."
One of the toughest times in Blues hockey was when defenseman Bob Gassoff passed away. It gripped the St. Louis market, as well as the hockey nation, and is a reminder to Blues fans during every home game as his No. 3 banner hangs in the Scottrade Center rafters. His death occurred in 1977 — when Rutherford was just two years old.
"A lot of people, especially those around at the time, were familiar with Bob Gassoff and, obviously, the untimely loss. I don't know that a lot of people knew the details surrounding his death. I certainly didn't know but I knew that if I was going to write a book, I was going to have a chapter about Bob Gassoff. I had to know the details. I spoke to as many people as I could, I wrote the chapter with every detail I discovered and hoped that it turned out ok."
The book features 100 chapters, each ranging from 2-9 pages each. Some tell a story about the iconic moments you might remember (Chapter 1: Monday Night Miracle), while some share a tale about backend dealings that may have never surfaced before (Chapter 62: Pleau Forced to Trade Pronger).
Others are zany stories that any fan of the sport would get a chuckle out of reading. Chapter 17 tells the story of Blues defenseman Noel Picard (1967-68 to 1972-73) confused after a long penalty kill. The French Canadian defenseman skated off the ice after a whistle and hopped the boards to end the grueling shift. There was only one problem — it was on the Boston Bruins bench.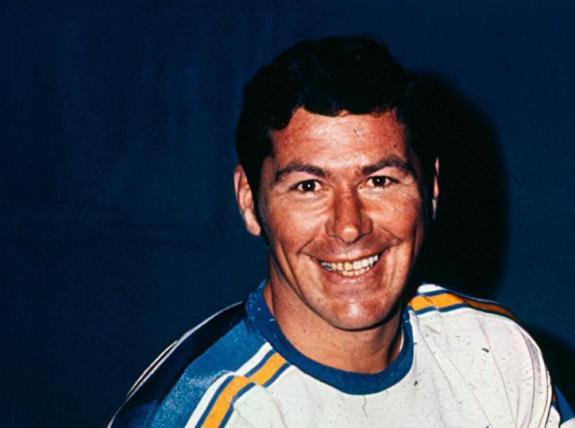 Telling the story from defensive partner Bob Plager's vantage point, the chapter breaks down the penalty kill and how tired the two defensemen were. With the benches then on opposite sides and the Blues' runway behind the Bruins' bench, Plager figured that Noel was heading off with an injury.
The rest of the hilarious moment is best explained by Rutherford in this excerpt:
"I'm going, 'Oh, he got hurt. He's going to our dressing room," Plager said.

But when Boston trainer Frosty Forrestal opened the door to his team's bench, Picard didn't continue on to the dressing room for stitches or ice. He plopped down on the pine and took a seat, attempting to catch his breath.

By that time, Bruins players had caught on to what was happening and, hardly able to contain their laughter, they scooted down the bench to make room for Picard.

"We're all looking, and all the Boston players move down," Plager said. "Noel, because his head is down, hasn't looked up. The whole building in Boston is laughing. Noel finally looks up."

Picard saw that everyone on the bench is wearing a different jersey than him and said, "Can you believe this? What am I going to do now?"

Picard was a rugged defenseman who would have been a welcome addition to the Boston lineup, and at least one Bruins player was telling Picard to stay put.

"Gerry Cheevers was saying, 'We'll make a trade. We'll send a player over to their bench,'" Plager said.
Although Rutherford interviewed countless Blues personalities for 100 Things, it was obvious whom almost every story involved. Bob Plager, a Blues defenseman for 11 years and long-time front office member and radio personality, seemed to find his way into every important moment in Blues history.
"A lot of people were very, very helpful and I'm grateful for their time, but Bob has been around since Day 1 and he's had a hand in everything – I mean everything," Rutherford said. "The Chris Pronger for Brendan Shanahan trade? Mike Keenan called Bobby into his office and asked, 'Shanahan for Pronger – would you do it?' Plager was involved in Mike Keenan's decision to trade Brendan Shanahan."
Plager was even involved in the legendary trade that sent Brett Hull from the Calgary Flames to St. Louis in March 1988. He was assigned to scout the young Hull when he was with the Flames' AHL affiliate, the Moncton Golden Flames. Plager's reports were that Hull was the goal scorer that the Blues needed and the rest was history.
Plager was also involved in one of the Blues' biggest steals in transaction history; the St. Louis franchise traded defenseman Christer Olsson, who played in 56 total NHL games in his career, to the Ottawa Senators in exchange for winger Pavol Demitra, who went on to score the fifth-most points in franchise history (493).
Blues fans probably wouldn't have gotten to know Demitra as well as they did if not for a phone call from Plager to former coach Mike Keenan. At the time, Demitra was playing for Grand Rapids, Ottawa's minor-league affiliate.

"I phoned Mike Keenan and I said, 'The best hockey player in the American Hockey League that I've

seen so far is here in Grand Rapids – Pavol Demitra,'" Plager said. "Mike said, 'He's that good?' I said, 'He's that good. He could play on our team.' Mike said, 'Well, if he's the best player in the American Hockey League and he can play in the NHL, how come he's not playing in the NHL?' which was the right question."

Plager had the answer ready to go.

"If you did your homework, [you knew] Ottawa had all of the Europeans, great skilled hockey players. [For] the position that Pavol played, Ottawa was loaded with those players. He's good enough to play but they have the players. He just can't crack their lineup."

Ottawa's coach was Jacques Martin, a former Blues coach with whom Plager had a relationship. Martin told Plager the Senators needed a defenseman, a position in which the Blues had an abundance of talent. Keenan said he'd give Martin a call himself.

"I get a phone call and it's Mike," Plager said. "He says, 'Bob, I got your guy. We got Pavol,' Pav had never played in the NHL, so we didn't know. But I thought he was going to be good. He came in here, and we all know what a great player he was."
Rutherford, who recalls going to the Brentwood ice rink as a kid to get autographs from players, dug deep to find the stories that didn't involve the famed Blues alumnus. This ranged from infamous moments such as Wayne Gretzky's short stint in a Blues uniform to the not-as-documented stories, such as the Blues' involvement in the 2009 Premier Games in Stockholm, Sweden.
One that stands out in Rutherford's mind, though, was his findings in how the long-time voice of the Blues, Dan Kelly, moved his family from Ottawa to St. Louis.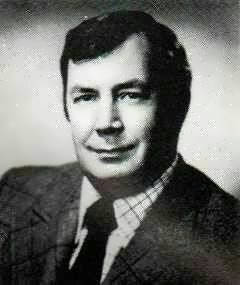 "I had the pleasure, through Dan Kelly's son, John, to get [former NHL head coach] Scotty Bowman on the phone," said Rutherford. "He was involved in getting Dan Kelly down to St. Louis to be the voice of the Blues. Kelly wasn't sure that he wanted to come here right away. Scotty Bowman, working on behalf of [Blues owners] the Salomon family, kept calling him and telling him, 'Hey, we want you here. We want you to be the voice of the Blues.' He would say, 'Ok, let me talk it over with the wife before we go for it.' They went back and forth and I remember Scotty Bowman saying that [eldest owner] Sid Salomon Jr. wouldn't stop asking, 'Is he coming? Is he coming?' Bowman said, 'He wants to know if we have a good Chinese restaurant here.' Sid said, 'Tell him that if there isn't a good Chinese restaurant in St. Louis, I will build him one.'"
Before finding the voice of the Blues, though, the franchise had to find its start. This was where the Salomons first came in, making their bid to bring an NHL club to the Gateway City.
On April 6, 1966, moments before making their presentation to the NHL's Board of Governors at the Plaza Hotel in New York City, the Salomons were said to be brainstorming ideas for the name of their unborn franchise. The St. Louis Apollos and Mercurys were under legitimate consideration.

The two space references were popular ideas at the time because McDonnell Douglas, an aerospace manufacturer and defense contractor, had been founded about that time and was headquartered in St. Louis.

"In the mid-1960s, the space race was on and McDonnell Douglas was at the center of that," said Jim Woodcock, a lifelong Blues fan and sports business executive who served in the Blues' front office for eight seasons. "The talk at the time was [to] do something that brings prestige to St. Louis and what we do here as a community, and those names were being bandied about."

Imagine history if legendary broadcaster Dan Kelly had described, "A pass from Bernie Federko to Brian Sutter, Sutter scores for the Mercurys!" Or how about Ken Wilson bellowing, "Oh baby, a hat trick for the Apollos' Brett Hull!"

Those names never saw the light of day, however. Shortly before the presentation, Salomon Jr. blurted out, "The name of the team has to be the Blues!"
Stories from the ice and locker room will keep you reading through to the next chapter, but Rutherford was quick to add other quips that Blues fans may find useful. A chapter on which bar to hit for a game (OB Clark's in Brentwood, by the way) and even a heartwarming story about a hockey fan fulfilling a life-long dream by riding on the Blues' Olympia (also known as a Zamboni).
The foreword for 100 Things was written by none other than Brett Hull, to which Rutherford was "blown away" when The Golden Brett agreed to play a major role in the book's production.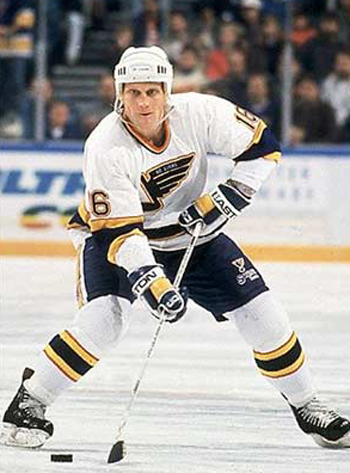 "I imagine myself as an eighth grader, sitting in my living room watching the Blues on TV and Brett Hull scoring the big goal late in the game," Rutherford said. "Fast forward a few years, and I'm asking him to write the foreword for my Blues book and hearing him say, 'I'd be honored.' You just can't put into words what that means as a St. Louis native.
Above all else, Rutherford hopes "100 Things Blues Fans Should Know & Do Before They Die" fills fans in on the 47-year history of the organization, while getting some hearty laughs along the way.
"The Blues are a team that, although they have not won a Stanley Cup and they endure a lot of criticism because of that, is one of the most tradition-rich franchises in sports history. There has been so much short of a Stanley Cup that has happened with this franchise that I just think that it makes for a very interesting read. People have been captivated for 45-plus years by the players, the coaches and the drama. It's been in a roller coaster with this team coming so close yet not getting there. I believe that if you stick with them and they do win it, it's going to be a celebration like no one has ever seen before.
"If I'm a fan that hasn't paid attention, I might try to catch up on that history."
——–
You can buy "100 Things Blues Fans Should Know & Do Before They Die" on Amazon.com.
Follow Jeremy Rutherford (@jprutherford) on Twitter and any news about the book on the official Twitter page (@100ThingsBlues).