Running Out of Options
We all knew it was only a matter of time before the Minnesota Wild started having goaltender problems, but this is really a bit early.  The season has yet to start and the goalie-plagued club has already lost Josh Harding to an ankle injury. Tuesday evening it was reported that Harding had suffered an off-ice injury and would be sidelined for an indefinite amount of time. However, the extent of the injury isn't known, so maybe it won't be as bad as it seems. Regardless, this leaves the Minnesota Wild in a complicated situation.
This offseason, the club has been stuck in negotiations with restricted free agent Darcy Kuemper, as I'm sure everybody in Minnesota knows by now. Before Harding's injury, the Wild had a bit of leverage to work with, as Kuemper was the one fighting for a spot on the roster. However, the tables might be turned now that Minnesota is short a goalie. Although there's still Niklas Backstrom, who says he is healed from his season-ending abdominal and hip surgeries, we all know one goaltender is never enough, especially for this team. Minnesota is going to need to find a solid back-up now that Harding and Backstrom can't rotate.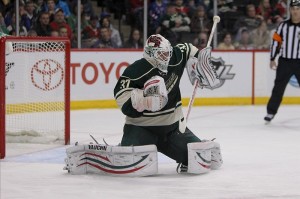 Enter Darcy Kuemper. Although Kuemper and the Wild haven't been able to come to a deal all summer, this recent turn of events might push the team to agree to the 24-year-old goaltender's terms. Kuemper, who played in 32 games last year for the Wild, is asking for a one-year, one-way deal. Minnesota wants to sign him to a two-year deal, in which the first year will be a two-way deal and the second year will be one-way. As of today, neither party has been willing to budge.
Darcy Kuemper to the KHL?
When negotiations stalled, the rumors about Kuemper possibly agreeing to a deal in the Kontinental Hockey League surfaced. Although he might make significantly more money over in Russia, wouldn't it just be easier for him to take the two-way deal with the Wild, maybe start in the AHL, and then play the rest of the season in the NHL? Everybody knows he'll be called up a month into the season if he happened to start in Iowa. The Wild has a goalie curse. Kuemper should really be aware of this. Not to mention playing in the KHL is just going to set him back. The NHL is the ultimate goal for hockey players and Kuemper is already there. Why go backwards?
If you ask me, both parties are being incredibly stubborn. Honestly, Chuck Fletcher should know that there's going to be complications with Backstrom and Harding and that a strong third goalie is a necessity. Backstrom is 36 years old and has a history of injury, while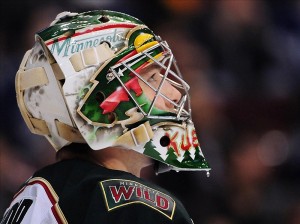 Harding has multiple sclerosis and his health is always going to be up in the air, even when he is considered healthy.
Yes, there are guys in the minors like Johan Gustafsson or John Curry, but these guys can't be relied on to carry the team all season long. Now that Harding is out of the picture for at least the start of training camp, Fletcher may just have to cave and offer Kuemper the deal he wants. He honestly doesn't have many other options at this point in the season.
Kuemper vs. Bryzgalov
Don't get me wrong, Darcy Kuemper is the smarter choice in this situation. He's young, talented, has proven he has skill, and isn't demanding a fortune. However, if the Wild are really going to continue to be stubborn and refuse to agree to Kuemper's terms, there are still other, maybe less attractive, options.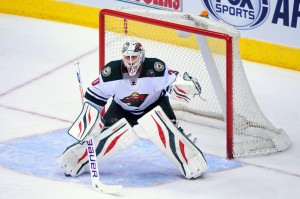 Ilya Bryzgalov is one of those options. Earlier this summer, the Russian goaltender made it clear that he loved Minnesota and would love to return. Last year, he went 7-1-3 in the regular season with the Wild, so it's unclear how he'd perform if given more time. Bryzgalov might have a fun personality and good sense of humor, but is he really going to be the best fit for the team? The former Flyer is 34 and isn't going to turn into the franchise goalie anytime soon, like Kuemper might. Signing Bryzgalov wouldn't be the worst solution, but it wouldn't be the best. Chuck Fletcher has reportedly announced that he has invited Bryzgalov to training camp, though, so it's very possible he's entertaining the idea of bringing him back.
Minnesota also has the option of bringing someone in from outside the organization, if Fletcher is set on not giving Kuemper a one-way deal. Tomas Vokoun and Martin Brodeur are both still on the market and could provide the team with some more veteran leadership in net. However, like Bryzgalov, neither Brodeur nor Vokoun is going to sign a long-term deal and become a franchise goaltender. If the Wild signs one of them, the club is just going to face the same dilemma next year when Niklas Backstrom will be the only netminder under contract. 
Let's Make a Deal
Although the Wild have other options, it's clear that giving Kuemper what he wants and just getting it over with will be best for the organization in the long-run. Darcy Kuemper honestly isn't asking for that much. If he was demanding a $50 million, 8-year contract, I'd say be done with him and let him explore Russia. The kid just wants to see playing time in the National Hockey League, though, and I can't say I blame him. He saved the season for Minnesota last year and does deserve a little recognition for that.
The Wild now need another goaltender, so they've pretty much lost any negotiating power they previously had. Kuemper wants to play and can do it well, and the Wild need someone that can carry the team, if it comes to that. Although it might mean giving up being stubborn, Fletcher is going to be better off just offering a one-way deal. Sometimes we just have to put away our pride and agree to the one-year deal.