Drafted seventh overall in the 2009 entry draft, expectations have always been big for Kadri, but they've been fairly realistic – except for the ones he places on himself.
In Toronto, there is always the tendency to overrate draft picks, but after seeing Drake Berehowsky, Jeff Ware, Brandon Convery, Eric Fichaud, Luka Cereda, Luke Schenn and many more  all fail to meet expectations, perhaps the tide turned with Kadri. Sure, people have been excited about his potential, but there has always been a significant portion of the fan base and media that doesn't like him, perhaps unfairly, but it has kept expectations in check.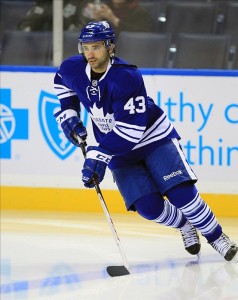 Of course this isn't a scientific study, but if pressed, I would say it's a combination of constant organizational let-downs and the player's perceived cockiness that has turned some off from becoming big Kadri boosters. It probably also has something to do with the teams failure, it seems, to ever develop a star player from within.  A look back at the Leafs best players of the last 30 years shows two home-grown stars in Clark and Kaberle, and two pretty top notch ones in Antropov and Potvin. That isn't a very good record though, to say the least.
Kadri is a different animal. He has, from day one, hyped himself more than anyone. I don't think, however, that this is a fair criticism. For one, he's far more outgoing and comfortable in front of a camera than 99% of hockey players, which makes it seem worse than it really is, and knowing that he's a quote machine, journalists no doubt egg him on by asking leading questions.
I personally have never had a problem with an athlete being cocky, in fact, I love it. Watching sports is supposed to be fun, and when the players are actually seem like real people, I think that this adds to it. I find Kadri's candor and excitement about the game refreshing – besides, false modesty is for phonies. I mean it.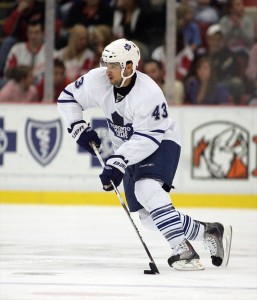 Anyways, things took an interesting turn this week when Kadri offered up some interesting quotes to the National Post's Michael Traikos.In response to a question about potentially being the number one centre, Kadri was diplomatic, stressing that him and Bozak are friends and that the team needs them both if they're going to be successful, but this is when things got interesting with Kadri saying:
"But one of my goals, as I mature and get stronger and come more familiar with the league, I want to be one of the best players in the league. Not just on our team. I think that's a very realistic goal for myself."
Now, I am sure that a lot of players secretly think they can be one of the best players in the league, but most of them don't say it. What to make of this? Is it possible? Is he just conceited? Can he even be one of the best players on his team, let alone the league? Keep in mind too, before you jump on him for being cocky, he didn't call up the newspaper to announce his goal. He responded to a question about whether or not he plans to ignite a media controversy by gunning for Bozak's job.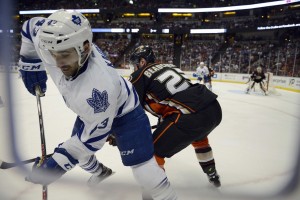 As to whether what Kadri thinks has any chance of coming to fruition, it's  hard to say with any accuracy, obviously.  I personally have always been a huge fan: I think his attitude suits his game and I hated the way he was jerked around the line up and publicly criticized during his first few years.  I know he had a bit of  a step back last year when adjusting to the coverage that comes with playing higher up in the lineup, but at the same time, his skill – his skating, his passing, and most of all, his hands and the moves he can do in close – not too many people, even in the NHL, have that skill, to do what he can with the puck at top speed.  Yes, he's a bit on the small side and does have some bad habits and tendencies – like taking the puck alone up the middle, trying to beat guys 1-1 too often – but those are thing he can learn to overcome. From a talent standpoint, I don't see one reason why Kadri can't accomplish his goal.
If I was a betting man, and I am, I would bet that Kadri is the Leafs top centre by Christmas and that he gets the majority of power play ice time at centre. I see no reason why, playing with Phil Kessel, who is unquestionably one of the best players in the league already, won't allow Kadri to put up the kind of numbers that will get him into that conversation.
What about you?