When evaluating a team's chances to win the Stanley Cup, teams are often judged based on the status of their "window". A rebuilding team's window would be closed, but on its way to opening as they acquire young talent and build for the future. Contenders are said to have an open window. In a four-part series, I will be putting each NHL team into one of four categories to evaluate their "window". The categories are:
Closed: This team is not a Stanley Cup contender, and with the current state of their franchise, they are not going to be a contender at any point in the next few years.
Open: This team is among the favorites to win a Stanley Cup this year, and they should be in a prime position to contend for the next few years.
Closing: This team has a chance to win a Stanley Cup this year or next, but if they do not, they may not be contenders in the years following. Whether it's salary cap problems, or aging of key players, they may have one last push left, but beyond that, it's questionable.
Opening: This team is filled with young, up-and-coming players. They won't be a top seeded playoff team, but will make the playoffs, and could make some noise with an upset of a contender in the first few rounds. In a few years, if things go right, they will be graduating to the open category.
Breaking Down the Metropolitan Division
Carolina Hurricanes: Closed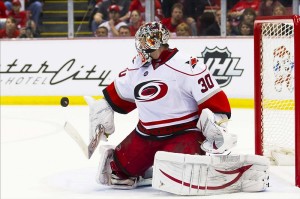 The Hurricanes have a few strong core pieces to build around up front in the Staal brothers, Alexander Semin, and Jeff Skinner. They also have a young, budding top pairing defenseman in Justin Faulk. However, the rest of the defense and the goaltending situation leaves a lot to be desired. The Hurricanes have a few good defensive prospects in the pipeline, but Haydn Fleury and Ryan Murphy are a few years away from being legitimate top four defensemen.
Right now, there is Faulk and Andrej Sekera, then a large dropoff in quality in terms of NHL defensemen. Cam Ward is the 5th highest paid goalie in the league, but hasn't delivered a sub-2.50 GAA since 2008-09, or a .920+ save percentage since 2010-11.
Anton Khudobin was a pleasant surprise last season, and is now signed through 2015-16. But is he the answer? And making him the starter means the Hurricanes have the league's most expensive backup in Ward, who carries a cap hit of $6.3M/year for 2 more years.
Columbus Blue Jackets: Opening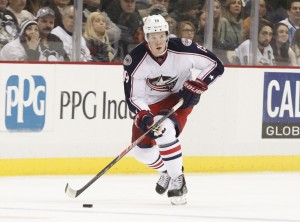 Under Jarmo Kekäläinen, the Blue Jackets have built an impressive stable of forward prospects. While they do not have any superstars up front, they will have strong depth, and as long as they get Ryan Johansen signed, a legit #1 center.
In goal, Sergei Bobrovsky is an elite talent that the Blue Jackets were able to effectively steal from the Flyers. He will be a restricted free agent after next year, and will be in line for a huge extension.
On defense, they have a few solid, established top 4 defenders in Fedor Tyutin, Jack Johnson, and James Wisniewski. Add in former 2nd overall pick Ryan Murray, and their defense should be set for the next few years.
The Blue Jackets were able to give the Penguins 6 tough games before losing in the first round last season. This is certainly a team on the upswing, and they should be a playoff team to watch again this upcoming year.
New Jersey Devils: Closed
Who is going to score goals in New Jersey? That, by far, is the most pressing question that the Devils have to answer. Following the departure of Zach Parise and Ilya Kovalchuk in consecutive offseasons, the Devils are hurting for scoring power up front. They had the 4th fewest goals in the league last year, and things might be worse next year. Their two leading scorers were Jaromir Jagr and Patrik Elias, who will be 42 and 38 this season, respectively.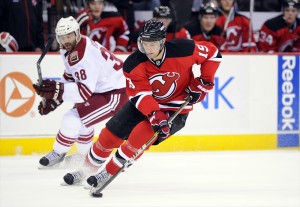 Adam Henrique and Travis Zajac are quality two-way players, but lack the top end skill to carry an offense. Among prospects, Reid Boucher is the only player that projects as a quality top six forward. Their last two first round picks, Stefan Matteau and John Quenneville, project as elite 3rd liners or complementary 2nd liners. They only have one right wing prospect in their system. Until the Devils add some serious offensive talent, they cannot be seen as contenders.
In goal, the Devils are set long-term with Corey Schneider, who just signed a $42 million dollar extension. On defense, they have a decent group in the NHL that gave up the 6th fewest goals in the league last year. In the pipeline, they have a number of players that project as top four defensemen, including Jon Merrill, Damon Severson, and Steve Santini.
The Devils will not be an offensive dynamo, as long as Lou Lamoriello is running the ship. They thrive on defense and converting on opportunistic scoring chances. But, they will need somebody to score the goals.
New York Islanders: Opening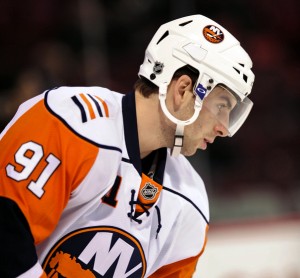 Led by franchise center John Tavares, the Islanders have built a solid group up front offensively. Add in Ryan Strome, Michael Dal Colle, Josh Ho-Sang, and Anders Lee, and they are set at forward long term.
On defense in the NHL, they are a bit raw. However, significant reinforcements are on the way. The Islanders have built arguably the best group of defensive prospects in the league, led by Griffin Reinhart. There are arguably six players in their prospect pipeline that, if things go well, could be top 4 NHL defensemen. Overall, they have the best prospect pool in the Metropolitan division.
However, the one question mark the Isles have is in net. Evgeni Nabokov is gone, and Anders Nilsson, Kevin Poulin, and Mikko Koskinen. Next year will be the beginning of the Jaroslav Halak era in New York. Halak disappointed in St. Louis, playing behind a stone wall of a defense. However, he impressed in his short time in Washington in 2013-14.
Can the Islanders win a cup with Halak in net?
New York Rangers: Closing
More than any other team in the Metropolitan division, the Rangers need to pay significant attention to the salary cap and aging players. Heading into 2015-16, they have $52.3 million dollars committed to just six forwards, four defensemen, and a goalie. After next season, Derek Stepan and Carl Hagelin will be restricted free agents, and Mats Zuccarello, Marty St. Louis, and Marc Staal will be unrestricted free agents. Considering the current contracts they have signed, there is zero chance that the Rangers can keep all of them.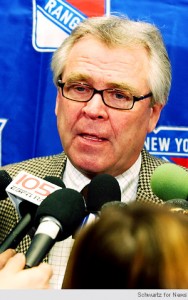 The Rangers still have to pay Rick Nash and Dan Girardi a combined $64.2 million for the next four and six years respectively. Considering their poor performances in the 2013-14 playoffs, their contracts are likely to become significant liabilities soon.
The Rangers still have Henrik Lundqvist, who is the best goalie in the NHL. As good as he is, his save percentage has gone down and GAA up each of the past 3 years. The Rangers will also be dealing with his $8.5 million dollar cap hit until Lundqvist is 39.
The Rangers have the talent to make another run or two, but in a few years, the cap will likely prevent them from being legit contenders.
Philadelphia Flyers: Opening
At forward, the Flyers appear to be set for the long term. They boast one of the strong young cores of forwards in the league, with Claude Giroux, Wayne Simmonds, Jakub Voracek, Brayden Schenn, and Sean Couturier all 26 years old or under.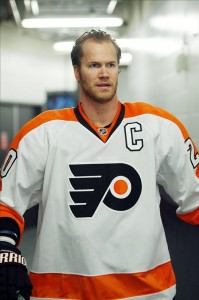 After constant turmoil, the Flyers appear to have also found their answer in goal. Steve Mason posted the best season for a Flyers starting goalie in a number of years, and recently signed a 3 year extension. Despite not posting incredible numbers, Mason single-handedly carried the team in the beginning of the year, and was the only reason the Flyers were able to take the Rangers to 7 games in the opening round of the playoffs.
The question in Philadelphia is on the blueline. Chris Pronger's concussion and Kimmo Timonen's aging (and blood clot issues), have left the Flyers without a top #1 defenseman. The Flyers have a surplus of solid, #4 defensemen, but lack the top end talent needed to be a contender. The team has done a good job of adding defenseman prospects, with Samuel Morin, Travis Sanheim, Robert Hagg, and Shayne Gostisbehere all showing great potential.
However, the Flyers will have to overcome their struggles with developing defensive prospects into quality NHL players before they take the next step to contender.
Pittsburgh Penguins: Open
When you have the two best players in the Metropolitan division, and possibly the league, you will always be a contender. This past season, Crosby and Malkin were 1st and 2nd in the league in points-per-game. It's taken awhile, but the Penguins appear to have finally find the right group of wingers to complement their star centers.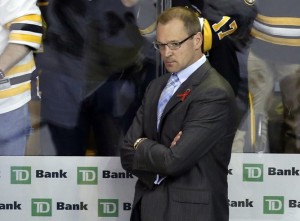 On defense, Kris Letang is an elite offensive defenseman, and with Paul Martin, Christian Ehrhoff, and Olli Maatta alongside him, the Penguins have a solid backend. They also possess a solid defensive prospect pool, led by Derrick Pouliot.
Marc-Andre Fleury remains a question mark in goal, but was able to deliver his best statistical performance in the playoffs since 2007-08. He is only signed for one year, and it remains to be seen whether the Penguins will re-sign him.
In 2008-09, all the Penguins needed as a coaching change to ignite them to a Stanley Cup win. Fast forward five seasons, and a similar change has taken place with Bylsma out and Mike Johnston in. A new coach could be just what this talented team needs to return to the promised land.
Washington Capitals: Closing
When the Capitals replaced Adam Oates with Barry Trotz, they underwent a philosophical change at coach. Oates was an offensive-leaning coach, whereas Trotz preaches strong overall team and defensive play. In Nashville, Trotz often lacked the talent needed to win, despite having his teams play his system well. In Washington, the opposite has been the case in the past. They had lots of talent, but did play to their abilities.
Recognizing that the team did not have many more years of peak Alexander Ovechkin left, they spent $67.75 million dollars in upgrading their defensive when they added Matt Niskanen and Brooks Orpik. It remains to be seen whether that will be a wise investment, but you cannot say the Capitals aren't trying.
With a revamped defense, two star forwards up front, and a solid goalie in Braden Holtby, the Capitals may be able to finally put everything together under Barry Trotz and make run for the cup.