Everyone saw what happened to the Pittsburgh Penguins and you could see it coming. They built a big division lead, got a serious case of the injury bug, tried to ride it out as long as they could, then got exposed by a scrappy Columbus team before an epic collapse against the New York Rangers. Honestly they were supposed to get to the Conference Finals before bowing out of the playoffs. The high expectations had their casualties, most notably Ray Shero and Dan Bylsma.
James Neal was shipped out for Patric Hornqvist and a new coach was brought in among other transactions. The bottom line is Pittsburgh still has high expectations even with a new GM and coach. Today we chatted with Brian Metzer and asked him a dozen hard hitting questions. Metzer hosts Pens Live for NHL,net radio and is a fantasy writer at NHL.com as well. Below are his answers.
=======================================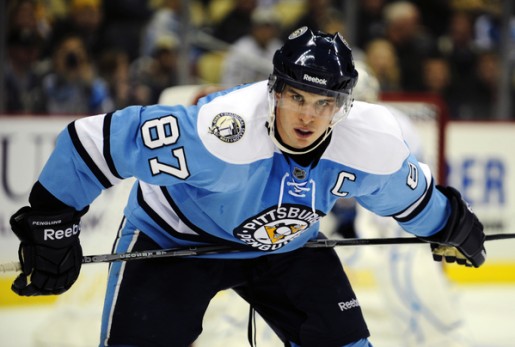 1. The first and most obvious question is what the heck happened against the Rangers?
That is the million dollar question isn't it? While Brooks Orpik wasn't quite himself, he was out of the lineup, which had the defensive pairings shuffled. There was little to no protection for Marc-Andre Fleury and the Rangers got two and three chances on almost every shot they took. That along with the fact that the Penguins weren't able to generate much offense, something that has plagued them in the playoffs against teams that play solid defense in and around their goaltender over the past few seasons, killed them. Sidney Crosby wasn't playing at the MVP level that he had throughout the season, which we've since found out was due to a wonky wrist, and there weren't many others on the front lines picking up the slack. Evgeni Malkin tried to elevate the team, but it just wasn't enough. Stir in the fact that the Rangers, who looked physically and emotionally drained through the first four games of the series, got a huge emotional shot in the arm in the form of the tragedy that struck Marty St. Louis' family and you had a recipe for the Rangers to make some history in roaring back from a 3-1 deficit.
2. Did you ever expect both Ray Shero and Dan Bylsma to be fired the way they were?
The moment the final ticks came off the clock of the Penguins' season we all knew that change was going to come, but I don't think many thought Ray Shero was in peril. It seemed that many around, including Dan Bylsma, thought that he had coached his final game in Pittsburgh, but when the announcement came out that he'd be staying and Shero would be relieved of duties there was a whole lot of bewilderment. While the Penguins claim that they were not blocking Bylsma from other jobs, it was a bit strange that they opted to keep him for three additional weeks. That will be a stigma that the ownership group will likely carry for the foreseeable future since it rubbed more than a few NHL people the wrong way, but it isn't something that they cannot overcome.
There had long been rumors of strife in the Penguins' front office and the fact that Shero was terminated one year after being named the NHL Executive of the Year speaks to the fact that many of them were probably true. While those conflicts might have played a role in his termination, the fact remains that the team had underachieved for five seasons and he had fallen into the trap of sending out high draft picks and lots of cash to flesh out his NHL roster. Without the infusion of young talent in the organization there simply wasn't enough depth. You need to draft well in a cap driven world and Shero's staff simply did not do so.
3. Pittsburgh may have gotten left at the coaching alter a couple times but did they ultimately find the right guy?
They seem to think so.
While the optics didn't look good when several coaching candidates ultimately opted for other opportunities, Mike Johnston is a guy they are very comfortable with. Especially when you stir in the fact that he was ok with inheriting a couple of assistant coaches, including newly hired Rick Tocchet, who made his return to the Penguins. He did hire one of his own in Gary Agnew, who had a pretty successful run with the St. Louis Blues before being let go as sort of a sacrificial lamb after their playoff failure last spring.
Many try to label Johnston as a Junior A coach, but at the end of the day he has an extensive experience at both the NHL (Los Angeles/Vancouver) and International (Hockey Canada) levels. He has shown an ability to work with skilled players, albeit young ones, and coaches an up tempo style that should play well when you insert guys like Crosby, Malkin, and Letang. Letang specifically is one player that should thrive, as he was sort of bridled by the previous regime.
4. Do you think Sidney Crosby was really injured and does he crack the 100 point mark in 2014-15?
There were plenty of rumors circulating about Crosby during the playoffs, but he did appear to be nursing some kind of injury throughout. He did not have the same burst, but that could have just been fatigue from a long season that included a grueling trip to a Gold Medal for Team Canada in February, but the most noticeable difference for 87 was the fact that he did not seem to have his typical ability to stick handle, take a pass or shoot the puck with authority. His lack of control with his backhand was especially noticeable.
I think most of us believed that Crosby was dealing with something and were more shocked to hear during breakdown day that he was not. So in a sense most folks covering the Penguins were not surprised when news of his wrist injury finally came out in the weeks following the season.
By all accounts Crosby's therapy has apparently been going well and he was recently on ice for off-season workouts. He should have no problem cracking the 100-point mark even if he doesn't play in 82 games. He has shown an ability to reach those lofty plateaus even if forced to play in less than 82 games.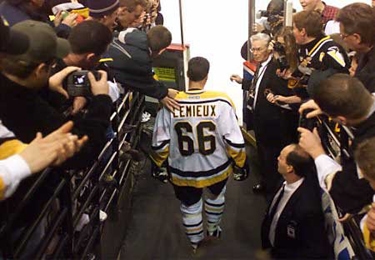 5. Was enough done in free agency and the draft to placate the Pittsburgh masses or could more have been done?
There are still plenty of folks who aren't thrilled with the return Jim Rutherford got for James Neal, but that is more of a fans-eye view of the situation. Many in and around the organization believe that it just might have been a bit of addition by subtraction. Sure Neal will always be remembered as being a 40 goal player, but he is streaky, even when playing with Evgeni Malkin. His offense typically vanished in the playoffs, scoring goals in less than 1/3 of the games he played in the postseason, and he took damning penalties far too often.
Patric Hornqvist may not have the offensive upside of Neal, but he has been a 30-goal type of player while skating with centers far below the talent level of Crosby/Malkin. He is also known as a great character player, the type that could wear a letter for your team. He isn't afraid to speak up in the room and should help with the culture change that management was hoping for.
Christian Ehrhoff sort of fell into their laps and the fact that he was willing to come in on a one year deal for team friendly money really helped with the rest of the off-season plan. Sure that was bolstered by the fact that the Sabres just handed him a handsome buyout, but that is a story for another day.
They also did a nice job of rebuilding their bottom six and that started with the Neal deal and Nick Spaling. Adding pieces like Blake Comeau, Steve Downie and re-signing Marcel Goc should go a long way in the depth department. Last year they iced lineups that featured more than a few AHL players in those roles.
They could use another body for their top six, but they seem to be pretty comfortable giving guys like Beau Bennett and Kasperi Kapanen a look in training camp. Trades can always be made down the line to bolster an attack that should be dangerous simply by having Crosby and Malkin available.
6. Can Pittsburgh flip around their poor possession numbers with the new regime change? 
I haven't spent a ton of time researching the possession numbers of all of the new additions, but aside from Spaling, all other additions should help that transition immediately. Plus (just to poke the bear) I don't need your fancy stats because I have eyes. Haha Just a joke tossed in here for fun.
I think that generally speaking the Penguins will be able to become a better possession team just by implementing the new system. While Bylsma's system called for multiple passes just to start a breakout, which forced guys like Kris Letang to pass when they would have been more comfortable carrying the puck, Johnston's should allow guys to sort of play their game. I am really anxious to see how their numbers change over the first month of the season.
Generally speaking, the team also put a bigger emphasis on analytics and advanced stats this season with the hiring of Jason Karmanos. Having a stats guru on hand will significantly help in identifying players and areas of concern.
7. Is this Marc-Andre Fleury's last year in Pittsburgh or can he give himself more chances?
I still believe that Marc-Andre Fleury will earn a contract extension here in Pittsburgh. He had one of his finest seasons in a Penguins uniform last year and answered it with a strong playoff run. While he did have one gaffe against Columbus, he was probably one of the Penguins best players giving them a chance to win nightly.
He really seemed to get a boost from working with a sports psychologist last off-season as well as his new goaltending coach Mike Bales. Those two things were a big reason for his resurgence in the postseason.
He has shown over the course of his career that he elevates his level of play when he has a strong backup behind him and he will have that this season with Thomas Greiss.
It wouldn't be a stretch to say that they Penguins potentially talk extension with him mid-season.
8. Will Patric Hornqvist end up with more points than James Neal?
Hornqvist will have something going for him that Neal does not – a chance to play with Crosby or Malkin. While Nashville acquired a couple of offensive minded centers in Mike Ribeiro and Derek Roy, neither has shown an ability to perform at the level of the aforementioned duo. Both are also at a bit of a crossroads in their careers. I fully expect Neal to get his points, but Hornqvist will get his as well.
Hornqvist's ability to get to the net will provide different looks for his linemates in Pittsburgh and he will cash in some of the opportunities that Neal and others in Pittsburgh over the past couple of seasons missed by avoiding the crease.
My guess is that each player will score in the 25-30 goal range this season and probably hover around the 60 point range.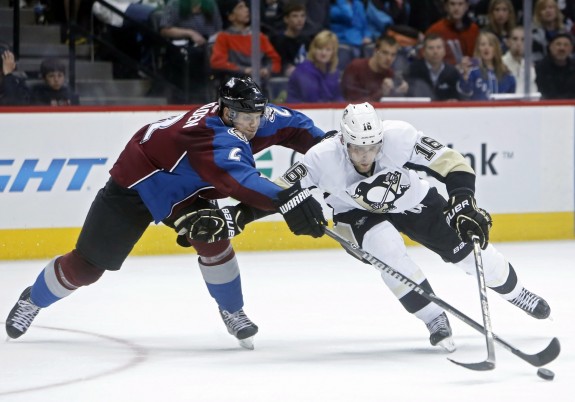 9. Who is the biggest fantasy surprise in Pittsburgh that we may not know about?
There are obviously plenty of fantasy options on the Penguins' roster such as Crosby, Malkin, Kunitz, Letang and Ehrhoff, but some other players to keep an eye on would be Hornqvist, Paul Martin, Olli Maatta, and even Pascal Dupuis if healthy.
But you asked me for a surprise — keep an eye on Brandon Sutter who was one of the team's best offensive players during the playoffs. There is no guarantee that he'll breakout offensively, but he just got the security of a new two-year deal and wants a bigger role.
I also thing that Steve Downie, who's best offensive season came while playing for Rick Tocchet in Tampa Bay, could become a productive fantasy player logging time on the third line and shuffling through the top six from time to time.
10. Are the Penguins really just waiting for Mike Babcock to become available?
While the Penguins were very interested in Babcock and him in them, I don't think that is something that will come to pass. They seem willing to give the new regime a chance and I think that they will do that. If Babcock does become a free agent I think they would do some due diligence on the situation, but there no longer seems to be a clear path to Pittsburgh for him.
It is no secret that Babcock loves coaching Sidney Crosby and vice versa so I guess I'd never say never, but it seems like a long shot.
11. If you were GM, given Pittsburgh's cap position, are there things you would have done differently?
I was disappointed to see the Penguins miss out on Nik Kulemin, since it was no secret that he and Malkin were hoping for a reunion in Pittsburgh, but beyond that I have been pretty happy with what they have done thus far. They built up their depth; they grafted on some character players and seemingly have a lineup in place that will not allow Crosby and Malkin to be manhandled by the opposition.
They do still need to keep an eye out for a top six option or two, but for today I am comfortable starting the season and getting a look at the new look Pittsburgh Penguins.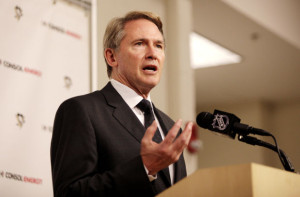 12. Give us your verdict. Where will the Pittsburgh Penguins finish at the end of the regular season?  Playoffs?
The Metro is an improved division and it is doubtful that the Penguins will carry a double digit lead throughout the season, but I still think that they will compete for a division title and maybe even win it. If they miss out on that, I foresee a finish in the four or five slot in the East.
As for the playoffs, that is a tough prediction to make. I can see them winning at least a round with the current roster, maybe a deeper run with some tweaking. I am not sold on this lineup as a Stanley Cup Finalist as the moment, but they could feasibly still be a top eight team in the league with the right breaks and adjustments.