According to the Toronto Sun, Detroit Red Wings coach Mike Babcock reached out to former captain Nicklas Lidstrom in June to fill the vacant assistant coaching positions.
Obviously, Lidstrom declined the job opportunity, as Tony Granato, Jim Hiller and Andrew Brewer were hired to fill the spots left by Tom Renney and Bill Peters.
Lidstrom opted to stay in Sweden with his family, but added that "you should never say never" when it comes to him making a return to the NHL at some point.
This begs the question: Would Lidstrom make a good NHL coach?
It seems like a no-brainer that a four-time Stanley Cup winner, seven-time Norris Trophy winner, a Conn Smythe Trophy winner and an Olympic gold medal winner would have the qualifications to coach an NHL team and be successful.
Wayne Gretzky
However, the trend of great players coaching in the NHL hasn't been so good. A prime example is Wayne Gretzky. Gretzky is one of the greatest to ever play the game; that much is a given.
However, Gretzky's coaching career with the Phoenix Coyotes from 2005-2009 was anything but stellar. He had a 143-161-24 record and never finished higher than fourth in the Pacific Division. He also never made the playoffs as the bench boss for the Coyotes.
Sure, the Coyotes weren't exactly brimming with talent back then, but there's a reason teams aren't knocking on Gretzky's door begging him to coach their team.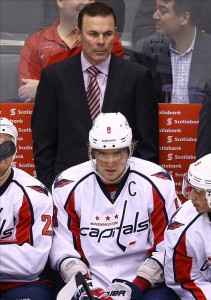 Adam Oates
Another example is Adam Oates. Oates took over as head coach of the Washington Capitals in 2012. However, he only got two seasons in Washington before he was fired. He compiled a 65-48-17 record with one playoff appearance.
A bit better than Gretzky's coaching career, but nothing to write home about. Oates even had the luxury of Alexander Ovechkin (despite his awful plus/minus over the past three seasons) and other decent players such as Nicklas Backstrom and Joel Ward.
The old adage is "Those who can't do teach." Lidstrom, Gretzky and Oates could all do, so if Lidstrom decides to come back and coach, history suggests he might not be so successful.
Despite what history might suggest, I would be interested to see how Lidstrom would do as a coach, but I won't be proclaiming the next Red Wings dynasty should he ever decide to come back to the NHL. He was a smart player who could no doubt help some youngsters develop, but he may be better suited in a scouting role than a coaching role.