When a good chunk of your prospect pool arrives to the NHL within the same year or two, you will eventually run into trouble of re-signing all of them to appropriate contracts. This is the situation the Minnesota Wild are beginning to encounter. Between this summer and next September, The Wild will have to sign 6 roster players at age 24 or below. Each one of the players pays a good contribution to the team and will be a significant loss if they are not able to come to an agreement. Let's run down these current and potential RFA's, and try to come to a conclusion of a fair contract extension.
Mikael Granlund
Granlund was the 9th overall pick in 2010 and the Minnesota Wild's top prospect for quite some time and is finally scratching the surface of his potential. Last season he accumulated 8 goals and 33 assists for 41 points in 63 games. Not bad for a sophomore season. His contract comes up next summer and the Wild should try to lock him up long term before that happens. Granlund could very well be the next premier playmaker in the league and may start the season on the first line between Zach Parise and Jason Pominville, especially after their playoff success together. A contract around 4 years at $4.5-5 million would be very reasonable for Granlund.
https://www.youtube.com/watch?v=r2JJPkYvdM8
Jonas Brodin
Brodin was the 10th overall pick in 2011 by the Minnesota Wild and debuted in the lockout shortened 2012-13 season. He had an exceptional rookie season but was unable to make the next jump in his sophomore. Last year, Jonas had 8 goals and 11 assists for 19 points in 79 games, and his defensive game has also shown excellent promise. His contract also expires next summer and, like Granlund, should be signed for a long while. Brodin has seen top line defensive time with Ryan Suter, and the two seemed to gel well together. Jonas could turn into a top defence man with the Minnesota Wild within the next couple of years easily. A contract extension of 3 years at around $3.5-4 million would seem fair.
 Nino Niederreiter
Niederreiter was a 5th overall pick of the Islanders in 2010 and played his first season for the Minnesota Wild last season after being acquired through a trade. Nino was a completely different player for Minnesota, putting up succussful totals for what could be considered a rookie season, he had 14 goals and 22 assists for 36 points in 81 games. If Neiderreiter continues to play to his potential he could easily turn into a top-6 forward, at very worst, a great 3rd liner. He is currently an RFA right now and will likely receive a 'bridge contract'. Expect an extension of 2 years worth about $2-2.5 million per year.
Darcy Kuemper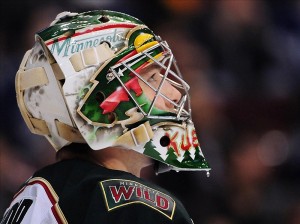 Kuemper was a 6th round pick for the Minnesota Wild in 2009 but has already surpassed their expectations. Darcy has played very well at both AHL and NHL, putting up a 2.43 GAA and a .915 Sv% in 26 big league games last season. Kuemper took over as starter in the playoffs last year due to injuries to Backstrom and Harding, and was quite admirable again. It is possible, with another injury, that Kuemper could take over as the Minnesota Wild starter at one point this season and, possibly,  for the foreseeable future. Darcy is currently a RFA and, like Nino, should expect a 2 year deal worth around $1.5 million per year.
Charlie Coyle
Coyle was a 28th overall pick by the Sharks in 2010, then traded to the Minnesota Wild via the Brent Burns trade. Charlie improved slightly from his rookie to his sophomore season, totalling 12 goals and 18 assists for 30 points in 70 games. Coyle played some 2nd line minutes last year when Koivu went down to injury and will play either 2nd line wing or 3rd line center to start the season. He will be a RFA in 2015 and is still expected to turn into a reliable goal scorer, but his development may take a bit longer. Look for a probable 3 year contract at somewhere around $2 million per.
https://www.youtube.com/watch?v=tvE1G1AhUEo
Marco Scandella
Scandella was a 2nd round pick in 2008 by the Minnesota Wild and already has 4 years of NHL experience, his last being his best so far. Marco put up 3 goals and 14 assists for 17 points in 76 games last year. His most noticeable improvement was how stable he was on the back end. Scandella will be an RFA in 2015 and is expected to be a 2nd pairing to start this season. Marco could warrant a 3 year contract depending on his play this year, worth around $2-2.5 million.
Best of the Rest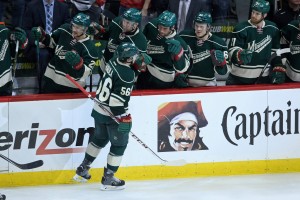 -Erik Haula will be a RFA in 2015 and look for a one or two year deal. Haula showcased his explosive speed and ability to finish in the 2014 Playoffs.
-Michael Keranen is a RFA in 2015 and will likely warrant a two year extension depending on his play this year. He led Finish league, Liiga, in points last year.
-Christian Folin is a RFA in 2015 and will look for a 3 year extension. He was signed out of U-Mass Lowell last year and impressed in his NHL debut.