Kari Lehtonen is now in his 11th NHL season and perhaps finally living up to being selected second overall in the 2002 NHL Draft. After five seasons (four full seasons) with the Atlanta Thrashers in which he had two winning seasons and two seasons under .500, he was traded in 2010 to the Dallas Stars for Ivan Vishnevskiy and Dallas' 4th round choice (Ivan Telegin) in 2010 Entry Draft. Now entering his fifth full season with the Stars he is proving that the trade for the two Ivan's was a steal as he hasn't had a losing season and has three seasons with 32 wins or more. In 461 career games he has a nice record of 220-172-49, with 28 shutouts, .915 save pct. and a 2.68 GAA.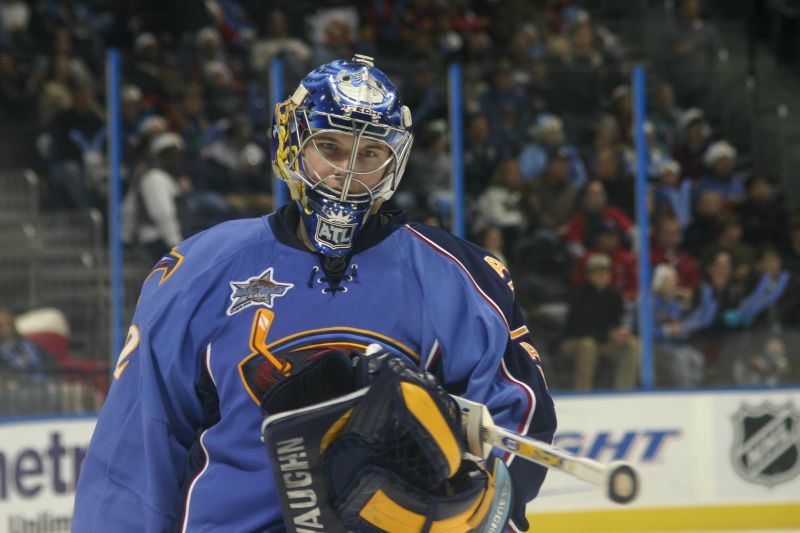 "I had some good times and some bad times in Atlanta. I was a young player, a young man; I was trying to figure my life out," the recently turned 31-year-old told the Hockey Writers. "I think things were not…I didn't feel like I was getting better and better there. It was great for me to get…I didn't know how much I needed to get a new start; after that trade I tried to figure out things and so far everything has been great." Things were really great for Lehtonen and his teammates last season as they finally broke their playoff drought and he set a new career high for shutouts in a season with five. "I'm really happy to be in Dallas; hopefully I can stay here for a long time."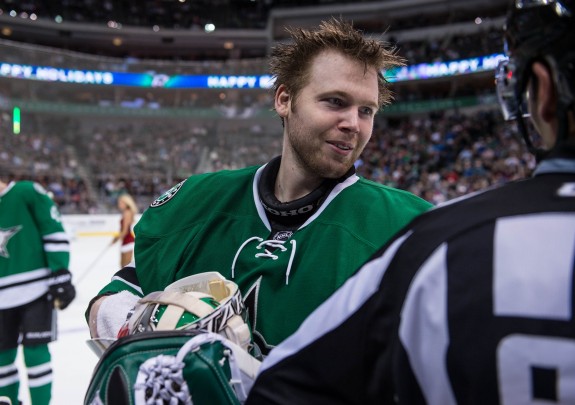 For those that don't know, Lehtonen has a very easygoing personality; this comes across in his interviews, as he is almost always smiling — and he's a very smart guy too. He guided the Thrashers to their only playoff appearance and is one of the best Finnish goalies in the NHL now with the Stars. Dallas though, is a long way from home in Helsinki. THW asked him if he has a wardrobe full of cowboy boots and hats now that he lives in Texas 7-8 months a year. "Sometimes," he said with an almost embarrassed laugh, "but not too much. If we go to see a country concert or something like that of course — but that's not my deal."
THW interviewed the Stars netminder after a shootout win in New Jersey and we were curious if he had any inside information on what moves Jaromir Jagr was going to use on his attempt (no goal); they were teammates in 2012-13 in Dallas. "I looked at some tape (before the game) and tried to remember, but he's usually really good at looking at what's open or what I give him," Lehtonen explained. "I don't think he decides what he's going to do. He kind of lost the puck when he got close to me so I think that made it more difficult for him to get a good shot off.
Kari Lehtonen makes two saves on Jaromir Jagr, even though he needed only one:
Dan Rice can be reached via Twitter: @DRdiabloTHW or via Email: drdiablo321@yahoo.com