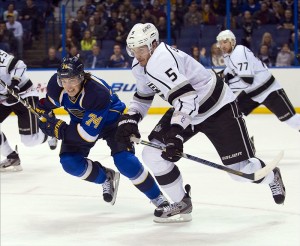 The Winnipeg Jets' blue line finally received some good news Saturday. No, Jacob Trouba isn't ready to play, but the Jets did claim Keaton Ellerby off of waivers from the Los Angeles Kings. 
The 24-year-old defenseman will lend an immediate helping hand to a Winnipeg blue line that is without Trouba, Mark Stuart and Paul Postma. Trouba remains on injured reserve and there is no concrete timetable for his return. Stuart is also on IR with a hip injury, while Postma is out indefinitely because of a blood clot.
As for Ellerby, he's hasn't played a single game for the Kings in 2013-14. The 10th overall pick by the Florida Panthers in the 2007 NHL draft, Ellerby does have some NHL experience. He's played in 160 games, including 35 with the Kings last season. However, he has just two goals and 20 points in his career, so don't expect him to help cure the Jets' power play woes. 
Newest Jet, Keaton Ellerby (@ellerby88), is happy to be in Winnipeg. WATCH >> http://t.co/hPjsxo0Mbh

— Winnipeg Jets (@NHLJets) November 3, 2013
What he does bring to the table first and foremost, is size. At 6'5″, 220 pounds Ellerby has a solid frame, which allows him to play a strong shutdown game. He isn't afraid to play physical, but he also does a good job of playing disciplined hockey and staying out of the penalty box. He's racked up just 86 penalty minutes in his career. He may not have great offensive vision or skill, but he can move the puck up ice with confidence and make strong passes out of the defensive zone.
Ellerby joins a team that has struggled mightily in the past couple weeks. Winnipeg has just one win in its last seven games and sits dead last in the Central Division and 13th in the Western Conference. The Jets rank 24th in the league with an average of 2.20 goals per game. Their goals-against average isn't much better, as they're tied with the Dallas Stars for 21st, allowing 2.93 goals per game. 
Again, the biggest problem continues to be the power play and the addition of a bonafide top-six forward would go a long way. Of course, those are hard to come by unless you're the New York Islanders.
What Ellerby will do is provide depth in the short term, as the Jets deal with injuries. He will make his debut on Monday, when the Jets host the Detroit Red Wings. His future with the team beyond this season is less certain, as he's currently playing out a one-year, $735,000 contract, according to CapGeek.
Ellerby and Zach Redmond will become restricted free-agents at season's end, while Mark Stuart and Adam Pardy are set to become unrestricted free agents. The rest of Winnipeg's blue line is under contract through the 2014-15 season.