With three days in between their 9th and 10th games, the Pittsburgh Penguins have plenty of time to decide on their junior-eligible 19-year-old defenseman, Olli Maatta. Not only do the Penguins have plenty of time to make a decision, but the Pittsburgh media and fans also have a plethora of time to debate the topic.
I feel like I only need to say "Olli Maatta" and Twitter will go nuts.

— Josh Yohe (@JoshYohe_Trib) October 21, 2013
Those debates mostly revolve around the merits of keeping Maatta in the NHL or sending him back to the OHL. However, the idea of keeping him in the NHL usually leads to a new topic – what would that mean for every other defenseman on the roster?
There is not nearly enough information available to speculate on how the Penguins may change their roster, but here is an evaluation for trading each member of the Penguins' defense for debate purposes.
Puck-Moving Defensemen
Kris Letang
Keep Him: Letang is one of the top-rated offensive defensemen in the league. His speed, fluid skating style, and creativity make him a scoring threat with the puck at all times. He's no slouch in the defensive zone either with big hit capabilities and the ability to cover a gap quickly. Letang continues to grow his game and may not have even reached his prime yet. He was a point-per-game player for the first time during the shortened 2013 season. With a cap-friendly $3.5 million contract this season and a $7.25 million per season extension until 2022, Letang will likely be a bargain compared to the open market for several years.
Trade Him: One major critique of Letang's play is his propensity for risk-taking, which leads to mistakes or odd-man breaks more often than many would like. The other issue he has faced recently is injuries. Letang missed 31 games during the 2011-12 season, 13 games last season, and has already missed 9 games this season.
Verdict: Must Keep. Though he may be frustrating at times, there is no question that trading a player with his talent would be a mistake.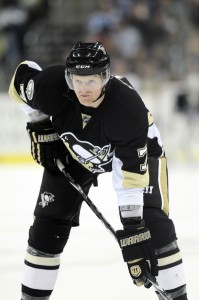 Paul Martin
Keep Him: Martin bounced back so well from a subpar 2011-12 season that he even received Norris Trophy votes after the 2013 season. During his turnaround, he was the Penguins best defenseman in terms of poise with and without the puck. His calming influence on the powerplay is noticeable and he handles big penalty kill minutes as well. Martin is likely the Penguins most well-rounded defenseman and a jack-of-all-trades for the defense.
Trade Him: The first strike against Martin is his $5 million cap hit this season and next that takes up valuable space on a team constantly hovering around the cap ceiling. In terms of his performance, the biggest question is whether Martin is as bad as the 2011-2012 version, as good as the 2013 version, or somewhere in between. There is a chance that Martin has already shown off his best hockey and may be in for a regression.
Verdict: Should Keep. While trading away a larger cap hit is always a tempting idea, Martin plays too many minutes in key situations to be considered replaceable.
Matt Niskanen
Keep Him: Niskanen has been an excellent injury replacement in the top 4 of the group whenever Letang or Martin have been injured. He has a strong, low shot from the point and is also an excellent skater. Niskanen is having a great start to the season with six points in nine games while Letang has been out. He has even hinted that he would like to stay in Pittsburgh and may be willing to take less money to do so.
Trade Him: When everyone is healthy, Niskanen is a 3rd pairing defenseman at a hefty price of $2.3 million this season. His game has regressed notably in the playoffs each of the last two years and he has often lacked consistency from month to month. Additionally, he will be an unrestricted free agent at the end of the year. The Penguins have several highly-touted defensive prospects that will be ready soon and those prospects may make Niskanen expendable in the process.
Verdict: Trade Candidate. Niskanen has been valuable to the Penguins and a better player than many expected when he was acquired in the Goligoski trade with Dallas. However, he is a luxury on a team with two well-established pairings already and a plethora of youth looking for playing time.
Defensive Defensemen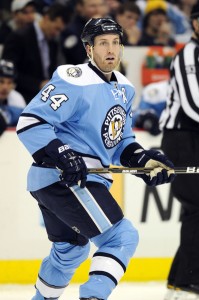 Brooks Orpik
Keep Him: Orpik has been a career Penguin for over a decade now and has anchored the defense as a stay at home, shutdown defenseman. He is known for his big hits, but he has backed off of that style and improved his positioning in recent years. He also provides a great veteran presence for younger defensemen and is one of the leaders in the locker room. He currently leads the team in ice time on the penalty kill.
Trade Him: Orpik is currently making $3.75 million and will be an unrestricted free agent at the end of the season. At the age of 33, Orpik and his fear-inducing stare are looking at the declining years of his career. If the Penguins do not see a future for Orpik in Pittsburgh, he would likely still fetch a significant return in the trade market this season.
Verdict: Should Keep, but Trade Candidate. For a team that is a Stanley Cup favorite, it's never advisable to trade away a top 4 defenseman. However, with his contract situation, his decline with age, and the return of Rob Scuderi, Orpik is a bit more expendable than one would expect. The Penguins would do well keeping him for another playoff run or trading him for assets at this point.
Rob Scuderi
Keep Him: Ray Shero openly admitted that he made a mistake in not bringing Rob Scuderi back after the Penguins won the Stanley Cup in 2009. He also corrected that mistake by signing Scuderi to a four-year deal in free agency this past summer. Scuderi has already made his presence felt on the team, playing heavy penalty kill minutes and erasing several odd-man rushes through only nine games this season. He is clearly a calming influence in the defensive zone and an asset that Marc-Andre Fleury appreciates.
Trade Him: The only questionable thing about Scuderi so far is that his contract lasts until he is 38 years old.
Verdict: Must Keep. He is only nine games into his four-year contract and has already made a clear positive difference on the blue line.
Robert Bortuzzo
Keep Him: At the age of 24 and having recently signed a two-year deal worth $600k per year, Bortuzzo is a cheap, up-and-coming defenseman for the Penguins. He brings a physical edge to his game and will never shy away from a fight to protect his teammates. Bortuzzo knows his abilities and plays a sound, risk-free brand of hockey in his own end.
Trade Him: While Bortuzzo is a trustworthy 3rd pairing defenseman right now, he doesn't have nearly the same upside as many of the defensive prospects that will be vying for an NHL spot soon. His one-way NHL contract also limits the team's options for moving him around the organization as prospects start to pass him up on the depth chart.
Verdict: Should Keep, but Trade Candidate. Bortuzzo's toughness and defensively-sound game are quite valuable to the Penguins, especially at his cap hit. However, trading him is certainly more acceptable than losing him on waivers if the team is looking to give some of their prospects a taste or more of the NHL.
Deryk Engelland
Keep Him: Engelland is known mostly for his toughness and fighting ability. At a $567k cap hit, he provides the team with a cheap depth defenseman who can be used in case of injuries or if the coaching staff expects an exceptionally physical game. Additionally, he has recently shown a willingness and ability (to a degree) to be versatile as he played two games at right wing over the past week.
Trade Him: Engelland will be an unrestricted free agent at the end of the season. At the age of 31, he is already struggling to find a spot in the lineup and will be passed up quickly by several prospects.
Verdict: Trade Candidate. Engelland is already 7th (perhaps even lower) on the depth chart and doesn't appear to have much of a future in Pittsburgh. He may not bring back much value in return, but opening up a roster spot could be significantly more valuable for the team in the long run.
Conclusion
Will the Penguins keep Maatta? Will they make a trade to do it? Will they make a trade eventually for salary cap reasons? I can't answer any of these. So, here's a summary of how I rate the Penguins defense for trading and debate purposes at least: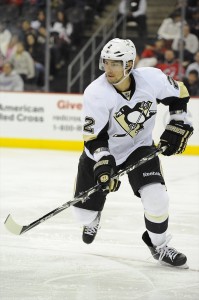 Must Keep:
Kris Letang
Rob Scuderi
Should Keep:
Paul Martin
Should Keep, but Trade Candidate:
Brooks Orpik
Robert Bortuzzo
Trade Candidate:
Matt Niskanen
Deryk Engelland
Now it's time to wait and see what tricks Ray Shero has up his sleeve this year.
Meesh is an attorney and one of the Pittsburgh Penguins Contributing Writers for The Hockey Writers. He also writes for ThePensNation.com. You can contact him on twitter @HockeyMeesh or e-mail HockeyMeesh@gmail.com