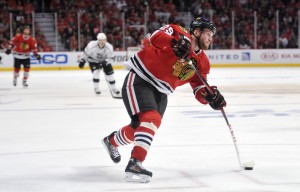 The Blackhawks have enjoyed a pretty solid start to the 2013-14 season, with the exception of going 0-1-1 against their rivals the St. Louis Blues, things have gone the Blackhawks way. Those of you lucky enough to have Blackhawks tickets will be feasting on a diet of Eastern conference opponents this October; good times since the Hawks have not lost in regulation to a single one of them. While the team was grinding out wins, one player who didn't have the best start to the season was playoff hero Bryan Bickell. After a goalless drought through the first seven games of the season Bickell finally broke the goose egg last Saturday against Toronto.
The pressure was mounting on Bryan Bickell, who was fresh off an impressive 9 goal 17 point performance in the 2013 playoffs. In the off season the 2004 2nd round pick was rewarded with a 4-year $16 M contract. With the hefty pay raise and upped expectations from management, Bickell had to know coming into this season he would be a constant point of attention from fans and media alike.
After starting the 2013-14 season on a seven game goalless drought the big winger was feeling the frustration but kept his game simple, sensing his scoring difficulties were more a case of bad bounces and unlucky breaks than errors in his style of play.
Last Saturday taking on the Toronto Maple Leafs, it was Bickell and teammate Mike Kostka who stole the spotlight from ex Blackhawks centre Dave Bolland. Bickell finally snapped his goalless drought showcasing his patience with the puck, and on Tuesday night scored in his 2nd straight game and his line with Shaw and Kruger was the most effective one of the night for the Blackhawks.
http://youtu.be/hRNWSkYDw6Q
Bickell seems to be most effective when playing between 14-17 minutes a night and being a physical presence. With just 15 hits through 9 games his physical presence hasn't been there this season like it was during the lockout season, where he led the team with 108 hits.
With his offense returning expect Bickell to start stepping up the physical part of his game, especially when playing with Shaw to form a bruising 3rd line for Chicago. The Blackhawks roster has come into shape the last two weeks as Pirri has meshed in a top 6 role and Bickell Kruger and Shaw have settled into an above average checking line.
While the Blackhawks have had some third period struggles they have still found a way to collect 14 out of a possible 18 points to sit 2nd in the central division. As the Blackhawks get set to face 3 divisional rivals next week you can bet Bryan Bickell will be right in the middle of the action, a spot where he seems the most comfortable.