Determining the quality of a coach is never an exact science. Unlike players, who can be judged by cold, hard individual stats, a coach doesn't always have the same luxury. Sure, it ultimately comes down to wins and losses as far as a coach's neck on the line goes, but there's usually a gray area that links a team's overall performance to that of their coach.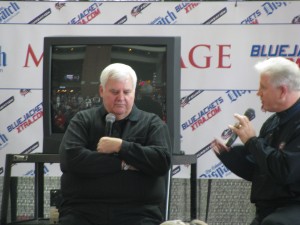 However, with regards to Ken Hitchcock's work with the St Louis Blues this season, there's no gray area: Hitch's impact is an obvious one, and one that should be given heavy consideration for the Jack Adams Award for the NHL's top bench boss.
Let's start with the big one: the wins. The Blues were a humdrum 6-7 when former coach Davis Payne was canned. Under Hitch, the team is a stellar 21-5-6, and currently sits 4th out of all NHL teams in points, with 79, behind Detroit, Vancouver and the New York Rangers, in that order. That's some elite company, especially for a team that not many were even considering to be a lock for making the playoffs.
Equally as impressive, however, is the Blues' 1.92 team goals against average, the lowest in the entire NHL. And that's with a blueline led by youngsters Alex Pietrangelo and Kevin Shattenkirk, and the team's only defender over 30, Barret Jackman. Upon signing with the team Hitch had a well-established reputation as an excellent defense-first coach, one that earned him as much scorn as praise in the post-lockout NHL, but the Blues jumping to the top of the league in goals against? That's an impressive feat.
In fact, as of right now the entire regular Blues roster, with the exception of Scott Nichol at -3, have a plus minus rating of a 0 or higher, all the way up to Shattenkirk's team-leading +23. Wow. Hitchcock has the entire team buying into a system where everyone not only accepts their roles, but is performing incredibly well at them. For a team that lacks star power and the heavy cap hit that usually follows it, it's an incredibly effective strategy.
And do you think Brian Elliott and Jaroslav Halak are complaining about it? Probably not.
Many have complained over the years about Hitch's commitment to the defensive side of the game, and have pointed out how it wouldn't work in the faster, sexier post-lockout NHL. Well, as this season has shown thus far, Hitch can still coach, and his methods are still effective. You don't coach a Stanley Cup-winning team (Dallas in 1999( without learning a few tricks along the way.
Blues fans might not be getting the most exciting brand of hockey that the franchise has ever seen, but the team is winning. And when it's all said and done in the end, there's nothing more important than wins and losses.