DISCLAIMER: If you are expecting a bash piece about Alex Pietrangelo, Jay Bouwmeester, Carl Gunnarsson or any other Blues defenseman, you will need to look elsewhere.
There are so many reasons why trading Kevin Shattenkirk makes perfect sense for the St. Louis Blues. On a team with top-pairing defensemen Alex Pietrangelo and Jay Bouwmeester earning $56.50 million over the next five years (also accounting for nearly 17 percent of the team's cap total in 2015-16), Shattenkirk is a cap casualty as his value in a trade would bring back a marvelous return. The 26-year old, who is destined for a hefty raise, will see his current contract come to an end at the conclusion of the 2016-17 season.
In the salary cap era, teams simply cannot afford to pay three defensemen upwards of $5 million, while trying to weigh in the contracts of top-end offensive talent and a 25-year-old netminder on the path toward stardom.
https://twitter.com/NHLbyMatty/status/614582864617807872
However, the Blues may not be shopping the correct defenseman to relieve their cap woes. It's easy to look at the numbers (including point totals and time on ice) and see that Shattenkirk is the most expendable, but value to one's team seems to be a forgotten characteristic in these trade discussions.
Last season, Shattenkirk missed 25 games with abdominal surgery. In that span, the Blues posted a 13-8-4 record. These are respectable numbers, but this 1.2 points-per-game pace over the course of an 82-game season would have seen them miss the postseason for the first time since 2010-11. The most telling stat is the team's power play, which posted a dreadful 17.2 percent (10 for 58), a pace that would have placed them 21st in the NHL last season. By comparison, the Blues posted a 25.6 percent (45 for 191) with Shattenkirk in the lineup; this was a pace that would have been tops in the entire league.
If you're wondering about this season, the Blues amassed a measly 8.1 percent (3 for 37) on the power play in Shattenkirk's 10-game absence in October and November. By comparison, the Blues currently have the league's seventh-best power-play percentage (21.1 percent) in 2015-16.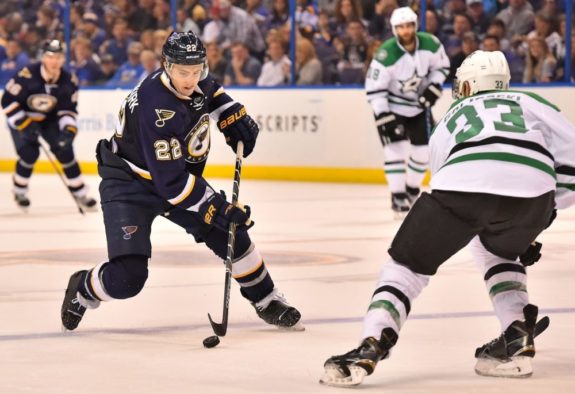 If we want to dive into enhanced stats, Shattenkirk is second among all Blues players in shot attempts (SAT) with 114, as well as in unblocked shot attempts (USAT) with 87. Only Colton Parayko has posted better totals.
The skeptics can use the go-to argument that numbers don't tell the game. You won't receive any arguments here — just watch any Blues game and see it for yourself.
How can Blues general manager Doug Armstrong keep the defenseman, who is due for an extension that exceeds his prior four-year, $17 million contract? The answer isn't easy …
Trade Alex Pietrangelo
Before you start throwing stones through my windows, hear me out.
With the Blues facing an exorbitant amount of free agents (restricted and unrestricted) in the coming years, someone will have to go. The favorite St. Louis answer would be No. 2 man Bouwmeester, but it is highly doubtful Armstrong could peddle the 32-year old without retaining a large portion of salary. Bouwmeester, too, has a no-trade clause (NTC) that would severely restrict the Blues from making a necessary move.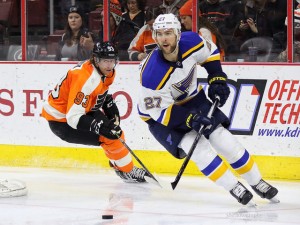 Pietrangelo is set to receive a NTC for the final three years of his contract, which would begin in the 2017-18 season. With Shattenkirk's deal ending the day before Pietrangelo's NTC kicks in, it's not inconceivable to think that this was done in design to give Armstrong some options for this very situation.
Pietrangelo carries a $7 million cap hit and sees his actual salary escalate every year, capping off at $7.5 million in his final season. The 25-year old serves as the team's No. 1 defenseman and is one of the league's best in eating up ice time, leading breakouts and killing penalties. For what he is, $7 million is extremely reasonable when considering the cap continues to climb little-by-little every season.
We all know why Pietrangelo would warrant a considerable return, so it's pointless to continue this monologue.
The conversation then centers around how the Blues would fare without their alternate captain in the lineup. We've seen what happens when Shattenkirk cannot suit up for his team. Fortunately for the Blues, Pietrangelo has not missed any significant time in his career. In fact, since his rookie season in 2010-11, the Ontario native has played in 414 of a possible 421 contests.
While it's a mystery how the Blues would play without its leading defenseman, a look into the team's defensive pipeline may lend a view into which skater the team should keep.
Shattenkirk's skating skill and thread-the-needle passing ability are truly one of a kind. He helps dictate the offense and keep the puck out of the defensive zone.
It's tough to find a name in the Blues' system that can match this ability. The names that come to the forefront are Jordan Schmaltz and Thomas Vannelli, both with the Chicago Wolves of the AHL. Schmaltz posted 28 points in 42 games, ranking first among North Dakota defensemen, in his final collegiate season, while Vannelli ranked second among WHL Medicine Hat defensemen last season with 35 points in 44 games.
Finding this groove at the NHL level, however, remains to be seen.
Defenseman on the Rise
The argument could be made that Pietrangelo's abilities would go unmatched, as well. But the franchise recently saw a defender make the jump from mid-level prospect to generational talent.
Is it too early to say that Colton Parayko could be a No. 1 defenseman in the NHL? Probably. But his abilities this season have mirrored that of Pietrangelo's rookie campaign.
If — and that is a major if — Parayko continues to follow Pietrangelo's footsteps, the Blues may have another shutdown defenseman already on the NHL roster. This would make one of them expendable and, chances are, they would prefer the 22-year old who still has one more year left on his entry-level contract. If his progression continues, he'll surely require a pricey raise, but Pietrangelo's $7 million price tag would be off the books. At that time, Blues management could possibly work out a bridge deal (see Jaden Schwartz) before committing to a lengthy extension.
Ideally, the Blues would hold onto Pietrangelo, Bouwmeester and Shattenkirk, but such a scheme cannot become reality. Purely going off team needs and what is in place to succeed a core team component, it seems more logical that Pietrangelo would be the better trade chip than the name that is regularly surrounded by rumors.
For as many reasons as there is to trade Shattenkirk, there are just as many to make him a club mainstay for well into the future.