Waking up this morning and turning on Twitter I am usually looking for something good to get my day going. However, today was not the case…not at all.
The Russian Kontinental Hockey League team Lokomotiv Yaroslavl's plane was taking off in route to their opening game when, due to reasons that I am sure will be uncovered, the plane did not get high enough off the ground and crashed. The entire team basically gone in an instant.
Many players and personnel from the hockey world are flooding Twitter and the news wires with this information and condolences to the families of all of those involved. But really, what is there to say? As many have said, everyone is just in shock. No one knows how to react to such a tragedy.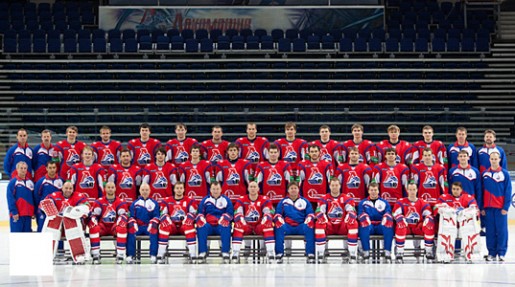 The hockey world has endured the worst offseason in its history. With the passings of Derek Boogaard, Rick Rypien, and Wade Belak this summer, this tragedy just adds to the pile of terrible tragedies. Knowing just how connected the hockey world is internally just about everyone has been affected personally by all of these tragedies. And while getting back on the ice as quickly as possible is something everyone wants, no one is ever going to forget how tragic this summer was.
For the Rangers many have been touched personally by this tragedy. As Steve Zipay has reported from Artem Anisimov, "I knew half the team. I didn't believe it at first…then I felt sick."Anisimov played in the Lokomotiv system before coming to North America and the NHL.
Rangers forward Marian Gaborik has lost two of his best friends this summer which is an unimaginable loss to anyone. The loss of one friend is tough enough but something like this just compounds it. Pavol Demitra was known as one of Gaborik's best friends.
Rangers goaltender Henrik Lundqvist was a teammate of Stefan Liv's during the 2006 Swedish Gold Medal run at the Olympics and had become close friends since then.
Only two from the plane itself are still alive including Alexander Galimov who has supposedly suffered burns to 80% of his body. The kid is still fighting and hopefully he pulls through. The other is a crew member who is fighting to stay alive as well.
But the damage has been done and many have been lost. I still can't believe it and its been about a few hours. There is really nothing else to say.
Here is a list of the confirmed dead. Not everyone has been accounted for as of right now though (courtesy of Sovietsky Sport in Russia):
1.Anikeenko Vitaly
2.Bahvalov Yuri
3.Belyaev Alexander
4.Balandin Mikhail
5.Vasyunov Alexander
6.Vashichek Joseph
7.Vyuhin Alexander E.
8.Ditrih Robert Genrikhovich
9. Pavol Demitra
10.Zimin Andrey
11.Kalimulin Marat Natfullovich
12.Karpovtsev Alexander G.
13.Kalyanin Alexander I.
14.Kiryuhin Andrey
15.Klyukin Nikita
16.Korolev Igor Borisovich
17.Krivonosov Nikolai
18.Kunnov Evgeny
19.Kuznetsov Vyacheslav Mikhailovich
20.Liv Stephen Daniel Patrick
Jan 21.Marek
22.MakKrimmon Brad Byron
23.Ostapchuk Sergey I.
24.Piskunov Vladimir Leonidovich
25.Rahunek Karel
26.Sidorov Evgeny
27.Skrastinsh Karlis Martinovic
28.Snurnitsyn Pavel
29.Daniel E. Sobchenko
30.Tkachenko Ivan Leonidovich
31.Trahanov Pavel
32.Yuri O.Urychev
33.Churilov Gennady S.
34.Shuvalov Maxim A.
35.Yarchuk Artem Nikolaevich
36. Ruslan Salei
Crew:
36.Solomentsev Andrey, Commander
37.Zhivelov Igor Konstantinovich, second pilot
38.Zhuravlev Sergey, bortmehanih
39.Sarmatova Elena, flight attendant
40.Maksumova Hope Murzafarovna, flight attendant
41.Shavina Elena, flight attendant
42.Matyushin Vladimir Yurevich, flight engineer
Condolences to the friends and families of all of these people. It doesn't get worse than this folks. If anything the hockey community will have to get together once again and offer support and comfort because everyone knows they need it.