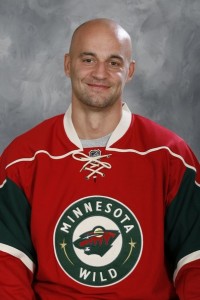 Former Minnesota Wild player Pavol Demitra has died as a result of a tragic plane crash in Russia today. A Russian jet was carrying the Lokomotiv Yaroslavl (KHL) hockey team to Minsk, Belarus for a game when it slammed into a riverbank moments after takeoff. Only two people of the original 43 on the plane survived. Twenty-seven players on the team were killed, including former NHL players Josef Vasicek, Karel Rachunek, Karlis Skrastins, Ruslan Salei, and Demitra. Former NHL assistant coach Brad McCrimmon, who had recently become the new head coach of the Russian team, also passed away in the crash. The Russian Emergency Situations Ministry said that the plane, a Yak-42, crashed into the shores of the Volga River almost immediately after departing the airport near Yaroslavl, a city 240 kilometres northeast of Moscow. Russian media have said that the plane struggled to gain altitude and then crashed into a signal tower, shattering it to pieces.
The Minnesota have released this statement regarding the crash: "The Minnesota Wild organization joins the rest of the hockey world in mourning the tragedy involving the Lokomotiv Yaroslavl hockey club. Pavol Demitra was a valuable member of our team for two seasons and helped the Wild claim its first-ever Northwest Division title in 2008. Our thoughts and prayers go out to the Demitra family as well as all of the families that lost loved ones today."
Pavol Demitra joined Minnesota in 2006 and had 118 points in two seasons with the Wild. He leaves behind his wife Maja and their two children, Lucas and Zara. Pavol Demitra was just 36 years old.
David O'Connor is a managing editor with the Sunbelt Hockey Journal. His writing has been on the Los Angeles Times' website, among other places. O'Connor also does some scouting work for the local Junior B hockey club. Please feel free to contact him at davidoconnorhockey@gmail.com.