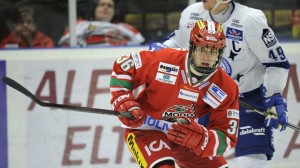 The recently-crowned Stanley Cup champion Los Angeles Kings practice a blue collar, grind-it-out style that's oddly refreshing in the wide open Western Conference.
Fancy passing? Try Chicago or Vancouver if you're looking for that. Speed? Not particularly: the Rangers practically skated laps around the Kings until they made adjustments in game 2 of the Finals. What they do have is guts, grit and to use Grandpa's favorite word, gumption. The Kings certainly played well in the regular season over the past few years, but stepped it up by quantum leaps in the postseason, culminating in the first two Cups in franchise history.
With fewer chances being taken offensively and defenses closing ranks around the goaltenders, these attributes may explain why their style of play works so well during the playoffs. The Kings are the archetype of how buying into an effective system and philosophy trumps individualism at the highest level. Few Kings had stats worthy of All Star consideration, and yet they hoisted the Cup anyway.
The Los Angeles Kings 2014 draft
Speaking of individuals, one tenet General Manager Dean Lombardi has remained true to is building and maintaining a first class farm system via the draft. To that end, the Kings' 2014 draft class consisted of ten players, a number of which appear to have good value for where they were selected. The following are quick profiles of each and every one of them:
Pick #29: Adrian Kempe – LW
The Kings' first-round draft pick (up one slot due to the league's punishment exacted upon the New Jersey Devils over the Kovalchuk contract) was spent on a big (6'2″), north-south winger from Modo of the Swedish Hockey League. He's said to be strong, aggressive in his pursuit of the puck and willing to throw his body around, traits that are critical in Darryl Sutter's dump-and-chase offensive system. He also plays a two-way game and doesn't take shifts off. Can anyone say 'Dustin Brown' in Swedish? Only time will tell how well his game translates to the NHL, but the pedigree for success appears to be there.
The following are highlights from his 2013-13 season:
Pick #50: Rowland McKeown – D
Having traded right winger Linden Vey (#96 overall, 2009) to the Vancouver Canucks for the #50 pick, Lombardi appeared to create significant value out of the seldom-used Vey. That value was further amplified by the selection of McKeown in the second round of the draft, a well-rounded defenseman currently playing for Kingston of the OHL. The gritty McKeown was characterized as a "Total package on the blueline; IQ on both sides of puck. Impressive +16 in 11 GP in Oct" by ISS Hockey.
A quick video of McKeown's talents can be seen here:
Pick #60: Alex Lintuniemi – D
Whomever said 'size doesn't matter' never laid eyes upon this 6'3″, 231-pound man-mountain of a defenseman from the Ottawa 67's of the OHL. He'll never be confused with Erik Karlsson in the speed department, but he's fundamentally sound on both sides of the ice and has the size general managers and coaches crave. He also seems to step up his game in the playoffs, a trait that will fit in perfectly in Los Angeles.
The well-spoken Finnish defenseman can be seen being interviewed here:
Pick #90: Michael Amadio – C
The rich get richer, and the big get even bigger. This 6'1″, 190 pound center from North Bay of the OHL scored 38 points in 64 games last season and was ranked 68th amongst North American Skaters by NHL Central Scouting in this year's draft. Like Kempe, Amadio is willing to drive the net and score the garbage goal, a staple he'll find necessary if he makes it to Staples.
A few Amadio highlights can be seen below:
Pick #120: Steven Johnson – D
An over-age defenseman, Johnson is a long-term project who had committed to attending the University of Minnesota starting this fall. "He's just such a good defenseman in the offensive and defensive zone," said coach Brian Kaufman of the Omaha Lancers. "He can play in any situation. He runs our power plays, [he is] on our penalty kill. He plays in every situation."
Pick #150: Alec Dillon – G
It must be a bit disheartening, knowing you'll be behind the still-young Jonathan Quick on the depth chart for the indefinite future. Regardless, the huge 6'4″ (yet rail thin 170 pound) goalie is a Kings prospect anyway, courtesy of his fourth-round draft selection. He played for the Victoria Grizzlies of the BCHL in 2013-14 and posted an 8-4-2 record with a 2.88/.911 stat line.
Unless you're an AC/DC fan, turn down your volume a tad and watch him here:
Pick #157: Jake Marchment – C
The nephew of former NHL defensman Bryan Marchment, the 6'3″, 206 pound centerman has both NHL pedigree and the right-place-right-time hockey sense you want to see in a mid-level prospect. He's not close to being ready for the NHL, but the loaded Kings don't need the fifth-round draft pick to be, either.
"There's not one thing this kid won't do to give himself a chance to be a player," said Kings Director of Player Personnel Michael Futa. "He's got the Marchment blood in him."
Amongst his bruising attributes, Marchment is more than willing to drop the gloves:
Pick #180: Matthew Mistele – LW
Yet again, another 6'+ prospect straight out of the OHL. Mistele was projected by THW's own Shawn Reznik as going as high as the third round in this year's draft, so he appears to have solid value having been selected at the bottom of the 6th by Los Angeles. He was characterized as "a sniper, pure and simple" by Bill Plazek of DraftSite.com.
You want him, you got him:
Pick #209: Spencer Watson – RW
Finally, a draft prospect the Kings select under 6′ tall. Watson scored 33 goals for the OHL's Kingston Frontenacs and despite his size, is willing to go to the corners, in front of the net and other contested areas of the ice. He's got great hands, outstanding vision, and is said to have a high hockey IQ.
If you've got about four minutes, judge him for yourself:
Pick #210: Jacob Middleton – D
Ah, back we go to a big (6'2″, 200 pound) prospect. Middleton is about the millionth OHL player the Kings took during this draft, having played for Ottawa last season. "I'm a physical defenseman and pretty aggressive," said Middleton. "I'm a defensive-defenseman, but I was given opportunities on the power play in Ottawa as well because we were a younger team. I was able to showcase some skills up there, but as a pro, I think I'll be a stay-at-home guy."
If Middleton doesn't pan out as an NHL defenseman, he's got a career as an NHL broadcaster: