For the first time since what feels like the Reagan administration, the Flyers were bystanders instead of buyers at the beginning of the free agency signing period. And although this sense of being left out in the cold certainly garners some getting used to, the new sideline strategy of the Flyers is a calculated scheme that will play out over the course of the month, if not the entire offseason.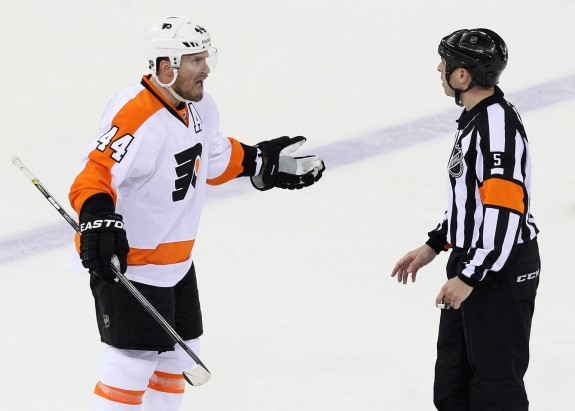 Free Agent Gluttony
In an instant gratification culture, it's easy to grow uneasy toward a team's inaction. Especially when the idle team is Philadelphia. But while fans rant and rave over Vinny Lecavalier's boa constrictor-like contract, it takes a short memory to forget that making headlines isn't always a beneficial measure for an organization.
"To be honest with you, July 1 is one of those days where we all get carried away," said Flyers GM Ron Hextall. "When I look at my (roster) board here and look at our team, we have a good team. Sometimes this day you make some of the poorest decisions.
"Quite honestly, we didn't have to think it through that hard but there are still a couple guys here we're looking at if we get in the right (cap) range. There's still things you can do."
While teams such as, the Washington Capitals, Florida Panthers, and the New York Islanders went on a lavish spending spree, they also had the cap room to do so. But while fans of these teams, and others, were granted the entertainment that Flyers fans were shut out on, some contracts that were signed make Hextall's words ring true.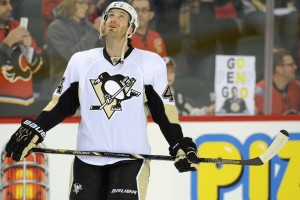 Washington spent a combined $67.75 million on Matt Niskanen and Brooks Orpik. And despite the Flyers' defensive needs, that's serious coin for a player who had one offensive break out year, and a veteran who will be 34-years-old at the start of the season. The signing of Niskanen has the potential of working out for the Caps, but if it doesn't, the $5.75 million cap hit over the next seven years will be a daunting reminder of how the organization overspent on one day.
Orpik, however, received a contract that's usually designated for elite players who haven't even approached the age of 30. Washington will now be straddled to a $5.5 million cap hit through the 2018-19 season. An even riskier commitment given his past history of concussions.
The big time spending wasn't exclusive to Washington, though.
"Center Dave Bolland signed a five-year deal with Florida worth $5.5 million a season. General manager Dale Tallon drafted him in Chicago and now brings him to Florida.

"People asked why Tallon would spend more on Bolland when you could have had Lecavalier for $1 million less and the answer is past history with a player he respects and trusts." — Tim Panaccio, CSN Philly
The Florida Panthers have unquestionably gotten better with the signings of Jussi Jokinen, Shawn Thornton, and Derek MacKenzie. But giving Dave Bolland a five-year deal worth $27.5 million appears to be insane at the moment. While the Flyers are desperate to move Lecavalier, and his $4.5 million cap hit, Tallon opted to give more money to a center who's eclipsed 40 points just one time in his career.
Even if Hextall fails to find a way to move Lecavalier, they'll still have a forward who's scored at least 20 goals in 13 seasons of his 15-year NHL career. Furthermore, Lecavalier offers more bang for the buck when pitted against Bolland. The former Lightning captain has appeared in at least 60 games throughout his entire career, with the exclusion being the 2012-13 lockout-shortened season. Bolland, on the other hand, skated in only 23 games last season, and missed over 100 games between the span of 2009 and 2011.
"At some point over the past two years, perhaps right around the time he scored that cup-clinching goal for the Chicago Blackhawks, Bolland went from being an OK third-line center to some sort of mythical hockey creature that leads teams to wins with his grit and clutchness. Toronto seemed to love him and constantly overstated his on-ice contributions, and the Panthers appear to have fallen into the same trap. He's not a scorer, he's coming off a major injury that limited him to just 23 games, and he's turned into a black hole when it comes to driving possession.

"At his best, he's an OK checking-line center. But they're paying him like he's a top-line guy." — Adam Gretz, SB Nation
Could it be that the Flyers' salary cap overage served as an advantage disguised as a major road block?
Still Open For Business
Although the Flyers yielded the popular headlines to other teams on the first day of frivolous spending, these aren't the headlines that Hextall, or his players are most interested in.
Yes, the Flyers need, and are looking to improve. And even though their cap space has exceeded its limitations, they were still afforded a 10 percent overage heading into July 1st. Hextall shrewdly used that wiggle room to re-up Ray Emery to a team-friendly one-year deal, worth $1 million; a pay cut of $650,000 from the previous year.
Statistically speaking, this is hardly anything to be celebrating. Emery went from a 17-1-0 record with the Blackhawks in 2012-13, to 9-12-2 with the Flyers last season. But the 31-year-old veteran did win his first playoff game since 2011, helping the Flyers to push the New York Rangers to a series max seventh game in the quarterfinal.
"If Mase (Steve Mason) has a year like last year, and I can contribute a little bit better than I did last season, I'll be happy," said Emery. "…I wasn't happy with my season, but team-wise, as the season went along, we got better and better."
Mason's relationship with Mason, which has developed into something resembling a mentorship, is another aspect that rewards the Flyers for bringing Emery back.
"One big reason Emery is back: He has a great relationship with Mason, whose first full season with the Flyers was his best since his Calder Trophy-winning season in Columbus in 2008-09." — Randy Miller, nj.com
Hextall (on value of goalie relationship): "I have been on some teams where the goalies haven't gotten along, and it can divide the team."

— Bill Meltzer (@billmeltzer) July 2, 2014
Jeff Reese: "I've seen tape on Zepp, and he looks very polished. "Nice having a veteran guy with a young guy [Stolarz]."

— Bill Meltzer (@billmeltzer) July 1, 2014
Emery wasn't the only player, or goalie signed by the Flyers on July 1st. With Cal Heeter's departure certain, Hextall inked Rob Zepp, a 32-year-old goalie who played in 38 games for the Eisbaren Berlin Polar Bears of the Deutsche Eishockey Lega. The acquisition of Zepp, who was previously drafted by the Atlanta Thrashers, is a fascinating intricacy pertaining to the strategy of the Flyers. His experience allots the organization to further groom their goalie of the future, Anthony Stolarz.
Pieces In Place
Although there are certain days throughout the calendar year that captivate NHL fans, teams throughout the league are not relegated to doing business exclusively on these days. These attention-driven days are the league's trade deadline and the first day of free agency.
The Chicago Blackhawks made two minor deals well before the trade deadline, including re-acquiring Kris Versteeg. And before the trade deadline expired, they did even less, dumping Brandon Pirri for a pair of mid-round draft picks, while adding David Rundblad in a separate trade.
So what does this have to do with the Flyers? It proves that exuberant spending on a particular date doesn't necessarily guarantee winning when it matters most. It also displays that a lack of knee-jerk tinkering is the best design if you have the right pieces in place.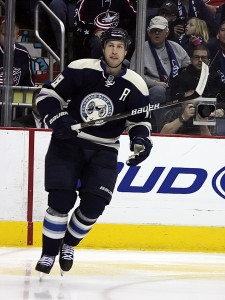 The Flyers were busy well before July 1st, trading Scott Hartnell to Columbus for R.J. Umberger, as well as re-signing 22-year-old Brayden Schenn. Before that, veteran defenseman Kimmo Timonen reached an agreement with the team to come back for one final season. A deal that's so financially frugal, it pays him $1.5 million less than fellow defenseman, Nicklas Grossmann.
"The hard part here was to try to fit a player of Kimmo's caliber in given the space that we have left and given the type of minutes that we expect him to play," said Hextall in a conference call in June. "When you look at that and what we have left under the cap, and the minutes we can expect Kimmo to play, it kind of became a no-brainer for us. Does it give us a little more flexibility? I'm not sure. We've got six NHL defensemen right now that we're comfortable with. Flexibility all depends on what's out there otherwise.
"Does it mean we'll move a defenseman, no. Does it mean we won't move a defenseman, no. I can't predict what the future is or what's out there. I know this – I feel very comfortable that he's under contract. He did a real fair deal with us, and again he stressed the fact that he did want to play another year and also realized he could have gotten more money on the open market, and did not want to go down that road. Obviously he's a loyal person and he's the type of player that we want."
As it stands now, the Flyers are a little over $1.2 million over the cap limit. And with interest in an unspecified player, a move is imminent. Hextall may continue to search for a trade partner for Lecavalier in the upcoming days and/or months. And despite his no-movement clause, the Flyers are now on the hook for his $2 million bonus he earned by remaining on the roster by July 1st. With that threat now eliminated, a team that may become desperate may come calling.
Hextall could also move one, if not multiple defensemen to free up space as well. Braydon Coburn, Luke Schenn, and Nicklas Grossmann combine for a $11.6 millin cap hit for the upcoming season. With former Flyer, Andrej Meszaros receiving a one-year, $4 million contract from Buffalo, the return for Coburn or Schenn could be more profitable than anticipated.
One thing is certain, however: the offseason strategy of the Flyers has only begun. Even if it stumbled out of the gate to a glutton's standards.