Steve Mason has seized his opportunity. He is the unquestionable starter moving forward. One question down, one to go. Who will his back up be next season? Although Ray Emery is now eligible for unrestricted free agency, the Flyers have options. Do they bring back the 31-year-old veteran? Or do they go another route?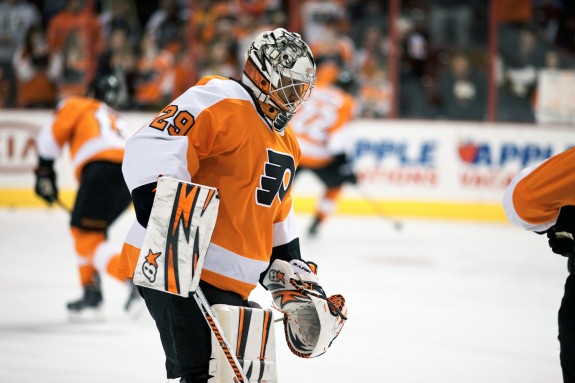 Ray Emery
There's plenty to like about Ray Emery. Veteran experience, a positive influence in the dressing room, which includes an established relationship with starting goalie Steve Mason, and an expectancy of an above average performance are all reasons why Emery should be re-signed this offseason.
But with the pro's come the con's. Emery will be 32 when the 2014-15 starts, and although that may not be considered "old," it is when his hip replacement is taken into consideration. Emery's mobility was on full display in the playoffs, where the Rangers took advantage of his slower post-to-post movement. Four of New York's first six goals were scored off of cross-ice passes, which suggests Alain Vigneault's team had already detected this weakness.
"While Emery wasn't solely to blame for Philly's Game 1 egg in Manhattan, he didn't help. Sure the offense was non-existent, the team took undisciplined penalties and their overall compete level was too flat.

"But Emery failed to come up with big saves in the third period when he was most needed as the Rangers exposed a flaw in his game: diminished lateral movement." — The Hockey News
Emery has shown, though, that he can still compete and win in the league. Before rejoining the Flyers, he went 17-1-0 for the Chicago Blackhawks, but was not used once in Chicago's run to the Stanley Cup. Even when Corey Crawford struggled a bit, Emery remained on the bench.
Obviously that's no knock on Emery. With Crawford having already established himself, and Emery suffering a late season injury, it came as a surprise to no one that Emery remained on the bench and out of action.
"I'm a team guy and if the team is doing well, I'm happy. I had a great time during the playoffs," said Emery. "I didn't mind not playing, in that aspect, but getting injured was frustrating and being a competitive guy, I always want to be in there if I get the chance."
Although Emery's playoff performance was hindered by an .888 save percentage and a 3.49 goals against average, he did pick up his first playoff win since 2011 with a 31 save performance in Game 2 against the Rangers.
Nobody expected Emery to duplicate his 17-1-0 season with the Blackhawks, but his 9-12-2 season in his second stint with the Flyers is fairly classified as disappointing; even with the team's slow start and gapping defensive holes. If Emery agrees to the amount or less than he was signed for last offseason ($1.65 million), he stands to be one of GM Ron Hextall's best options.
"It seems all set except for the paperwork. Steve Mason is the man. Ray Emery is a free agent again, one worthy of another short-term backup deal if he's willing to sign it. There are plenty of free agents, but Emery looks like the best value." — Rob Parent, The Mercury
Devan Dubnyk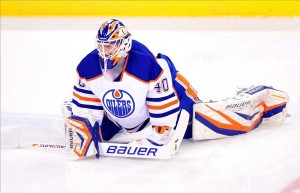 After bouncing around this past season between Edmonton, Nashville, and Montreal, Devan Dubnyk will hit the free agent market with diminished value. His two-year deal worth $7 million signed by the Oilers has expired and it's unlikely he'll find a suitor willing to take a yearly cap hit above $3 million for the 28-year-old.
With the Habs likely moving Peter Budaj, who has one year remaining on his contract, in favor of Dustin Tokarski, Dubnyk is all but guaranteed to be on the move as well. Dubnyk's career marks are decent despite a misleading 61-77-22 record. While tending the crease for one of the league's worst teams, he was able to compile a modest .909 save percentage and 2.90 goals against average.
Despite the potential of being a pleasant surprise in a backup role for a new team, Dubnyk's 2013-14 season will certainly drive his asking price considerably down. After starting the season as Edmonton's number one goalie, Oilers GM Craig MacTavish signed Ilya Bryzgalov before trading Dubnyk to Nashville. After only two games with the Predators, he was traded again; this time for next to nothing, as Montreal received future considerations for the five-year veteran.
"I have to be honest with myself. I can't be demanding a starting job, anywhere," admitted Dubnyk. "Maybe if I could get into a 1 and 1b and have the opportunity to compete for ice-time and for starts…the most important thing is getting back into the NHL. I don't think I'd take a two-way contract. I hope that's not a decision I have to make."
With Mason established as the starter in Philadelphia, Dubnyk could be a cheaper option should Hextall choose not to re-sign Emery.
Justin Peters
Much like Dubnyk, Carolina's Justin Peters knows what it's like to fall from an organization's favor. After performing admirably in the absence of Cam Ward and Anton Khudobin, Peters is the apparent odd man out.
Peters, who turns 28 in August, is an unrestricted free agent that will likely find a new home this offseason, even with the uncertainty of Cam Ward's future with the Hurricanes. Peters' 7-9-4 record suggests he'll either stay at, or get slightly more than the $1.075 million he got from his previous two-year contract with Carolina.
Canes recall Justin Peters. They are leaning towards keeping three GK and sort out in summer, but the day is young

— Scott Morrison (@smorrisonmedia) March 5, 2014
Next year the Hurricanes have Cam Ward under contract for 6.3 million and Anton Khudobin at 2.25 million. Hard to imagine both will be there

— Troy Westwood (@TroyWestwood) March 23, 2014
That doesn't mean Peters can't be an absolute steal for a team that's either desperate for goaltending, or in need to fill a backup role. The Flyers certainly fall in the latter category.
"From Nov. 5 – Nov. 15, Justin Peters went 4-0-1 on a five-game homestand with both Cam Ward and Anton Khudobin out with injuries. Peters allowed just just six goals over those five games, and earned a shutout.

"In the month of December, Justin Peters went 3-2-3 with a .926 save percentage. That very solid month of December only rewarded him with one more appearance in net, on Jan. 19 when he allowed three goals on seven shots and was pulled 15 minutes into period one against the Tampa Bay Lightning. The Carolina Hurricanes lost that game 5-3." — Cardiac Cane
Jean-Sebastien Giguere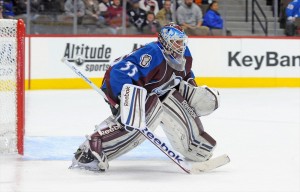 At 37-years-of-age, Jean-Sebastien Giguere is nearing the end of an illustrious 17-year career that includes a Stanley Cup Championship. Giguere is a four-time 30 game-winner, all with the Anaheim Ducks, and has won 11 or more games in three of his last four seasons – all as a backup.
Giguere rebounded from a below average 5-4-4 lockout-shortened season by posting an 11-6-1 record as Semyon Varlamov's backup in Colorado. Throughout Giguere's 22 appearances, he accumulated a .913 save percentage and a 2.62 goals against average to go along with his pair of shutouts. The Avs paid Giguere something similar to what the Flyers previously invested in Emery, $1.5 million over a single season.
There is a reason, however, as to why Colorado will likely find a new backup to Varlamov. The seasoned veteran was extremely streaky throughout the season, winning seven of his first eight games of the season before skidding to a five-game losing streak between Dec. 8th and Jan. 21st. He ended the season by losing four of his final five games, and allowed five or more goals in four of his 22 appearances. This includes a seven goal debacle against Chicago on Dec. 27th.
Giguere's experience, leadership, impending cheap price tag, and gas left in the tank are all reasons he'll likely have several suitors this offseason. If Emery does not return, Giguere could fit perfectly in a backup/mentorship role to Steve Mason.
"Giguere has filled two major roles in his time with the Avalanche. He has been a much more than competent backup, but just as importantly, a mentor for Varlamov, who has been groomed into a franchise goaltender. Giguere had plenty to do with the turnaround Colorado enjoyed this past year, because of both his play and his leadership. But now it seems likely that Giguere's part in the reconstruction of the Avalanche may be over." — Avalanche 101
Best Fit For the Flyers
The task of filling the backup goalie position can be a double-edged sword. Should the starter stay healthy, the team pays for an able netminder who gives the starter a break throughout the season. Should the starter go down, though, it turns into an insurance policy where the payment in production is anything but guaranteed.
With prospects like Cal Heeter and Anthony Stolarz nowhere near NHL ready, the Flyers will most likely stick to a one-year deal, two at the max. Ron Hextall is already up against the salary cap, and with glaring needs in other departments, finding a bargain is a must. A bargain in which the value of the player cannot be compromised, especially if Mason were to go down at some point next season.
"If there are no such offers for Emery, his price tag may drop to a range where there may still be a fit with the Flyers. Alternatively, the team may opt to go for a somewhat younger backup candidate. 

"The best strategy here from a Flyers perspective is to patient. They know Mason will be their number one goaltender for the foreseeable future if he stays healthy. However, they also need a proven backup of at least Emery's caliber in the event of an injury similar to the late-season concussion that forced Mason to miss the start of the playoffs. There are some pretty good options on the market this summer, which makes it a good buyer's market to teams that are patient and wait for the prices to drop." — Bill Meltzer, Hockey Buzz
This is not an officially kept stat by NHL but Flyers scored just 1.93 goals per 60 mins w/ Ray Emery in net and 3.03 w/ Steve Mason.

— Bill Meltzer (@billmeltzer) April 25, 2014
While the Flyers were not patient last offseason, they did reap the rewards of a reduced price for Ray Emery. There's no reason to believe they won't apply this strategy on this go-around, especially with pool of names as full as it is. The Flyers have options, and all of the listed serve as a formidable fit.