At this point of the season, when one is playing a team out of contention, the old adage still rings true.  Bury the opposition early and keep dumping the dirt on.  Such was the case, as the Los Angeles Kings drilled the Edmonton Oilers 4-1.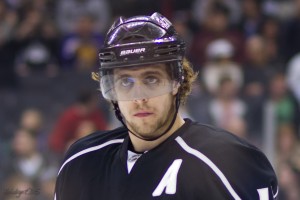 As I mentioned, the Kings were on the attack quite early.  In the first, some grinding on the boards behind the net, resulted in a Dwight King shot being re-directed by Anze Kopitar, for his 25th marker and a 1-0 Kings edge.  Just a great amount of grit by King and Dustin Brown to out work the opposition and set up the goal.
Yet the Kings did allow the Oilers an opening shortly thereafter.  A Jordan Eberle tally on the power-play, tied the score at one.
From there though, the Kings special teams would make their mark.  Midway through the first, with Edmonton again on the power-play, the Oilers were unable to hold the puck in the zone.  That's when Mike Richards swooped in and went the distance for a breakaway shorty.  Richards' 17th gave Los Angeles the lead for good at 2-1.
During the second, with L.A. on the power-play, Drew Doughty bested Nikolai Khabibulin from the point with a slap shot.  Doughty's hammer shot, put the defenceman into double digits in goals on the campaign.
A rebound wrist shot in the third, by Alec Martinez, all but salted it away for the Kings.
For goalie Jonathan Quick, who recently shutout the St. Louis Blues, Calgary Flames and nearly the Vancouver Canucks, it was a relatively mundane affair.  Quick turned aside 13-of-14 sent his way, as the Kings dominated the Oilers for their second consecutive win of the "Alberta two-step."
That victory, coupled with the Dallas Stars getting skunked 5-2 by the Canucks, propelled the Kings into first place in the Pacific Division.  At 39-27-12, Los Angeles now has 90 points and resides in third place in the NHL's Western Conference.
None of the Kings remaining opponents (Minnesota, Edmonton, San Jose) are currently in the top eight.  Granted San Jose is still currently in the hunt, but not a bad quartet of games for the Kings to finish out the stretch.
Michael Gwizdala covers the New York Islanders for The Hockey Writers. Michael is also an Associate Producer at WNYT NewsChannel 13. Additionally, Michael was once a Media Relations intern for the AHL Albany River Rats. Michael is a graduate of The College of Saint Rose in Albany, NY.