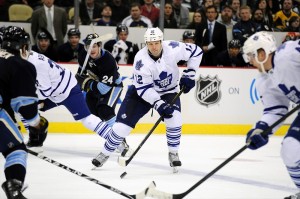 It's not too often you see the word 'diversity' used in a negative way. That is, of course, when there is too much of it, leading to limited success or none at all in a given situation. Now is the perfect time to use diversity in such a way when it comes to the Toronto Maple Leafs, or at least their bottom-six forward group.
It's understandable why a certain category may appear to be a little shaken up at points during a season, but even so, the Maple Leafs don't seem to be in a situation to succeed in the gritty areas of the game. While injuries certainly play a factor in the Leafs' disorganized bottom-six, so do the struggles that various players have experienced this season.
First let's take a quick look at how the Leafs' depth chart at the forward position looked heading into the season, or at least what many thought of it as:
Joffrey Lupul – Tim Connolly – Phil Kessel
Clarke MacArthur – Mikhail Grabovski – Nikolai Kulemin
Matthew Lombardi – Tyler Bozak – Colby Armstrong
Mike Brown – David Steckel – Joey Crabb/Jay Rosehill
It's fair to say that each team should have at least seven or eight players vying for a spot on the third or fourth line each season, which is exactly what the Leafs have had all season long. That's good news, but what isn't is the type of players you see listed.
Lombardi and Bozak, now 30 and 26 respectively, are each speedy players who can put up strong offensive numbers. While Lombardi is certainly more of a bottom-six guy, is it fair to place a natural centre on the wing with two players who go by completely different styles?
The fourth line as seen above makes a little more sense, but still lacks the consistency needed to reach its maximum potential.
Brown and Rosehill can each fight, but it isn't necessary to have two such players in the lineup at once no matter the opponent. Brown can also skate well, knows how to finish his checks properly and wisely jumps in on the occasional offensive rush. Steckel has shown to be more of a faceoff guy than anything, while Crabb is useful in various positions.
We've now established the fact that there were potentially two fighters, speeds that don't match whatsoever and, once again, too much diversity.
Now roughly what the current forward chart looks like, a small part of which is thanks to injuries:
Matt Frattin – Tyler Bozak – Phil Kessel
Clarke MacArthur – Mikhail Grabovski – Joey Crabb
Carter Ashton – Tim Connolly – Mike Brown
Jay Rosehill – Matthew Lombardi – Colby Armstrong
Understandably, this group only causes more problems than the original.
Let's take a look at the third line to begin with. Rather than Lombardi – Bozak – Armstrong, you now see a rookie in Ashton skating on the left wing alongside $4.75 million man and offensive-minded Tim Connolly. On the right side you have the aforementioned Brown, who, as inferred above, is more known for his fists than finishing nice passes from play makers like Connolly.
Immediately below them is the fourth line, with the second fighter of the lineup, Rosehill, and the speedy and gritty Lombardi to go along with Armstrong, who has just three points and owns a minus-seven rating in the 26 games that he has played this season. As you should be aware of by now, Armstrong has struggled mightily to remain healthy this season.
Even when you throw the injured Lupul, Steckel and Kulemin back into the lineup, you still wind up with a bottom-six group that appears to be a little shaken up with Connolly still in the mix, as well as Kulemin himself at times.
Is a strong bottom-six forward group the main key to success in today's NHL? Certainly not, but it does play a much larger role than some may think.
Twitter: @LukasHardonk | Email: lukas.hardonk@gmail.com | Lukas' archive
For every Leafs article on THW, follow @THW_MapleLeafs on Twitter.
Lukas, a student at the University of Ottawa, covers the Toronto Maple Leafs on a part-time basis for The Hockey Writers. Contact Lukas at lukas.hardonk@gmail.com or follow him on Twitter, @LukasHardonk.