The Kings have no doubt been struggling in recent weeks leading up to the Olympic break in Sochi.  According to the team's official website, the club has only won six of its last eighteen games.  Despite these struggles, the earth's orbit has created some opportunities for some of the organization's key players to reignite their talent.  Specifically, Jeff Carter and Drew Doughty, will head to Sochi with much to prove, and hopefully return with much to provide.
Jeff Carter will Greatly Benefit from Playing Alongside Sidney Crosby
Perhaps one of the biggest Sochi headlines for Los Angeles' beloved hockey team is Jeff Carter's assignment on Team Canada's top line alongside Sidney Crosby.  Make no mistake, Carter is not on the verge of becoming one of the NHL's best scorers; he is already there.  For the seventh time in ten seasons, the sniper has reached the 20-goal mark.  Skeptical?  Don't take THW's word for it; here is some "proof of purchase."
It is hard to imagine any professional athlete accepting that they have reached the top of their game.  Assuming Carter is not one of those athletes, he should be ecstatic about playing on a line with Crosby.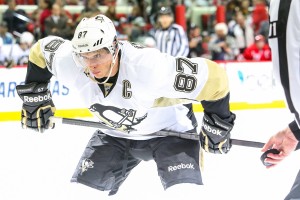 The Penguin's not-so-secret weapon has been red hot this season, currently leading the league with a ridiculous 78 points in 58 games.  His gameplay leaves little doubt that he is the most dominant player in the game.  Thus,  as evidenced by Chris Kunitz's successful and dominant play, playing alongside "Sid the Kid" seems beneficial to anyone talented enough to keep up.
A former 30+ and 40+ goal scorer, Jeff Carter has more than enough talent, and it seems he will benefit tremendously from this opportunity.  THW is not merely presenting a wild hypothesis, as much of the media seems to have the same opinion.
Of course Crosby is happy to have Jeff Carter on his wing in Sochi. #allhedoesisscore

— John Hoven | The Mayor (@mayorNHL) February 10, 2014
Re. last tweet -> Kings sniper Jeff Carter gets chance on Sidney Crosby's line at Canada's first practice in Sochi. http://t.co/4zaWs6hrOT

— Yahoo Sports NHL (@YahooSportsNHL) February 10, 2014
According to NHL.com, "Carter can add an element to that line that isn't present in Pittsburgh. Crosby, Kunitz and (when healthy) Pascal Dupuis have formed a terrific trio for the Penguins, but Carter is a natural sniper who could benefit from being on the receiving end of Crosby's playmaking ability."  Nothing short of amazing could come out of this line's potential.
Assuming that Carter can capitalize on this chance at gold in Sochi, the result of this opportunity can only help the Kings.  Today he came out swinging in Sochi with three shots on goal, as Team Canada edged Team Norway in Canada's first match.  If the sniper can find his fire power at the Olympics, he can come back to L.A. with the confidence, passion, and motivation needed to lead his team to the playoffs.
Drew Doughty will find his "Mojo" in Sochi
Drew Doughty is a potential nightmare for opposing teams, in that he is capable of becoming one of the most potent two-way defenseman in the league.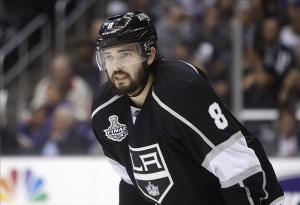 With 30 points in 59 games this season, he may not eclipse his NHL best 59 points; however, it is likely he will surpass 40 points at minimum (provided he remains healthy).  He is no doubt an offensive talent who could be placed in conversations with some of the NHL's best offensive defensemen (Erik Karlsson, Duncan Keith, etc.).
Despite this potential, in reality, Doughty has not been without slumps and droughts in his NHL career.  THW maintains that playing on Team Canada's star-studded roster with the likes of Shea Weber and Alex Pietrangelo could bring out Doughty's nightmarish talent. Currently, things seem to be headed in the right direction, as Doughty had a great game in Team Canada's opening match, finishing with 1G, 1A, and a +2 rating.
GIF of Drew Doughty's impressive goal against Norway: http://t.co/IHY3PSsYZj #sochi2014

— Sportsnet (@Sportsnet) February 13, 2014
If history repeats itself, Doughty will be relied on heavily in Sochi, as he was four years ago when Canada took the gold.  This reliance speaks volumes to the offensive talent's capabilities.  Hopefully, the Kings' number one defensemen will make the most of his opportunities and come home ignited.
If Jeff Carter and Drew Doughty (and the Kings' other four olympians) find fire in Sochi, it is hard to imagine many teams that will get past L.A. as the season comes to an end.
Enjoy the Olympics and follow me @jessescott_THW for more on the Kings.