John Curry started getting off track during the Wilkes-Barre/Scranton Penguins' 2009-10 season.
After being the starter for most of his young career, which started in 2007-08, he lost his throne in goal. He was out-worked by Brad Thiessen, an undrafted rookie from the ECHL's Wheeling Nailers.
Once 2011, when the Penguins finished with the best record in the AHL, came to a close, Curry decided to take the leap to play in Germany and regroup.
But when he returned, the AHL wasn't as welcoming as he had hoped, and he found himself in the ECHL trying to get back to a high level of play.
Now, the next chapter of Curry's story is starting to unfold with the Iowa Wild, the AHL's newest club.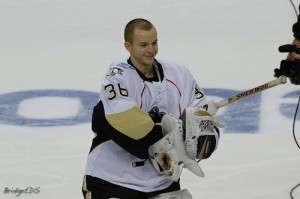 So how did he get from Wilkes-Barre to Des Moines, and how has he grown since he was a fresh-faced Penguins rookie?
Black and Gold Beginnings
Curry was undrafted after playing college hockey at Boston University and took up the Pittsburgh Penguins on their contract offer. He was appreciative of his first opportunity, but "you really take it for granted at a young age."
"They help you so much to become a professional and show you what it means and how important it is to do certain things."
He also praised the WBS and Pittsburgh dynamic, saying, "Communication between the big club and the little club is really amazing. It serves the organization well and it really benefits the players."
His first year in Wilkes-Barre was a success, as he posted a record of 24-12-3, a .915 save percentage and 2.23 GAA.
More success followed in 2008-09. His save percentage (.916) and GAA (2.38) weren't much different from his rookie numbers, but he eclipsed the 30-win mark, picking up 33 victories as the Penguins compiled a 49-25-3-3 record.
Life as a Backup
Curry finished the 2009-10 season with a record of 23-19-2, but his numbers were otherwise on the lower end of the scale. He had a .891 save percentage and 2.87 GAA. He also struggled in a stint with Pittsburgh, allowing five goals before being removed from a game with the Vancouver Canucks.
Thiessen, meanwhile, came in to WBS and won over fans and coaches with a 14-14-1 record to go with a .919 save percentage and 2.67 GAA. He took over starting duties during the second half of the season.
"It was a frustrating time in my career for sure," Curry remembered. "I look back and I wish things would've gone differently, but at the same time, I could probably say that I learned more from going through that."
He admitted he "wasn't in a great place," but said, "You have to find your game again. It really taught me a lot about myself and me as a player."
Curry said him and Thiessen had a good relationship, and though he was supportive of his thriving teammate, there was still a competition for playing time and he had to keep positive while dealing with his on-ice struggles.
Success came in 2010-11 when the Penguins went 58-21-0-1 and clinched the AHL's best overall record. Curry said John Hynes, who was in his first year as WBS' head coach, was a big reason for that winning record.
"He just did a really great job and we also had a really good team. He got the most out of that team and made us competitive every night."
Curry also credited a strong group of veterans, led by then-captain Ryan Craig (now with the Springfield Falcons) and said it was a fun season. But overall, there were "many different factors" that aided the team's success.
To Europe and Back
After that league-winning year, Curry wasn't re-signed by Pittsburgh and didn't have a firm plan for what was next.
"As a goalie, it can be a bit daunting not knowing what your future's going to be and what opportunities are going to be there for you when you go through free agency."
He still wanted to explore his options in North America, but also talked to some teams in Germany. Eventually, he decided to pursue a job with the Hamburg Freezers, one of the premier teams in the DEL.
"At the time, it seemed like the right decision." Curry explained.
While overseas, he started to rebound with a record of 22-20, which was accompanied by a .917 save percentage and 2.73 GAA.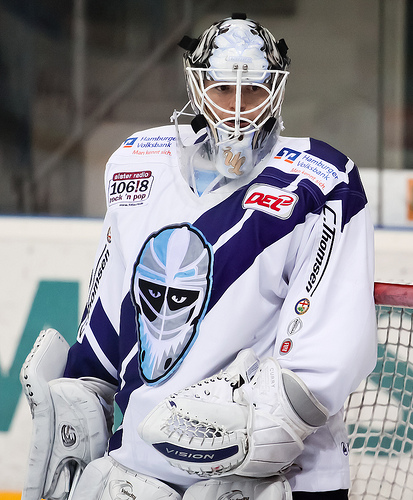 "I felt like I grew as a player. I felt that hey, I'm still only 26, 27, and I really think I can have another shot at the NHL."
Although Curry had gained back some confidence in his game, he would later learn that NHL organizations had a different perspective, especially in the midst of a lockout that wiped out the first portion of the 2012-13 season.
"I don't regret it, but coming back was a little harder than I thought it would be."
Getting Back to Normal
When Curry again sought AHL employment in the summer of 2012, he was at a disadvantage that he may not have faced if he had spent the prior season with a U.S. or Canadian-based team. Teams seemed to prefer free-agent goalies or  prospects who had played 45-50 games in the system rather than someone looking to revive his NHL hopes.
"I had a pretty decent resume with Wilkes-Barre/Scranton and Pittsburgh, but when you go overseas, it's like you disappear for a year," Curry said. "No one really gets to watch or see you. The German league is a really good league, but it's not heavily scouted."
He ended up joining the Orlando Solar Bears, a former IHL franchise that was starting up in the ECHL in 2012-13. Although he said he had a good attitude about the situation, he confessed he wasn't excited about it and was hoping he would just be there for a few games before an AHL opportunity opened up.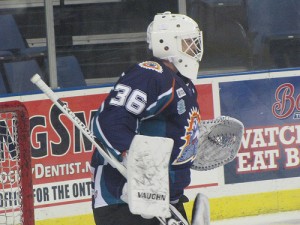 "I tried to stay ready for any opportunity, and that was really my focus throughout the year."
Curry may have said he wasn't happy being in Orlando, but his statistics didn't tell that story. He compiled a record of 17-11-2, .917 save percentage and 2.66 GAA, which ended up putting him in line for the AHL job he was longing for.
AHL's Newest City Brings New Chance

Seven years after bursting on to the scene in Wilkes-Barre/Scranton Curry is now almost 30 years old and with the first-year Iowa Wild. Des Moines has had AHL teams before such as the Iowa Chops and Iowa Stars, but those teams did not last.
However, the Wild may be different. Curry discussed how the organization has really pushed to get players out in the community and build a fanbase. The team is consistently doing appearances, and he has not wasted any time getting involved. He was recently at a veteran's hospital visiting retired vets and has been present at season ticket holder functions.
G John Curry of the @IAWild just enlisted to help keep @DefTheBlueLine military kids in hockey! Welcome to the club, thanks for stepping up.

— Shane Hudella (@HudellaDTBL) February 13, 2014
He said that the Wild have a tighter style on defense, but there is no big difference between them and the Penguins. Even the scheduling is similar. Just as WBS frequently plays divisional rivals like the Hershey Bears and Binghamton Senators, Iowa mostly sees teams within the Midwest Division like the Grand Rapids Griffins, Rockford IceHogs and Milwaukee Admirals.
"There are no easy games there," Curry said. "We have played San Antonio a couple of times and they're one of the bottom teams and they're no pushover."
Curry has been solid in the Wild goal so far. He is currently at 5-2-2 with a .941 save percentage and 1.94 GAA.
It should not go unnoticed that John Curry had 32 saves in net for the #IAWild tonight coming up with some big saves! #2points

— Iowa Wild (@IAWild) February 8, 2014
While he is mostly focused on the short term, he is looking ahead and has not ruled out the chance of staying with the Minnesota organization, especially since he still has a relationship with Wild general manager Chuck Fletcher. Fletcher was the Penguins assistant GM during Curry's time in the Pittsburgh system.
"He was one of the guys that seemed to really believe in me at the beginning of my career," Curry said. "I know he still supports me. Right now, it's a great fit."
He went on to add that playing in Minnesota, his home state, would be special.
Curry may have had to take the long road back to AHL success, but so far, it is clear that Iowa may be just the place where he can redeem himself. It could even lead to the chance to go home once and for all.