Good news everyone! Every Duck in the Olympics is undefeated after their first game. We've seen some pretty strong showings thus far, while some are still unclipping their wings after that long flight over to Russia. The definite MVP after the first two days of play is Switzerland's Jonas Hiller, who pitched a shutout in his first appearance.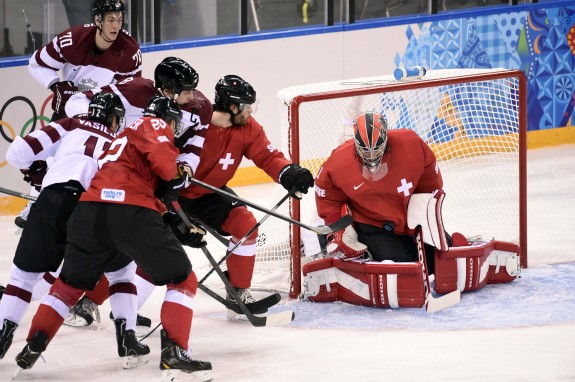 With the win, Hiller's Olympic career moves to .500. The Swiss backstop has been impressive in his six starts (five in 2010), never allowing more than three goals in a loss. In fact, take a look at the these three scores from 2010 in the games Switzerland lost: USA 3 – SUI 1, CAN 3 – SUI 2, USA 2 – SUI 0. Even though the Swiss are not regarded as a tough opponent, Hiller kept the Swiss within reach of every game against the powerhouses, stopping 107 shots total in those three games.
Four years later, Hiller has begun the 2014 Games with a bang, stopping 21 shots in an almost expected solid performance against the weaker Latvians. Though the Swiss peppered Latvian netminder Edgars Masalskis with 39 shots, they weren't able to put one past him until the dying seconds of the contest. And even then, they got lucky with a bounce off of the chest of a Latvian defenceman.
Interestingly, according to Greg Beacham of the Associated Press, Hiller will sit tomorrow's game against Sweden.
ICYMI, Jonas Hiller isn't starting for Switzerland vs. Sweden on Friday. Reto Berra is in. Swiss likely saving Hiller for Czech game Sat.

— Greg Beacham (@gregbeacham) February 13, 2014
The strategy here seems like the Swiss are almost expecting a loss against the ever-daunting Swedes. Switzerland plays again on Saturday against the Czech Republic, which may give a well-rested Jonas Hiller energy enough to give his team a good chance. With a win, Switzerland would finish second in the group (assuming Sweden wins all three preliminary matchups).
Sweden
Speaking of Sweden, JaKob Silfverberg was used very seldom in his first ever Olympic appearance. In a stacked group of players, Sweden's coaches only managed to give the young forward 2:34 of ice-time. Silfverberg did what he could in that short time, however, posting a shot on goal and a +1 for being on the ice when Patrik Berglund scored.
Finland
Wow. Where do I begin with this one? A total of 12 goals were scored in this game, and Finland had eight of them. What an electric game with a great showing from Teemu Selanne and Sami Vatanen. The Austrian's surprised the Finnish with an early goal, but Selanne and Vatanen worked together to change that less than five minutes later. Vatanen started it all with a crisp pass to Selanne up the middle. Selanne quickly found a wide open Mikael Granlund on the left wing who roofed it shortly after.
In the third, Vatanen twice helped to restore a four-goal lead for Finland by adding assists on two powerplay goals, one of the assists being primary. Overall, Vatanen led all Finnish defenders with an ice-time of 18:03 and a +1. Ducks and Finnish fans alike were scared when Selanne didn't show up for the second period with an apparent neck injury, but all seems to be fine now.
Finland's Teemu Selanne leaves with injury, but he's expected to pplay in second game. http://t.co/CObVfdm4gi

— Yahoo Sports NHL (@YahooSportsNHL) February 13, 2014
Also, who would have guessed Rask would give up four goals? Oh well, they can just substitute him for one of their other all-star goalies.
USA
How about I let Fowler do the talking for me?
https://twitter.com/C_Fowler4/status/434011043615223808
The Americans looked impressive in their 7-1 rout of Slovakia, who usually are more resilient than they looked today. Fowler was fifth among America defenceman with 15:04 of ice-time and finished a +2. The sturdy defenceman looked solid all game and may be a key cog in the United States' bid for a medal.
Canada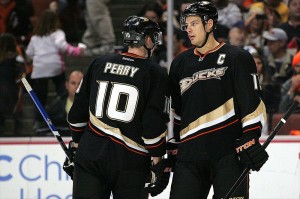 Of all the Ducks, Corey Perry and Ryan Getzlaf were the last to play in this tournament. Playing with Marleau, the California line looked massive among the smaller Norwegian lineup. While the Canadians were slow to start, they were able to develop a little bit of momentum in the second period scoring two goals. In the third, Norway halved Canada's lead with a quick goal, but Perry and Getzlaf put on their steel-toes and went to work immediately after. The two made some nifty neutral-zone work look like basic routine before gaining the zone. Norway looked poised to dump the puck after a bad pinch but Getzlaf picked up his pace to keep the rolling puck in the offensive zone. Then from the halfboards Getzlaf spotted a streaking Doughty and sent him a pass through Martin Roymark's legs before Doughty deked the pants off half the team for a nifty goal. Perry's work was as good as adding an assist as he crashed the net and created enough chaos for Lars Haugen to completely lose sight of the puck until it was too late. Hopefully the Duck combo can carry that momentum moving forward in the tournament, as they looked a little tentative at the start. They square off against Austria on Friday.
Perry Note: Ducks fans were again frightened when Corey Perry was slow to get up after being kneed in the back of the knee. He hobbled toward the bench but never left the game. Perry showed no signs of injury throughout the rest of the game.
Perry Note 2: Canada shot the puck in deep from their own zone and Perry kicked it into third gear thinking the NHL's hybrid icing rules still apply. He would have won the race by a few meters, but unfortunately the play was blown dead because international rules call for no-touch icing.
Graduate of the U of T journalism program. Interned at The Hockey News. Follow me on twitter: @AceLarkin