When the Los Angeles Kings won the Stanley Cup for the first time in franchise history in 2012, the acquisition of Jeff Carter just before the trade deadline was one of the main reasons why. He jump-started a struggling offense and gave the Kings depth down the middle that they had been sorely lacking. This season, Carter missed 55 games due to a deep cut in a tendon in his ankle. Can his return from injury have a similar effect on the Kings going into the 2018 Stanley Cup playoffs?
The Jeff Carter Effect
It may just be a coincidence – the Kings acquired Carter from Columbus on Feb. 23rd, 2012 and Carter returned from his injury this season on Feb. 24. What isn't a coincidence is the way the Kings play with Carter in the lineup. In 2012, the Kings went from scoring 2.11 goals per game to 3.09 goals per game after the trade. Similarly, while they weren't quite as inept offensively without Carter (2.78 goals per game in the 55 games he missed), they have once again jumped up over three goals a game to 3.15 since his return. The increased offense led to the Kings having a 13-5-3 record six years ago with Carter on the roster. Incidentally, they have a chance to have the exact same record this year since Carter's return from injury if they defeat the Dallas Stars in their regular-season finale.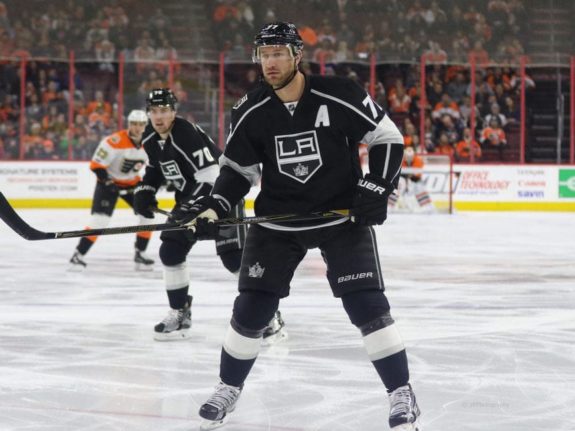 While Carter's has had a much more significant statistical effect this time around with 13 goals in 20 games compared to just six in 16 games in 2012, his effect on the lineup has been very similar. In 2012 he gave the Kings a legitimate No. 2 center behind leading scorer Anze Kopitar and strengthened their depth down the middle by pushing Jarret Stoll and Mike Richards to third and fourth line roles that better suited their games at that moment in time.
This season, his return had a similar effect on the Kings depth at the center position. Slotting Carter once again as the team's No. 2 center, allowed them to move rookie Adrian Kempe down to the third line. While Kempe performed admirably in Carter's absence with 13 goals and 13 assists for 26 points, his production had definitely slowed in the last month or so before Carter's return. Moving Kempe down took some of the pressure off him to produce goals on a nightly basis and once again lengthened the Kings depth down the middle.
Kopitar and Brown with Bounce-Back Seasons
Of course, teams are not successfully solely based on one player. In 2012, Kopitar led the Kings in scoring for the fifth of what would be nine straight seasons atop the Kings scoring list. However, Kopitar had arguably his worst season in 2016-17 scoring just 12 goals. He has followed up though with maybe his best season with career highs in goals (35), assists (57), and points (92) putting himself squarely in the discussion for the Hart Trophy as league MVP.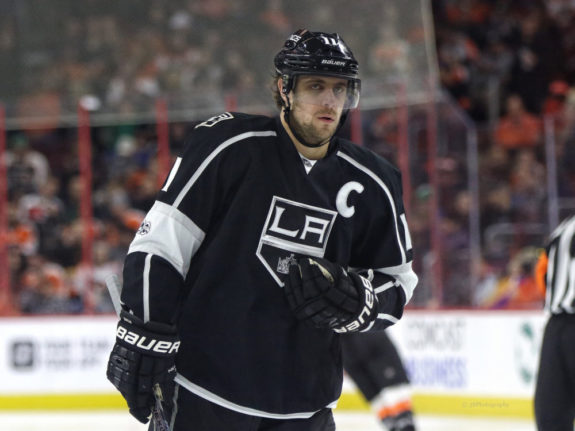 Dustin Brown was also a huge contributor in 2012, topping 20 goals and 50 points for the fifth straight season, as well. He had failed to come close to those numbers in any season since, although he did have 18 goals in a strike-shortened 2013 season. But, Brown has somehow risen from the ashes this season – he's gone from being a player that many thought would either be traded or be taken in the expansion draft, to the team's second-leading scorer. Brown also has career highs in assists (33) and points (61), while his 28 goals are the second-most he has had in a season.
Combine Kopitar and Brown's bounce-back seasons with the always steady play of Jonathan Quick in goal and a potential Norris Trophy-winning season from Drew Doughty, and all the remaining stars from the 2012 Stanley Cup Champions appear to be playing their best hockey at the right time. Could the stars be aligned for another magical run to the Stanley Cup? Only time will tell, but having Jeff Carter back in the lineup has only enhanced those odds.