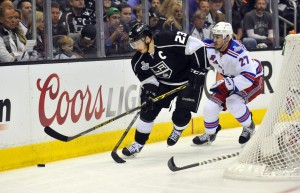 In many ways, the Los Angeles Kings are a riddle wrapped in a mystery, inside an enigma.
They went into the regular season with five players with 30-goals seasons on their resume, with their blue line featuring the cannon shots of Drew Doughty and Slava Voynov. They ended the season with yet another gun, acquiring seven-time 30+ goal scorer Marian Gaborik at the trade deadline.
Despite all the weapons, Los Angeles finished just 26th overall in scoring. That is, until everything magically clicked in the playoffs, where the offense finally reinvented itself and, as of this writing, leads postseason teams in scoring by a wide margin. It's been a joy to behold for goal-starved Kings fans.
But wait, there's more. The Kings went down three games to none against San Jose, then stormed back in historic fashion to win. They faced a 3-2 series deficit with Anaheim before taking the final two games. Los Angeles fell behind 2-0 on the road at the United Center in game seven against the defending champion Blackhawks before winning in overtime.
Speaking of two goal deficits, the Kings have practically feasted on them. With their game two win against the Rangers (where they had three of them), Los Angeles set an NHL playoff record by coming back from multiple-goal deficits in each of their past three games.
#LAKings have won 14 playoff games this spring, tonight their 7th comeback victory.

— Chris Cuthbert (@CCpxpSN) June 8, 2014
So what are the keys to game three as the series shifts to Madison Square Gardens?
Wearing down the Blueshirts
It's pretty obvious that the Kings need to capitalize on their hitting. During game one, L.A. outhit the Rangers 45-33. In game two, the Rangers picked it up and actually edged the Kings in that department, 51-50.
As the bigger, strong club, Los Angeles must re-establish their physical advantage to counter the Rangers' attempts to dictate the pace with their speed. They'll need to be careful, though, as a misplaced attempt could lead to a defensive breakdown and subsequent odd-man rush the other direction.
Although New York was outshot both games and were on their heels at the wrong times, the increased physical effort in game two helped them avoid being dominated over long stretches like pretty much the entire third period of the opener. Look for them to keep it up in game three.
Takeaways turn into breakaways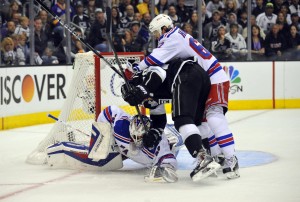 By the numbers, the Kings are the league's preeminent puck possession team. During the regular season, Los Angeles led the league in Corsi For percentage (57.3%) and Fenwick For percentage (56.7%). For those of you not into advanced stats,
here is a good breakdown of what they mean
. In short, the metrics represent a statistical measurement of shots, shot attempts and shots against.
With 33 giveaways in game two (18 in game one), the Kings are helping tilt the ice the wrong direction. With the Rangers' speed and the amount of rushes Jonathan Quick has faced this series, haphazard puck movement could be hazardous to L.A.'s game three prospects.
The Rangers must continue to amp up the pace, as they cannot beat the Kings in a grind-it-out contest. Again, they'll need to finish better and get a few more bounces falling their way. You can bet they'll be loudly booing the refs at the Garden as well.
Kopitar and Carter
Without question, Los Angeles has a huge advantage on paper up the middle. However, with Anze Kopitar winning a hair over 40% of his draws and recording just one point during the first two games, the edge becomes a little less distinct. Ditto with Jeff Carter's quiet series to date as well.
Statistics certainly don't capture effort, nor do they indicate that the other aspects of their respective games aren't working. However, the Kings need their two stars to contribute in a big way if they want this series to end soon.
Rangers fans hither and yon are calling for Brad Richards' head, as his untimely turnover led to the loss in game two. Richards has also been conspicuously absent from the score sheet, despite this glorious chance:
http://www.youtube.com/watch?v=T_TCL8fZOTI
New York desperately needs to see Rick Nash create some offense as well.
The Kings must get off the tightrope
With all the praise regarding their resiliency — and it has been remarkable — the Kings know they cannot continue to live on the edge, especially in front of 18,200 bellicose New Yorkers in the unfriendly confines of Madison Square Gardens. "We're not proud of the way we've started games, and we find ourselves in the same situation, regurgitating the same mumbo jumbo every time," said 'Mr. Game 7' Justin Williams. Defenseman Willie Mitchell agreed: "It's not the place we want to be, to have to climb out all the time. Sooner or later, it is going to bite you."
With as close as this series has been and given the change in geography, a strong start is a veritable must for Los Angeles, lest the magic carpet ride begin to falter. Leave the poetic blather about riddles and mysteries to Winston Churchill.
Walter McLaughlin is a Los Angeles Kings correspondent for The Hockey Writers. He is an avid sports fan, having followed the Kings since living in L.A. in the mid-1970's, as well as suffering through Seattle sports teams' general futility. He has a Bachelor's degree in Finance and has worked in community banking for over 25 years, specializing in SBA loans. He is married and has two daughters.