Throughout the last decade, the Los Angeles Kings have built a championship roster from the ground up. They've scouted and developed their core group and, of course, it was only a matter of time before costs started running high. In the last three years, the Kings have traded valuable commodities in order to hold onto the cream of the crop and some of these commodities include three first-round draft picks.
In order to get Jeff Carter, they traded Jack Johnson and a conditional first-round pick (Marko Dano, No. 27, 2013 Draft) to the Columbus Blue Jackets. In 2015, they traded Martin Jones, Colin Miller and a first-round pick (Jakub Zboril, No. 13, 2015 Draft) to the Boston Bruins for Milan Lucic. They also traded Roland McKeown (No. 50, 2014 Draft) and a conditional first-round pick (Julien Gauthier, No. 21, 2016 Draft), to the Carolina Hurricanes, in exchange for Andrej Sekera.
Dano, McKeown, Zboril and Gauthier are the missed prospects of Los Angeles and sure, it's nice to imagine what the Kings would look like if they were coming through the pipeline right now. But they're not. Now, the only real impact these trades are having is witnessed solely through Carter.
We recently saw Lucic go to the Edmonton Oilers and Luke Schenn sign with the Arizona Coyotes because of salary-cap constraints. The Los Angeles Kings have subtly begun to change their core roster, but how much longer will it be before they embark on what some will consider an extreme makeover?
 The Kings' Core Splits
It's inevitable. The core of the Los Angeles Kings will eventually break up. Next summer, four players on the Kings' current roster will become restricted free agents (RFA):
Tyler Toffoli
Tanner Pearson
Nick Shore
Andy Andreoff
Four more will become unrestricted free agents (UFA):
Dwight King
Teddy Purcell
Devin Setoguchi
Tom Gilbert
Right now, the Kings are projecting to have just under $13 million available in salary-cap space, and only two of these players are still experiencing a steady increase in their point production: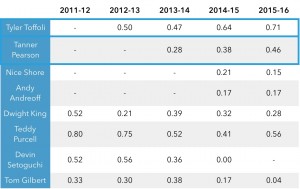 It'll be interesting to see who the Kings end up keeping and how much keeping them will cost. Furthermore, Dean Lombardi, the Kings' general manager, won't be the only GM keeping an eye on them either. In fact, there's one player in particular who's garnered unforeseen value over the last few seasons and he's beginning to shine in more places than Los Angeles. Tyler Toffoli is that guy — the guy who's expected to get even better than he already is. The soon-to-be restricted free agent's current contract is worth $3.25 million and it's going to double next year.
Toffoli on the Rise
http://gty.im/513395220
Restricted free agents have a unique value proposition — if another team wants to extend an offer sheet, it'll cost them in the form of draft picks. The Kings could definitely use some draft picks right about now and Toffoli is the only player in the foreseeable future who could provide this kind of value. To determine how much he's worth, let's take a look at other players who share commonalities on a number of frontiers.
Toffoli was selected at No. 47 in the second round of the 2010 Draft. Below are some second round draft picks selected in the drafts two years before and after 2010, who are currently playing in the Pacific Division: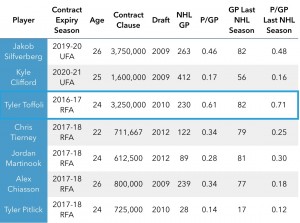 The 'P/GP' (point per NHL game played) column has each player's calculated point production for total regular season games played, not including games played in 2016-17. The 'P/GP Last NHL Season' column has each player's point production for total games played in their last NHL regular season.
Now let's take a look at second round picks drafted in 2005, 2006 and 2007, also playing in the Pacific Division: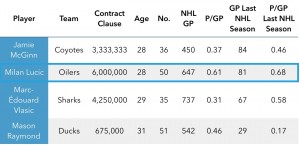 Toffoli doesn't have as many NHL games played as any of these guys, but what he does have in common is the same or higher overall point production.
If we also look at forwards currently playing in the Pacific Division with similar point production as Toffoli, we'll see that younger players with fewer games — just like Toffoli, are paid more than Lucic.
Note: Of all these players, Toffoli's point production is increasing more than everyone except Sean Monahan, who's rate only increased by 0.03% more than Toffoli's last year.
In terms of how many points each of these players produced, we can see similar improvement between Toffoli, Loui Eriksson, Monahan and Carter. Toffoli registered 58 points in 82 games last season.
Let's look at a hypothetical for a moment. If Toffoli maintains this point production throughout the 2016-17 season, he'll have increased his overall NHL P/GP to 0.64. It's very unlikely he won't improve, though. If he only gets a mere 10 percent more points this season (six more points), that would give his 2016-17 season a P/GP rate of 0.78, which is a 21.88 percent increase from last season — a much higher improvement percentage than any of the players in the chart above, including Monahan.
One of the most valuable characteristics of Toffoli is he's still improving. His improvement is consistent and it's greater than most of his peers.
---
Complete Kings Coverage From THW
---
Toffoli's Potential Offer Sheet
Toffoli's next contract will be worth a minimum of $6 million per year. If another team really wanted him, they could give him an offer sheet worth $7 million. In this scenario, the Kings could get a first, second and third round draft pick in exchange for him. This certainly wouldn't make up for the loss of three first-round draft picks over the last three drafts, but it's definitely a step in the right direction. The other option is to re-sign him for half their expected available cap space.
It wouldn't be surprising if the Kings let Toffoli go after the 2016-17 season. It's hard to imagine them without him, but they've always been a team for thinking long term. With few high-end prospects coming through the pipeline and several core players' contracts nearing expiration, as well as the upcoming expansion draft, the Kings are going to look very different around this time next year.