Another offseason, another collection of rumors about former NHL superstar Ilya Kovalchuk coming back to the league. The difference this season is that his return is real. Now that he is 35 and the New Jersey Devils have no control over his rights, Kovalchuk can return to any team he wants. He has already been linked to a number of teams, most notably the New York Rangers, Boston Bruins, and Los Angeles Kings. There is one more team that would create the perfect match for Kovalchuk – the Vegas Golden Knights.
Related – NHL Rumors: Voynov, Subban, Faulk, Kovalchuk, More
Golden Knights Need Wingers
So far the Golden Knights have peculiarly not been mentioned at all in the Kovalchuk rumors. Managment had to have discussed it. They know they were so close to a Stanley Cup Championship already, and that those opportunities do not come easily or often. The team will be looking to repeat their success from last season, and Kovalchuk has the skills to make that happen.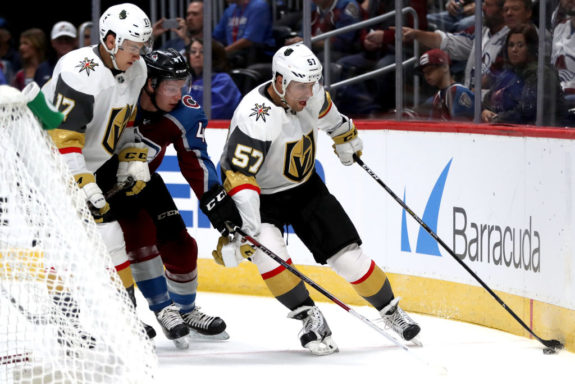 Right now, Vegas has two big wingers in James Neal and David Perron that need to be re-signed. They will both be asking for big contracts after their successful outings last season, and Vegas might not be keen on giving someone like Perron a long-term contract. They could instead opt to re-sign one player and give the other spot to Kovalchuk, who will demand big money but not a long term. He is rumored to want a three-year contract at $6 million per year. Vegas still has a massive amount of cap space and the addition of Kovalchuk would add to an already impressive Vegas offense while being off the books relatively soon.
Kovalchuk Wants a Cup
Kovalchuk is not coming back to the NHL just for the memories – he wants to win. Having won Olympic gold, World Championship gold, and the Gagarin Cup of the KHL, the biggest prize to elude him has been the Stanley Cup. He is coming back to go to a contending team and play an important role in winning a championship.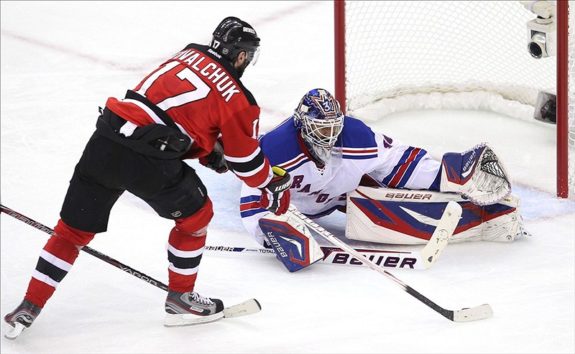 The Golden Knights are obviously a Cup contender at this point. They were three wins away from a Stanley Cup and still have a bright future considering their young players and sizable cap space. Kovalchuk would be able to step into a team that already knows they can get to the Final again. An added bonus for Kovalchuk would be the opportunity to live in the entertainment capital of the world. There are few other home cities in the NHL that can compete with Vegas in the entertainment sphere.
Why Aren't the Golden Knights Interested?
It is odd that Vegas has yet to even be mentioned as an interested team considering the match. Most likely general manager George McPhee is more focused on re-signing his current players like Neal, Perron, and William Karlsson rather than looking at free agents.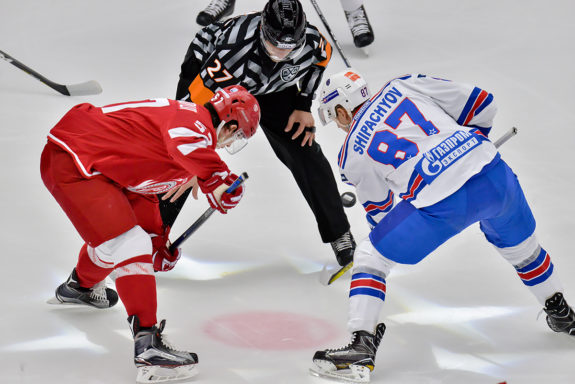 Another reason may be the team's bad experience with their past KHL star signing in Vadim Shipachyov. Vegas won the bidding war for Shipachyov last offseason, expecting him to carry over his fantastic KHL numbers to the NHL. Almost immediately the relationship turned sour when Shipachyov started the season in the AHL. He felt slighted by management and returned to Russia after only three NHL games. That situation has to be on McPhee's mind as thinks about fighting other teams for yet another aging KHL forward.
Can Kovalchuk Still Play?
Kovalchuk's ability at age 35 to play well in a league he last played in five years ago could be the big reason Vegas is reluctant to throw their hat in the ring. The game is relying on speed more than ever, and an old player used to skating on bigger ice the past few seasons may look completely out of place. However, Kovalchuk was not a player who retired from an inability to play in the NHL – he was one of the best players in the NHL when he chose to head back to Russia after the lockout-shortened 2013 season.
Kovalchuk had posted nine straight 30-plus goal campaigns before the shortened season and was arguably the Devils best player during their 2012 Cup Final run while fighting through an injured back. With SKA St. Petersburg in the KHL, he scored a total of 285 points in 262 games including back-to-back 30 goal efforts in his last two seasons. He knows how to play in the NHL, and while he is sure to have slowed down, there is little doubt he will be an impact player.
Too Late for Golden Knights Now
At this point, the Golden Knights are likely out of the Kovalchuk competition regardless. They could jump in at the last minute, but it has been rumored that Kovalchuk and his agent want a deal agreed upon before free agency even opens on July 1. If the Golden Knights haven't reached out to Kovalchuk at this point, or vice versa, I can't imagine either party is interested.
Related: Ilya Kovalchuk Trade Revisited
What Vegas should definitely start doing is their homework on Kovalchuk if they haven't started. He has already visited with the Kings and the San Jose Sharks, meaning he could be playing for a team in the Pacific Division next season. And should he play half as good as he used to, the Golden Knights will regret not taking a run at him.