In hockey — more specifically the NHL — injury reports are always vague and void of detailed information regarding a player's ailment. It's usually as simple as 'upper-body injury' or 'lower-body injury' unless some sort of surgery is required and that's perfectly fine. Players and teams are justified in keeping some things in-house. However, in most cases, teams are fairly transparent when it comes to the estimated time missed.
And the message is normally consistent.
In the case of Kris Letang, the message delivered by the Pittsburgh Penguins has been anything but consistent. After playing nearly 29 minutes against the Carolina Hurricanes on February 21, finishing the contest with no sign of injury throughout, Letang was absent from the Penguins' next practice session. It was then announced that he had an upper-body injury and would be considered day-to-day. 
Since that announcement, he has missed a little over two weeks, five games, and head coach Mike Sullivan said Letang won't travel with the team on their trip to Western Canada which rules him out for five more contests. It may be time for team officials to provide a little more detail on what they're facing.
Fearing the Worst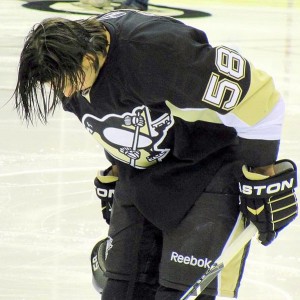 It's safe to say that panic has set in for much of the Penguins' fanbase. While everyone is concerned about Letang returning to the lineup for Pittsburgh's run at defending their Stanley Cup Championship, most are more concerned with his personal well-being. At this point, it's nearly impossible to avoid imagining the worst possible scenario here. And that means wondering if his ailment is a reoccurrence of past health issues.
When Sullivan spoke to the media on Tuesday following practice, he was asked once again about Letang. His answer did very little to ease troubled minds.
Our medical staff has a good handle on it. When he's ready to play or he's getting close, we'll let you guys know. I really don't want to go down the road of talking details on his injury. We're hopeful he's making progress.
When a team is this secretive about length of time out of the lineup, and even on details surrounding what the injury is, it normally means they're delaying for obvious reasons. Things aren't good with that individual. Hopefully, all the concern is for nothing but at this point — without an update from the team — everyone will continue to fear the worst. Letang has a history of concussions, as well as a stroke that stemmed from heart problems. For the sake of his health, lets hope this is indeed a hockey related injury that isn't quite that serious.
Surviving Without Kris Letang
Penguins' general manager Jim Rutherford was crafty as usual prior to the NHL's trade deadline roughly one week ago. You could argue that he was even more crafty than usual this season, though.
Rutherford wanted defenseman Mark Streit from Philadelphia but as expected, the Penguins and Flyers weren't able to agree on terms that fit both clubs. Why would the Flyers — despite the fact they were looking to unload Streit — want to help the Penguins? The asking price was too much so Rutherford waited, and when the Tampa Bay Lightning acquired Streit he pounced. Funny how these things work out sometimes.
Prior to that addition, Rutherford also added veteran defenseman Ron Hainsey in a trade with the Hurricanes. Both individuals are proving to be perfect fits in their short stint in the Steel City so far, but does that mean the Penguins are in good shape heading into the postseason?
As a unit, Pittsburgh's defense has been far from stellar for most of this season. Olli Maatta an Trevor Daley were two big reasons for this group's declined performance. As it stands, Hainsey and Streit could assume those roles throughout the postseason but what happens when there's an injury? Either Maatta or Daley will be expected to step in, likely after not playing for roughly two months, and assume a top-four spot. That's hardly ideal for them or the Penguins.
And that's simply looking at depth issues, but what about the impact Letang has on this team?
The difference in this team with and without Letang in the lineup is quite obvious. He's arguably the main driving force behind what the Penguins look to accomplish on offense due to his ability to quickly transition up ice and create a rush. If he remains out, a series against the Washington Capitals would be extremely challenging and honestly, the Penguins can't win another Cup without number him.
In the interim, they'll survive. They're essentially guaranteed a playoff spot at this point — barring a monumental collapse — even if they fall off a bit without their undisputed number one defenseman. However, if Letang's ailment keeps him out of the lineup into the postseason, they'll struggle mightily to make it through the divisional rounds. Again, let's hope the assumption that he's suffering from another concussion or health issues stemming from his heart condition prove to be false. And for the Penguins' sake, hopefully he's back on the ice sooner, rather than later.