One of the things that became crystal clear when Peter Chiarelli took the job as Edmonton Oilers' general manager is that he was going to be gifted the drafting of Connor McDavid and one day, have to find a way to make his team roster fit around McDavid's foreseeable giant salary. As McDavid leads the NHL in points — and could do so for many seasons to come — it should come as no surprise if his next contract is in the neighbourhood of eight years and $96 million dollars.
McDavid is just one of a few key restricted free agent contracts that Chiarelli will have to manage as the Oilers grow and try to remain competitive with one of the highest paid players in the NHL. A quick look at what might be in Chiarelli's future demonstrates that as great as it is to manage one of the best players in hockey, it's not going to be the easiest managerial job in the NHL.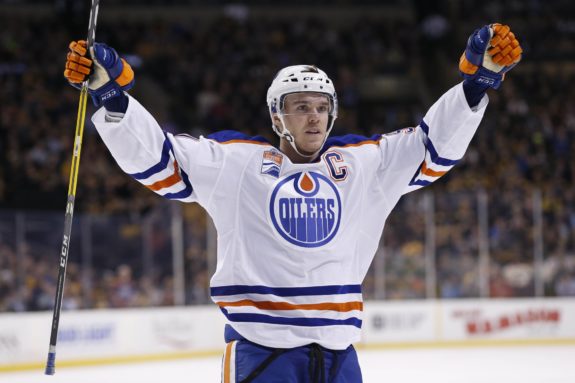 Setting the Tone: Connor McDavid
There is a chance that McDavid looks at this Oilers team and takes a hometown discount for the sake of ensuring the team around him stays competitive. But really, the odds of that happening might be three, maybe four percent? And, even if he does, what kind of a discount are we talking about? $11 million per season instead of $12 million? McDavid would have to be one of the most unique and giving types of individuals to do an $80 million deal and he'd be giving up close to $20 million over the length of his contract to do so. I just don't see it. I don't see the Oilers even asking.
The reality is, $12 million per season over eight seasons will be the going rate for a player of McDavid's talent. Chiarelli will have to work around this and that could explain why no big contracts came in at the trade deadline this season and could also mean a big contract or two may be on the way out over the summer. Depth forwards and defensemen will have to be carefully located, negotiated and eliminated from the conversation if the cost is too high.
Like Patrick Kane and Jonathan Toews in Chicago or Sidney Crosby in Pittsburgh, it's great to have these guys in your organization, but adjustments have to be made.
McDavid's Sidekick: Leon Draisaitl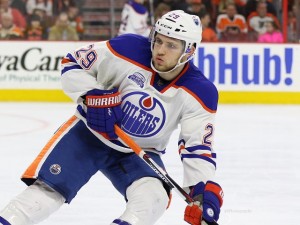 One player who'll be asked to stay as part of the Oilers future is Leon Draisaitl. This may be the only exception McDavid considers a slight adjustment in salary for. The chemistry between the two is undeniable and it seems obvious that next to McDavid, Draisaitl is the other true offensive threat Edmonton ices on a nightly basis.
In 174 NHL games, Draisaitl has 44 goals and 115 points. He's on pace for 70 points this season and in the NHL, that's worth $5-$6 million per season as an RFA.
He currently makes $925,000 but bonuses could put him north of $3 million this season. Projecting him at $6 million means moving a $3 million player off the roster for next season to keep things status quo. Chiarelli didn't hand out the multi-year contracts to players like Taylor Hall, Ryan Nugent-Hopkins or Jordan Eberle but a similar deal might not be too far off. It's not unreasonable to think that the combination of Draisaitl and McDavid could occupy nearly 25 percent of Edmonton's salary cap going into the 2018-19 season.
The Heavy: Zack Kassian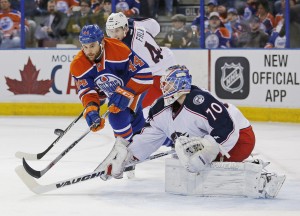 A year ago it would have been fair to label Kassian as a tweener — the type of player who was 50/50 to earn another contract or not return. His play this season has suggested he's cemented himself more in the former category and that the Oilers would like to have him back.
The mix of physicality and skill he brings to the organization on a nightly basis is arguably unmatched. In many instances, you can see how one Kassian shift, which often includes three or four hits, can change the tide of a game.  He's never going to provide the most offense, but from the third or fourth line is good for 7-12 goals a season.
A player of Kassian's ilk is likely worth $1.5-$2 million in the NHL market — he's making $1.5 million currently. This it the type of player Chiarelli will want but will have to either convince to stick around at his $1.5 million cap-hit or consider letting move on. Handing out an extra $500,000 to players of Kassian's stature can be acceptable if done once, but if done two or three times with different assets on the roster will be detrimental to keeping the team salary cap in check.
The Depth Specialist: Anton Lander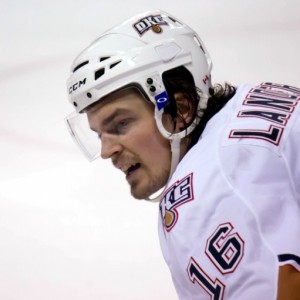 I've written plenty on Lander this season. I think there is room for him on this roster and his play in the American Hockey League (AHL), but his inability to translate that play into the NHL is mind-boggling. That said, he offers useful assets to an NHL club.
The Oilers are one of the worst faceoff teams this season, but Lander is a traditionally gifted faceoff specialist. He plays special teams, he can provide offense in the right situation and he's been chronicled as a natural leader.
He currently makes $987, 500 and the five percent raise required to qualify him as an RFA is a number that many teams in the NHL would match. He's eligible for arbitration this summer and Edmonton may choose to let him leave if there is interest shown by Lander in finding another home. He's been moved up and down so much with the Oilers that it wouldn't come as a total surprise.
Notables: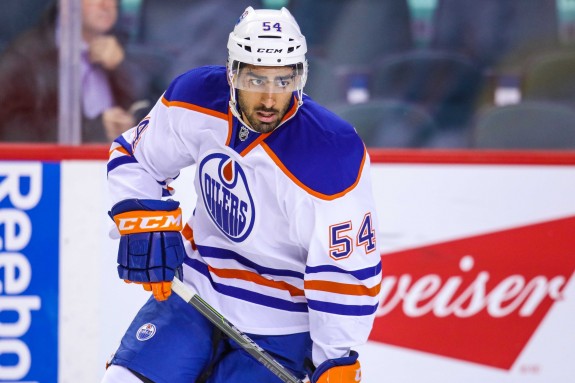 Value Defenseman: Griffin Reinhart
Reinhart currently makes $863,333 per season. He's struggled since coming over the Oilers but is having a slightly improved season in Bakersfield. The combination of what the Oilers paid to acquire him along with the type of player the Oilers think he could potentially become means that Edmonton may choose to qualify him as an RFA. The organization will have to re-sign him at just over $900,000 and that's a deal I could see making sense for a team that needs no. 7 defensemen for under $1 million. If Edmonton can somehow get players like Mark Fayne off the books or Eric Gryba doesn't return, Reinhart appears to be more of a lock for one more shot at redemption.
Value Forward: Jujhar Khaira
Khaira is seeing some time with the Oilers right now but has spent most of his time in the AHL this season. I think that AHL time is almost entirely behind him and that he'll be a player slotted to take over for a more expensive option like Matt Hendricks. This type of move will save the Oilers nearly $1 million dollars off next year's payroll.
Value Forward No. 2: Tyler Pitlick
His injury this season makes it tougher to predict his future but the Oilers gave him a shot this past summer coming off of similar circumstances. The difference moving forward is that Pitlick has shown he has the ability to score and provide useful minutes as a depth forward at the NHL level. That was an unknown variable in the past. If terms with a player like Kassian can't be reached, Pitlick is a much more viable option. He'd need to be signed prior to July 1st.
The RFA/UFA Dominos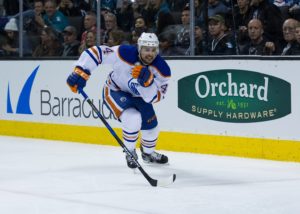 What might be interesting to watch is how some of these RFA contracts affect Chiarelli's desire to spend money on renewing contracts or Unrestricted Free Agents (UFA's) over the summer. Fans watched as the Oilers stayed quiet over the trade deadline and more of the same could be in the cards for the foreseeable future.
There was talk Edmonton was looking to bring back Kris Russell, but that talk may depend exclusively on the price required to retain him. With big money owed to players like McDavid and Draisaitl and contracts like Lucic's, Eberle's and Nugent-Hopkins' on the books, Russell may be deemed simply too expensive to keep around.
Players like Cam Talbot may be due a raise, Darnell Nurse will see more money and Patrick Maroon will undoubtedly make more than $1.5 million per season come 2018.
Edmonton's future success doesn't only depend on what they pay their pending RFA's. Value deals and UFA contracts with a $12 million salary on the books will be key to Chiarelli's success as a general manager moving forward.