In the NHL he can't seem to catch a break. In the AHL, he lights the league on fire. His name is Anton Lander and he's been a professional hockey player in the Edmonton Oilers organization since he was drafted 40th overall by the Oilers in 2009.
With 16 goals and 16 assists in 20 games for the Bakersfield Condors, Lander posts better percentages than any other Oilers prospect. In fact, at 1.60 points per game, he leads the AHL. Yet, despite his success on the farm, Lander hasn't been able to effectively translate his AHL to production to the Oilers.
What Lander Offers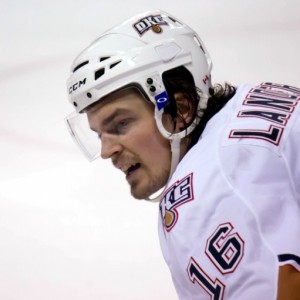 There are elements of Lander's game that surprisingly haven't gotten him a longer look as part of the Oilers official roster. His faceoff percentages are always strong (above 56% this season), he's smart defensively and he's able to play special teams such as the penalty kill on a regular basis. He's a leader, now a veteran who can help others and he has shown the ability to score at the NHL level. The trouble is his lack of consistent offense.
In 22 games with the Edmonton this season, Lander has only one goal and three assists. Last season, in 61 games, he netted only a single goal. It's simply not the kind of NHL production that will keep him regularly employed and it explains the up and down nature of his career to date. That doesn't mean Lander doesn't have value.
The Trade Deadline
As the NHL trade deadline approaches, there are teams that are looking to sell. The Arizona Coyotes and Colorado Avalanche are among the two obvious options. Dallas, Carolina and Detroit are not far behind. What this means for Edmonton is there may be an opportunity where Lander is concerned.
As teams move contracts for prospects or rentals for long-term projects, the term "NHL ready player" is often thrown around. It's a term that basically means, the selling team doesn't want to give their asset(s) away for nothing, so what comes back in return must be a player that has the ability to take an immediate spot on an NHL roster and fill a need. Lander describes that player to a tee.
Any team that acquires Lander has an NHL-ready player who, if he struggles even in the slightest, isn't going to hurt your franchise and has a reputation for going down to your farm club, scoring at a phenomenal rate and making your other prospects better. He won't likely replace the NHL production that is being moved in the transaction, but he does have other qualities that make him a nice "get" from a manager's perspective.
Keeping Him in the AHL
The trick for the Oilers is whether or not to showcase Lander for a possible trade. Unlike some showcases, where the NHL is the place you want your player to be seen, Edmonton may be best suited to keep Lander right where he is — in the AHL. He looks like he could do anything in that league and while the AHL isn't the NHL, a player who leads the league in scoring production and offers the kind of numbers Lander does at that level will always have value. At the very least, he'll convince a couple general managers into giving him an opportunity in a new environment, where he'll potentially flourish.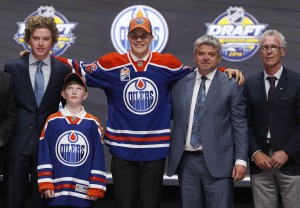 In the meantime, a productive Lander in the AHL is also making players like Jesse Puljujarvi better. For the Oilers, Puljujarvi is a player they are investing a lot in. His confidence needs to soar before being recalled and Lander is having a profound effect on his Finnish playing partner.
Finally, the Oilers are also doing well when it comes to their standings in the NHL. Interrupting the chemistry of the team to showcase Lander, who at the end of the day, may not get traded, doesn't make a lot of sense.
What is Lander Worth?
Alone, Lander probably won't fetch much on the trade market. However, as part of a package, he could be that extra piece that gets you a Patrick Eaves from Dallas or Brian Boyle from Tampa without having to part with a higher future draft selection.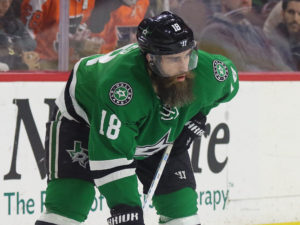 Teams like Dallas and Tampa Bay understand that by moving players that are scoring for them now, they are writing off the season. They understand the need to build for the future. Still, these managers don't like the idea of simply giving away an asset. It's a whole lot easier of a pill to swallow if you can justify trading a 20-goal scorer for a third round draft pick and the most productive scorer in the AHL.
For the Oilers, Peter Chiarelli has gone on record saying he won't be a big player in the trade market. He's unwilling to mortgage the future while he doesn't believe the Oilers are a Stanley Cup contending team. Lander has proven he's not the future. Moving him allows Chiarelli to stick to his words, but potentially improve the roster.