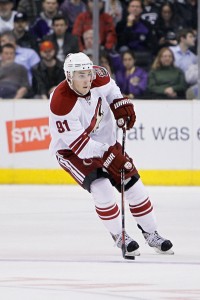 Kyle Turris is about to be given the opportunity of his career and he has only himself to thank for it. The 24-year old centre has had his fair share of adversity in the NHL but after landing in Ottawa in 2011, he has risen to every challenge thrown his way. Kyle Turris' journey to becoming a first-line centre speaks wonders about the kind of player and person he is.
Troubles in Phoenix
Ever since he was drafted in 2007 by none other than Wayne Gretzky himself, Kyle Turris has been a lightning rod for drama. His early years in Phoenix were anything but pleasant as the young man from Westminster, B.C., was plucked from the University of Wisconsin only to be poorly managed and unjustly treated.
Nothing ever really clicked for Turris in the desert. He was brought up way too early from college hockey, never sent back down and somewhere along the line, there was a setback in his development.
Rightfully so, the former 3rd overall pick didn't agree with the part he was given to play. Turris was averaging under 13 minutes of icetime in his first full season (2008-09) and finished the year a minus-15. On a defensively-based team, he wasn't given the proper opportunities to let his offensive abilities shine.
 "We clearly differed on his game. We thought he would be better suited lower down in the lineup, and he didn't think so." – Don Maloney, Coyotes' GM. ESPN. Published: Dec. 7, 2011.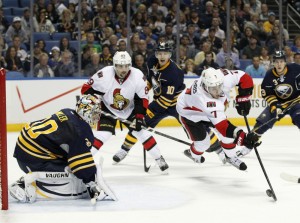 Playing 3rd/4th line minutes and being a healthy scratch numerous nights wasn't cutting it for Turris and butting heads with head coach Dave Tippett was just making the situation worse. At the start of the 2011-12 season, Turris requested to be traded and after a long delay, Maloney finally agreed to send him elsewhere.
From the Desert to the Cold
On December 17th, 2011, Maloney finalized a deal with Bryan Murray that sent Turris to Ottawa for David Rundblad and a 2nd round pick. At the time, Rundblad and Turris were both having troubles with their respective teams, so Maloney and Murray found it fair to swap the two problematic prospects and give them both a fresh start.
After many months of back and forth with Turris and management, the dust had finally settled and everyone could speak their mind.
"It just was not right for us, and I didn't believe (Turris) beliefs about his status here was that deep. We had a timeframe, and Kyle had a time and this did not add up." – Don Maloney. ESPN. Published: Dec. 17, 2011.
Maloney was relieved to have gotten rid of Turris, but seemed even more pleased with the possibility of Rundblad becoming a star in Phoenix.
"David is a work in progress and we think he will be an exceptional talent. He's like a quarterback on the power play, and he's a talented, offensive-minded defenseman. He has all the tools to succeed as an elite player in this league." – Don Maloney. TSN. Published: Dec. 17, 2011.
In 3 seasons with the Coyotes, Rundblad played 26 games and had 5 (0,5) points.
Success in the Capital
After the trade, Turris flourished alongside Daniel Alfredsson, setting new career highs in goals, assists and points in just 49 games. That year, he also made a name for himself during the playoffs when he scored the overtime winner against the New York Rangers in the first round.
https://www.youtube.com/watch?v=mv_RN7pd2uo
The next year, in the shortened 2012-13 season, Turris equaled his previous offensive totals in just 48 games. Turris lead the team in goals and points, and was one of the biggest reasons why Ottawa barely made the playoffs. With Erik Karlsson, Milan Michalek and Jason Spezza injured for most of the season, Ottawa was looking for someone to step up and produce, and Turris did just that. He continued to be a key player in the playoffs. Turris had 9 (6,3) points in 10 games during Ottawa's playoff run and even added his second playoff overtime winner.
Last season, Turris had a breakout year. He had instant chemistry with his linemates, Clarke MacArthur and Bobby Ryan, and it carried on throughout the season. Turris had career highs in all offensive categories and lead the Senators with 26 goals, just shy of a 30-goal season. Head coach Paul MacLean even had Turris, MacArthur and Ryan as his number one line for some of the season. For a significant period of time, Turris outplayed fellow centre, Jason Spezza and was rewarded for it.
Kyle Turris hasn't just become an offensive talent in Ottawa, he's also become a leader and a reliable player. In his 4 seasons with the Coyotes, Turris was a minus-22, but in just 3 seasons with the Senators, he's managed to be a plus-40. What's even more impressive is that on a team that had a minus-29 goal differential last year, Turris lead the team with a plus-22 rating. Good enough for top 30 in the league. He also spent some time wearing an "A" last season, showing that he truly does have leadership abilities this coaching staff recognizes.
The Opportunity of a Career
Going into the 2014-15 season, player roles have changed on the Ottawa Senators. They are without former captain and number one centre, Jason Spezza as he is enjoying his new opportunity with the Dallas Stars. A first-line spot is basically guaranteed for Turris, and maybe a letter on his chest next season isn't too farfetched. It's perfect timing for the 24-year old as he is just settling into the prime of his career. He's been a great replacement when other guys have been out of the lineup, but his time to lead is now.
"I definitely think I've learned a lot over the past two years from those experiences, from being put into that role when Spezz was hurt, and seeing how hard the matchup is. I just tried to take that mentality and put it into the role I had this past year." -Kyle Turris. Ottawa Sun. Published: Jul. 11, 2014.
Some worry about Turris not being the strong and sturdy player Spezza was, but with what Turris lacks in stature, he makes up for in durability. Spezza missed a total of 52 games over the past 3 years with numerous back injuries, while Turris hasn't been out of the lineup for a single game in his career as an Ottawa Senator.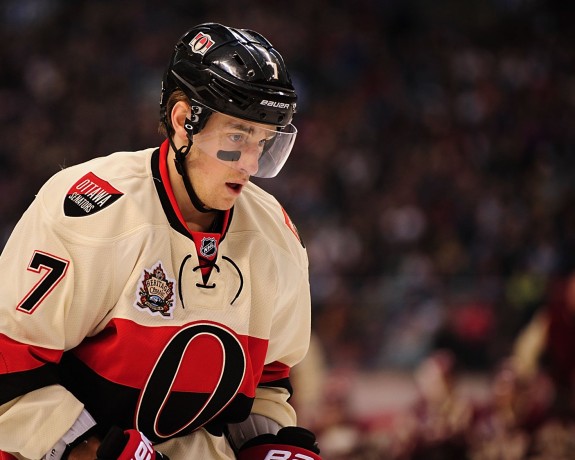 Put simply, Kyle Turris is becoming the full package. He can produce offensively while being reliable on defense, demonstrate great leadership, and do it all for 82 games.
For the first time in his career, Kyle Turris is going to start the NHL season as a bonafide first-line centre. Maybe he gets an "A" on his chest, but the big thing for Turris is that he will be the go-to-guy on the Senators' roster. The player who was once told he would be "better suited lower down in the lineup," will now lead an entire team by example.
You're not in Phoenix anymore, Kyle.