News Flash: the Los Angeles Kings had an abysmal preseason.
The team's lackluster showing over the past month came to a miserable end on Saturday night, with a 3-0 defeat at the hands of interstate rivals, the Anaheim Ducks. The loss capped off a preseason to forget, that netted an uninspiring 1-6-1 record. This futile showing is a surprise given their solid roster on paper. With prolific veteran winger Ilya Kovalchuk and blazing forward Jaret Anderson-Dolan brought into the fold in order to address the lack of speed, the Kings' preseason has fans unsettled with the regular season commencing on Friday night.
To further rub salt in the wound, star forward Dustin Brown is out indefinitely after sustaining a finger injury in the loss to the Ducks. Don't you just love preseason sports? One thing is certain — head coach John Stevens will need to pivot in a hurry in order to find a suitable replacement for Brown.
Brown's Injury Hurts
The injury took place late in the second period with the Kings on the power play. Brown was in his natural habitat in front of the net, eagerly preparing to deflect or tap home a juicy rebound from an Anze Kopitar point shot. Instead, Kopitar's one-timer veered off its target toward Brown's unassuming glove.
The 33-year-old winger was immediately pulled from the game and has since been diagnosed with a broken finger. Although the estimated time of recovery is 'indefinite', we are likely looking at four-to-six weeks – i.e. late November.
Brown's injury is both highly unfortunate and unusual. He enjoyed a renaissance last season by tallying a career-high 61 points while providing the grit and leadership that have made him a Kings icon.  He has also been an iron man of sorts; missing only a handful of games over the past decade due to illness or injury. Tough shoes to fill, indeed.
Candidates to Fill Brown's Void
With Jonny Brodzinski (shoulder) and Gabriel Vilardi (back) also on the mend to start the season, the Kings are left with a pair of youthful options to fill in for Brown during his recovery.
Alex Iafallo
The most practical winger to slot into Brown's spot is Alex Iafallo. The speedy sophomore showed promise in his rookie season, which included extended periods of time alongside Kopitar. Although his style of play is more predicated on pace and agility than Brown's craftiness and tenacity, he could help maintain the rapid tempo the team is seeking during five-on-five play.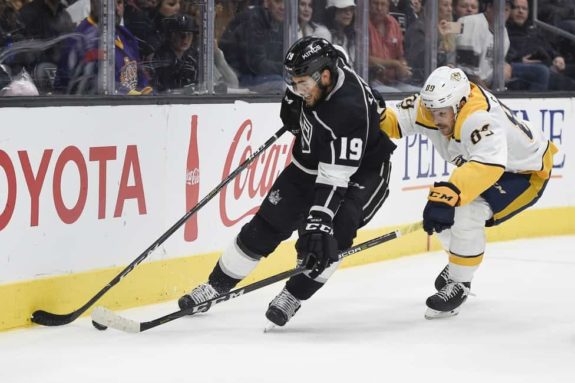 Stevens has praised Iafallo for the level of confidence he has shown throughout the preseason, as well as his dedication to becoming stronger over the summer months. As a result, Iafallo is expected to see much more action on special teams than the 41 minutes he logged last season. These factors can only bode well for the youngster's chances to get a look on the team's top line alongside Kopitar and Kovalchuk.
Austin Wagner
Who thought that Austin Wagner would crack the Kings' opening-night roster? *crickets chirping* Well, the 2015 fourth-round pick has been turning heads over the past few months with his blazing speed and offensive ability. The Ducks felt his wrath earlier in the preseason:
Oh my speed, Austin Wagner 👀@LAKings | #GoKingsGo pic.twitter.com/ntlIg6mkmo

— FOX Sports West (@FoxSportsWest) September 27, 2018
Here is what Elite Prospects had to say about the 21-year-old in advance of the draft:
A strong transitional forward that is consistent in his efforts and always looking for a way to be active in the play. He is a speedy skater whose naturally fluid skating patterns are quite remarkable. Possesses a creative streak, which he can and will use in the offensive end. Timing on shots and passes will need some work, but decision making is very good. All-in-all, a hard-working two-way player who, as he rounds out his offensive game, continues to become a more and more complete player.
Wagner's scoring touch is no fluke, as the flying redhead averaged 26 goals a season during in his final three years with the Regina Pats of the WHL. His hard-working nature and willingness to be defensively responsible mirror Brown's game more so than Iafallo's. We shall see whether or not that will be enough to crack the team's skilled top line.
Admitted sportaholic. Passionate writer. Good dude.