Following an arbitration hearing on Wednesday, the Calgary Flames and forward Lance Bouma have agreed to terms on a three-year contract with an AAV of $2.2 million.
The deal has an actual cash value of $2.1 million in the first year, $2.2 in the second, and $2.3 in the third, according to Tim Wharnsby.
The 6-foot-1, 210 pound forward had a big year last season, which is a big part of him getting paid this summer. He put in 16 goals and 18 assists through 78 games last season. That's a career-high in goals, assists, and point and a big step up from the five goals and 15 points he put in the year before through the same number of games.
In fact, that's more goals than Bouma scored during any single season in the AHL or in juniors. Last season's point total is also more than Bouma has ever hit in the AHL.
The #Flames have signed Lance Bouma to a multi-year deal ~ http://t.co/NbpNo0yfis pic.twitter.com/QngfEbFfs7

— Calgary Flames (@NHLFlames) July 23, 2015
It's a nice payday, considering what he's done previously in his career and the kind of gritty game he plays.
What changed? Well, one big red flag is his 16% shooting percentage at even strength and a 15.4% all situation shooting percentage. He's a career 10% shooter, inclusive of last season. The highest he'd had at the NHL level before last season was 6.1%.
Before paying him $2.2 for three years it may have been worth taking the arbitration for a single year to see what you really have in Bouma. It's rare that a player has an offensive explosion at age 24 driven by a high shooting percentage that that indicates a player reaching a new level when there hasn't really been signs of gowth toward that previously.
Part of the Flames jumping for a three-year deal is likely buying into his unrestricted free agency, but digging into his underlying numbers should have driven the team toward more caution.
His possession numbers don't indicate there was more to the season with a -3.1% score-adjusted CF%Rel last season, plus a -3.2% the season before. He ranked 13th among Calgary forwards in shot attempts for per 60 minutes of even strength play. His shot attempts against per 60 minutes of even strength play was the third worst mark among team forwards. He's getting paid almost exclusively on those points and not on his actual play from last season.
In addition, he scored most of his goals while paired with the team's top players (Mikael Backlund and David Jones, predominantly). You get a good sense of how he was outshot all year and had success largely when playing with the team's more productive forwards in the following WOWY (with or without you) chart and spider graph from Micah Blake McCurdy's HockeyViz.com.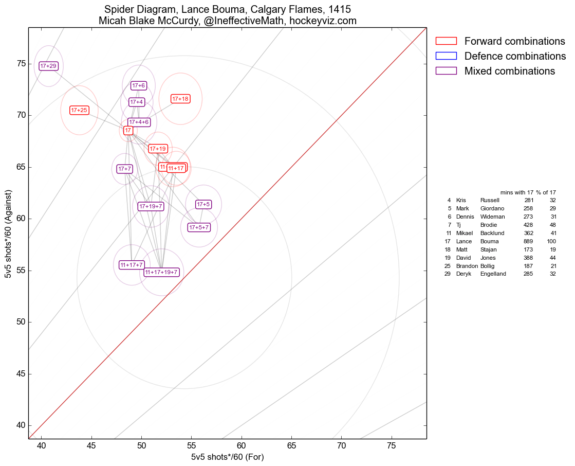 His HERO Chart also drives home the risk/reward of the contract. He produced solid offense last year, not just overall, but at a good rate. The concern is that the goal statistics and the overall production were driven largely by his high shooting percentage, which combined with a solid on-ice save percentage to give him a 103.0 PDO. In his favor? He was doing this with tough zone starts, coming in with a -14.2% ZSO%Rel.
It's not easy to say that a player isn't what he appeared to be over the course of a season, but with Bouma there are strong indications that the 16-goal pace he was playing it is not the player he will be for the duration of this contract.