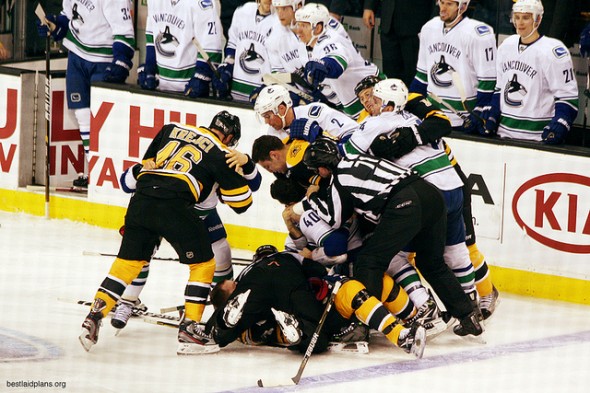 Prior to the latest developments in the 2012 NHL CBA discussions, the Boston Bruins appeared set. With no major contributors from '11-'12 unsigned and a solid lineup re-established,  they looked towards the '12-'13 season as an opportunity to make a run at another Stanley Cup.
However, recent developments in the 2012 NHL CBA discussions have some concerned in the Hub.
The latest NHL CBA proposal would reduce next season's salary cap to $58 million. Without any 'rollback' in current salaries (which the players are not keen on), the Bruins would remain over five million dollars to cut just to meet the new ceiling.
The Bruins own the League's highest current cap number, a robust $68.8 million – a number that includes Marc Savard's LTIR-bound $4.07 million and Tim Thomas' absentee $5 million hit.
Savard's number won't count against the B's '12-'13 totals, but Thomas' will thanks to the NHL's 35+ contract rule. As a result, any effort by the Bruins to slide down to next season's potential cap starts with the 2011 Conn Smythe winner.
Whether by trade or buyout, Thomas' exit would be all but assured in this scenario.
Unfortunately, dumping the entirety of Thomas' $5 million wouldn't completely alleviate the Bruins issues, even with a bare-bones twelve-man roster. The B's would have to trim even more fat.
But from where? Boston lacks the defensive depth to move any of their veterans from the blueline. In net, Rask is absolutely out of the question and Anton Khudobin doesn't make significantly more than any of the challengers for the B's backup role.
That leaves the Bruins forward corps. Seguin and Bergeron remain completely untouchable – perhaps joined by Milan Lucic and Brad Marchand.
That leaves the Bruins' one-way-contract bottom-sixers, David Krejci and Nathan Horton as potential candidates. In what would be anything but an ideal scenario, a key contributor from their 2011 championship would have to pack his bags.
Worse still, the B's would be unable to command anything close to a premium for these players. Up against the cap wall with a new season looming, Boston's options appear less than ideal.
Buyout/Trade Greg Campbell (less so, Dan Paille) and call-up a young center to pivot line three (with Chris Kelly moving down to line-four).
Trade Nathan Horton for pennies on the dollar.
Trade one of Kelly or Peverley at a relatively discounted rate for short-term relief.
Trade 2011 playoff-scoring leader, David Krejci.
With 'fair value' likely beyond reach in these hypothetical negotiations, the best option would be the path of minimal damage – dropping Campbell/Paille to make-up the difference and hoping Garnet Exelby and Aaron Johnson live up to the challenge as Boston's #6-D.
Proposed Salary Caps: all projected and fixed: 2012/13 – $58M 2013/14 -$60M. 2014/15-$62M. 2015/16-$64.2M. 2016/17 – $67.6M 2017/18 – $71.1M

— Darren Dreger (@DarrenDreger) August 29, 2012
However, even this is merely a Band-Aid solution: Under the NHL's latest proposal, Dredger projects the 2013-14 Salary Cap at $60 million. After cutting/dealing Soupy, the Bruins would be left with just under $20 million to spend on their 2013 free agent class; a class that includes Seguin, Lucic, Marchand, Horton, Rask, Khudobin and Andy Ference.
That's not good news: The Bruins, forced into a corner, may deal one of their more valuable commodities.
The Bruins' future could rest on the NHLPA's compliance with the League's proposal. Even a small salary rollback would save the B's considerable grief in the event Dreger's numbers prove correct.
Certainly, the League and the players could come to a different arrangement – but unless it comes with explicit provisions for resolving the plight of the 'over-salaried' franchises, an unpleasant fall looms in Boston.