*in no particular order, focusing on players making more than four million
With the imminent lock-out looming, let's have a look at the most overpaid players in the National Hockey League (NHL) that could be victim of an amnesty buy-out should the new collective bargaining agreement (CBA) contain such a clause. The following players don't contribute as much as their team and the general manger who signed them would like, and more often than not the organization is tuck with their horrendous contracts. Please note that I have not included any player whose contract is buried in the AHL such as Wade Redden or Rotislav Olesz. Players are listed by team alphabetical order and by cap hit.
Ville Leino, Buffalo Sabres– $4,500,000 cap hit Signed to a six-year deal as a free agent by the Sabres last summer, Leino has been a major disappointment in Buffalo in his first campaign with the team. With only 8 goals and 17 assists for 25 points in 71 games, Leino is still considered the worst free-agent signing of 2011 following a 53-point campaign with the Philadelphia Flyers in 2010-11.
Christian Ehrhoff, Buffalo Sabres – $4,000,000 cap hit While his cap hit is not so bad at $4M/year, the length of Ehrhoff's contract is, as he is signed through 2021. In 66 games last year, the German defenseman only recorded 5 goals and 27 assists for 32 points with the Sabres. Ehrhoff will earn a mere $8 million in 2012-13 thanks to his front-loaded contract.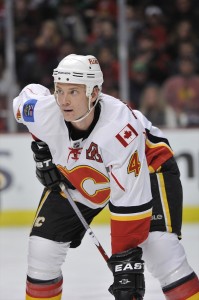 Jay Bouwmeester, Calgary – $6,680,000 cap hit Acquired from Florida by the Flames before the 2009-10 season, Bouwmeester's offense has always been overrated, having never broke the 50-point barrier in a single season. Entering the last year of his five-year contract, Bouwmeester notched only 5 goals and 24 assists for 29 points in 82 games. He is the NHL's current iron man with 588 consecutive games played. The Flames are currently shopping him for offensive help, but obviously they found no takers so far.
Mike Cammalleri, Calgary Flames – $6,000,000 cap hit Acquired from Montreal by Calgary in exchange for Rene Bourque during the 2011-12 season, Cammy has been a major disappointment, save of the playoffs, since he left the Flames after the 2008-09 campaign. Over three years in Montreal, he never recorded more than 50 points and played more than 67 games. In 66 games with the Habs and the Flames last year, he only scored 20 goals and added 21 assists for 41 points.
Joni Pitkanen, Carolina Hurricanes – $4,500,000 cap hit Acquired in a trade from Edmonton by Carolina a few years ago, Pitkanen is clearly on the decline following an injury-ravaged season during which he scored 5 goals and 12 assists for 17 points in only 30 games. The Finnish rearguard has been slowed down by injuries his whole career and with the emergence of Jamie McBain and Justin Faulk, look for Pitkanen's offensive role to diminish even more.
Paul Stastny, Colorado Avalanche – $6,600,000 cap hit After a solid 2009-10 season when he scored 20 goals and added 59 assists for 79 points in 81 games, Stastny followed with two disappointing seasons of 57 and 53 points in 74 and 79 games, respectively. The Quebec-City native looks lost on the ice, and with the emergence of dynamic youngsters like Matt Duchene and Gabriel Landeskog, Stastny is no more than a second-line player for the Avs.
Shawn Horcoff, Edmonton Oilers – $5,500,000 cap hit Once a productive offensive player (he recorded 73 points in 2005-06), Horcoff has slid down the Oilers' depth chart with the emergence of the team's talented youngsters such as Taylor Hall, Ryan Nugent-Hopkins and Jordan Eberle. As a result, Horcoff only recorded 34 points (13 g and 21 a) in 81 games for the young Oilers in 2011-12, and there is no reason to think his production will improve with RNH and Sam Gagner in front of him at center.
Ales Hemsky, Edmonton Oilers – $5,000,000 cap hit One of the most enigmatic NHL players, Hemsky is a very talented, yet inconsistent, winger. The flashy European has also missed 108 games over the past three seasons, playing 69 games last year and recording a disappointing production of 10 goals and 26 assists for 36 points. With Nail Yakupov and Jordan Eberle in front of him on the right wing, Hemsky's 70-point seasons are well past him.
Ed Jovanovski, Florida Panthers – $4,125,000 cap hit Signed as a free agent to a four-year contract by Florida last summer, Jovocop is more like a mall guard these days. With only 13 points in 66 games last season, Jovanovski has seen his offensive output decline steadily since his 51-point campaign in 2007-08. The oft-injured rearguard also finished 2010-11 with only 14 points in 50 games with the Phoenix Coyotes.
Dany Heatley, Minnesota Wild – $7,500,000 cap hit Since his productive campaign of 82 points (39 g and 43 a) in 82 games with the San Jose Sharks, Heatley's offensive production has waned considerably with the Wild. Last year, Heater reached an all-time low since the lock-out, recording only 24 goals and 29 assists for 53 points in 82 games with Minnesota. The team certainly hopes the signatures of unrestricted free agents Zach Parise and Ryan Suter will invigorate Heatley.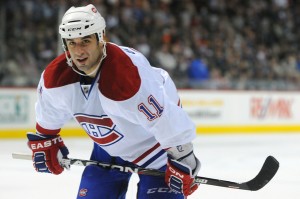 Scott Gomez, Montreal Canadiens – $7,357,143 cap hit Acquired prior to the 2009-10 season by Montreal, Gomez had an average campaign three years ago, recording 59 points in 78 games. However, since then, his play has been declining fast. In 2010-11, he only managed seven goals and 38 points in 80 games, while he only notched 2 goals and 9 assists for 11 points in 38 games last year. Gomez even managed to go a full calendar year without scoring a goal in the NHL!
Rick Dipietro, New York Islanders – $4,500,000 cap hit Re-signed to a 15-year contract prior to the 2006-07 season, Dipietro's career has been marred with injuries. Last season, the same thing happened to Dipietro as he only dressed for eight games, posting a mediocre 3.73 GAA and a pathetic .876 save % before going with a groin injury. That same injury might end his career and Islanders fans secretly hope he will never the don their uniform again.
Lubomir Visnovsky, New York Islanders – $5,600,000 cap hit After his best offensive season in the NHL, during which he scored a league-leading 68 points among defensemen, Visnovsky was a big disappointment last year in Anaheim. The talented rearguard had only 6 goals and 21 assists for 27 points in 68 games before the Ducks decided to trade in the off-season to the Islanders. The organization really hopes he will rebound from his miserable campaign as the Isles are really thin on the blue line at the moment.
Paul Martin, Pittsburgh Penguins – $5,000,000 cap hit Signed as a free agent in the summer of 2010, Martin was brought for his steady and calm presence on the blue line. After a so-so campaign in 2010-11 during which Martin managed 24 points in 77 games, the 31 year-old blue liner had a tough season in 2011-12 despite the Penguins' success. In 73 games, Martin recorded only 2 goals and 25 assists for 27 points in 73 contests. He was particularly bad in the Penguins' first round exit against the Flyers.
Martin Havlat, San Jose Sharks – $5,000,000 cap hit Acquired in the summer of 2011 off-season from the Wild for forward Dany Heatley, Havlat has had trouble adapting to his new team after a 62-point campaign in Minnesota in 2010-11. Havlat only managed to participate in 39 games for the Sharks due to injuries, recording 7 goals and 20 assists for 27 points. If Havlat manages to finally stay healthy, he could provide much-needed secondary scoring for the puzzling Sharks.
Vincent Lecavalier, Tampa Bay Lightning – $7,727,273 cap hit Lecavalier was signed to a 11-year contract extension by Tampa Bay before the 2009-10 season. Lecavalier rewarded the Lightning with a paltry 70-point campaign in 2009-10 and an even less impressive season of 54 points in 2010-11. Last season, Lecavalier was inconsistent and injured, scoring only 22 goals and adding 27 assists for 49 points in 64 games, which is not enough for the captain of the franchise.
Tim Connolly, Toronto Maple Leafs $4,750,000 cap hit Connolly did what was expected of him last season for the Maple Leafs – get injured. After a strong start with his new team (12 points in 12 games), Connolly's production plummeted and he finished the campaign with only 24 points in his last 58 games, missing 12 games due to injuries. The last time Connolly played a full season is ten years ago when he played 80 games for the Buffalo Sabres in 2002-03.
Mike Komisarek, Toronto $4,500,000 cap hit After flourishing as a bruising defenseman alongside Andrei Markov, Komisarek joined the Maple Leafs as a free agent in 2009. Last year, Komisarek had only one goal and four assists for five points in 45 games. Often a healthy scratch with the Leafs, Komisarek also broke his arm, injury that sidelined him for almost eight weeks. And oh, Komi managed to post a brutal -13 plus/minus differential along the way.
Keith Ballard, Vancouver $4,250,000 cap hit Currently in fourth year of a six-year deal, Ballard has been far from impressive since his acquisition from the Panthers. Ballard was often made a healthy scratch during the Canucks cup run two springs ago and last year, Ballard only recorded a mere seven points in 47 games during a season filled with injuries. Let's hope for Canucks fans that the signature of another ex-Panther, Jason Garrison, doesn't turn out into another bad contract!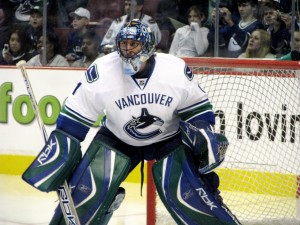 Roberto Luongo, Vancouver $5,333,333 cap hit Luongo's play has been slowly fading in recent years, and his inconsistency in the last two playoffs has planted a seed of doubt in the mind of Canucks fans. With nine more years to go to his twelve-year contract and the emergence of über-talented netminder Cory Schneider, Luongo is not the clear #1 goaltender any more in Vancouver. Bobby Loo had good numbers in 2011-12: 31 wins and 14 losses with a 2.41 GAA to go along with a .919 save percentage in 54 starts. However, Schneider posted even better numbers, going 20-8 with an incredible 1.96 GAA and a spectacular .937 save percentage. Any takers for Luongo and his bloated contract?
If you think I missed an overpaid NHLer, please let me know in the comments section.
Follow me on Twitter for more updates on the NHL and hockey in general.