According to TSN Insider Pierre LeBrun, the Edmonton Oilers have made an internal decision to be sellers at the 2016 Trade Deadline. The Oilers currently sit 28th overall in the NHL just ahead of the Buffalo Sabres and Toronto Maple Leafs. General Manager Peter Chiarelli has had his work cut out for him and for all the moves he's made to bolster the Oilers roster from the previous regime's mishaps, injuries have ravaged the team and their inconsistency has carried over.
The Oilers are a punchline in the league and known as the team that can't lose a draft lottery if their lives depended on it. In Edmonton, the fanbase's frustration is mounting. It's entirely reasonable that the Oilers once again end up with the 1st overall pick in the NHL draft. Never before has a team in NHL history had five 1st overall picks in the draft, let alone in the span of seven years. It would be great to add another 1st overall pick but embarrassing nonetheless that this team just can't turn this thing around.
Related: Insider Trading: Are The Oilers Ready To Sell?
Related: Report: Oilers are sellers heading into trade deadline
Chiarelli has several trade chips at his disposal and it'll be interesting to see how he maneuvers these pieces leading up to the February 29th deadline. Justin Schultz, Teddy Purcell, Jordan Eberle and Ryan Nugent-Hopkins have all been rumoured to be available but Chiarelli has kept his cards close to the vest.
Justin Schultz (D)   |   Age: 25   |   Contract: $3.9M RFA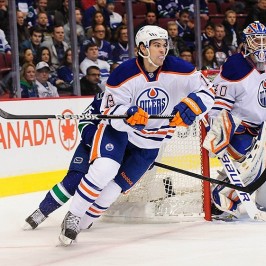 Schultz was recently scratched by the Oilers in what head coach Todd McLellan stated was a wake-up call to the 25-year-old defenseman. Schultz has struggled this season offensively, defensively and with a back injury. It's been a rough year and the Oilers may finally be out of patience with the defenseman. A few short years ago the entire league was chasing after Schultz after he decided to turn UFA instead of signing with the Anaheim Ducks who drafted him. Fast forward four seasons and Schultz is struggling to stay in the Oilers top four and has played protected minutes.
Renaud Lavoie of TVA Sports initiated the recent rumour spark on Twitter suggesting the healthy scratch against the New Jersey Devils was trade related. Frank Seravalli of TSN is reporting that with the NY Islanders and GM Garth Snow not rushing to move Travis Hamonic that Schultz is apart of the next echelon of available defensemen on the market. The big piece after Hamonic was Byfuglien (re-signed with Winnipeg) and Dennis Wideman (suspended indefinitely). Schultz has bumped into TSN's annual trade bait list and is an RFA at the end of the season. A major stumbling block is his $3.9M qualifying offer this summer. As Elliotte Friedman of Sportsnet stated "If the Edmonton Oilers don't feel he's worth $3.9M, why would anyone else in the league?"
My Opinion: Schultz has struggled this season and his limitations in Edmonton have been well documented. If the Oilers are able to move him at the deadline it won't be for a substantial return, either another young player struggling in their current situation or a  combination of a prospect and late round pick. Hold a grain a salt with all these "rumours" circulating around Schultz because it's entirely possible this ends with the Oilers not extending a qualifying offer this summer and Schultz becoming a UFA because of his negative value.
---
Teddy Purcell   |   Age: 30   |   Contract: $4.5M UFA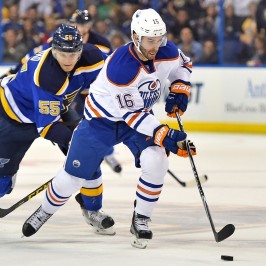 Things are quieter on the Purcell front. Friedman recently appeared on Oilers Now radio with Bob Stauffer and discussed how, all things considered, Purcell has been a good fit in Edmonton playing up and down the lineup with either Connor McDavid, Taylor Hall, Leon Draisaitl and Jordan Eberle. That said the rebuttal from Stauffer was that if he would re-sign it would have to be for less than the $4.5M he's making on his current deal.
David Staples (Edmonton Journal) recently suggested that if the Oilers were to move Purcell and wanted to maximize their return they should eat some of the salary to increase the return. This would give the team a chance to see Purcell perform during a playoff run and decide his worth. Staples has also recently suggested the likely return for Purcell is a 3rd round pick.
Eklund (Hockeybuzz) believes that the Chicago Blackhawks are interested in bolstering their forward depth and looking at making a swap with Edmonton for Purcell.
My Opinion: Purcell has looked good recently with the Oilers and this could go either way with him re-signing or being traded. I'm leaning more towards him being moved, similar to Staples' suggestion of a draft pick that gets the Oilers something in the Top 90 of this year's draft. Another argument is that Chiarelli and Oilers management might be able to exploit the "McDavid" card and use that to lure a more consistent top six scoring winger in hopes that the rub of getting a chance to play with McDavid is too intriguing to pass up. That said, the market is thin.
---
Jordan Eberle   |   Age: 25   |   Contract: $6.0M / 4 Years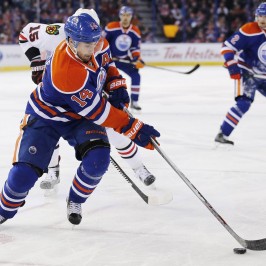 Eberle's name was thrown around plenty this season and recently he's been labeled the Oilers' best tradeable asset to land the team a top pairing defenseman. As much as this may be true Eberle has developed some incredible chemistry with McDavid and looks to be a lock, at least in the short-term, as his linemate. Benoit Pouliot is a great complimentary piece and this might be one of the Oilers' top two lines going forward.
Edmonton reporter Jason Gregor asked TSN Analyst Craig Button about Eberle and Button stated: "Tavares is an exceptional thinker, and he needs someone who thinks the game the same. Eberle has that ability." That would mean Eberle is still being linked to the Travis Hamonic exchange with the NY Islanders. Elliotte Friedman also suggested the Oilers are looking at Sami Vatanen (Anaheim Ducks) as an alternative.
My Opinion: With a healthy Eberle playing alongside McDavid the Oilers may have found themselves two very talented pairings up front with the other being Taylor Hall and Leon Draisaitl. Yes, Eberle might be the Oilers' best hope of landing a top pairing defenseman, but he's also been one of Edmonton's most consistent producers the last several seasons. It's entirely possible next to McDavid that Eberle's game hits the next gear and he becomes a perennial 30 goal scorer. If Eberle continues to play lights out next to McDavid, the Oilers hands are tied in trying to trade him, it wouldn't make sense to try and patch a glaring hole on defense to create a glaring hole next to your franchise player.
---
Quick Hits
Brandon Davidson (D) – Davidson has fit in nicely in the Oilers third-pairing and Oilers Now radio host Bob Stauffer recently suggested that the Oilers should look to re-sign the 24-year-old defenseman this summer to a deal in the $1.5M ballpark. Davidson has 7 points in 39 games this season averaging 18:34 TOI.
Mark Fayne (D) – David Staples (Edmonton Journal) believes it's going to be very difficult for the Oilers to move Fayne who has really fallen out of favour in Edmonton. Fayne, 28, comes with a $3.6M cap hit for another two seasons after this one. Fayne has played 43 games averaging 16:38 TOI, the least minutes among defenders playing more than 30 games this season.
Andrew Ference (D) – Jim Matheson (Edmonton Journal) that if the former captain is deemed healthy by the off-season buyout period the Oilers may have a legitimate buyout candidate. Ference is owed $3.2M in the final year of his deal and Edmonton could buy him out for two-thirds over two years ($1.05M per)
Eric Gryba (D) – Staples also believes the Oilers might be inclined to shop another third-pairing defender. Gryba, 27, is a UFA this summer coming off a deal that paid him $1.2M.
Anders Nilsson (G) – This has yet to be reported anywhere but it is likely the end of Nilsson's time in Edmonton. The 25-year-old goaltender has struggled through much of this season after a hot string where he stole the net from Cam Talbot. Through 26 games, he holds a 3.14 GAA and a 0.901 SV%. Nilsson was demoted to the AHL and in his place the Oilers have brought up their heir apparent in Laurent Brossoit. There is a good chance Nilsson is allowed to hit the UFA market this summer as Edmonton gives Brossoit the backup reins.
Ryan Nugent-Hopkins (C) – There was a huge rumour going around that RNH was being offered to the Nashville Predators in exchange for defenseman Seth Jones. Predators GM David Poile elected to take Ryan Johansen from the Columbus Blue Jackets instead, if the rumour was even true in the first place. That said Darren Dreger (TSN) suggested the Oilers might be open to moving one of their three centers to make a run at a top pairing defender. Still RNH is injured and out until early March and that would keep him on IR past the trade deadline. If RNH is indeed being shopped, this is a move that may likely not take place until the 2016 NHL Draft in Buffalo.