LEAFS DAILY:
The Leafs lost last night 4-3 to the Coyotes, and while Mike Babcock wasn't happy with the game, I felt that a strong third period and solid games by Rielly, Kadri and Van Riemsdyk were actually reasons to be very positive about the performance.
That being said, Coyotes centre Martin Hanzal left after the first period with an injury and with Antoine Vermette already out, the Coyotes had a centre-ice position that was weaker than most AHL teams for much of the game, and so the Leafs probably should have been dominating well before the third period.
https://twitter.com/James_Tanner123/status/658820602203996160
Best Part of the Game
There was actually quite a few things to like about this game.  First, Kadri had a bit of luck and potted two assists, while the announcers couldn't seem to stop talking about how good he was playing and how he was the Leafs' best player.  Nice to see, considering it was just a few days ago that I wrote about how he deserves more recognition for his excellent play so far this year. And there is no doubt he was the best player: 22:00, 3 shots, 70% CF rating.  Honestly, just a fantastic game.
Second, the Leafs should have won this game, and even though they didn't, I think they should be happy that the players who will be here when the rebuild is over (Kadri and Rielly; maybe JVR) all played great. Second, the team was missing Jake Gardiner, who has arguably been their best player all season and they played a strong game without him, considering that even with him they still have a below-average group of defensemen.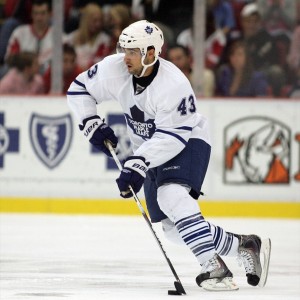 The Leafs dominated the possession game (44 Corsi events to 30) and out-chanced the Coyotes 24-10. Sure, Babcock might have been mad after the game, but really, all the guys who'll be here when the dust settles played well, the team should have won, and they made a spirited comeback down 4-1. Honestly, I think he would have actually been happy if he wasn't cautious about overplaying the moral victory card.
To be clear, the Leafs scored three ES goals last night for the second game in a row, and if you score three goals at 5v5 in the NHL, you will almost always win. This team is honestly doing way better than I could have thought they would at the start of the year. If they keep it up, the victories will follow.
Worst Part of the Game
No doubt about what I'm going to say here: Goaltending. It was – again – horrible. James Reimer and Jon Bernier are turning into one of the worst duos in the league. This is – off the top of my head – the third or fourth game where even average goaltending would have gotten the Leafs two points.
A very disappointing game by Reimer who should have had at least two of the four Coyotes goals.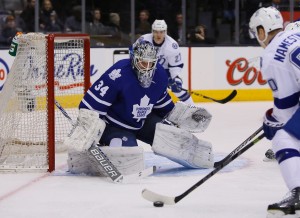 Also, it is strange that after the game, Babcock would single out Froese as a guy who had a strong game, since he was the only Leafs centre with bad possession numbers on the night, playing about 12 minutes at 5v5 and being out-shot attempted 12-5. Lupul and Froese were the two worst players last night, to my mind, so I was pretty shocked to hear Babcock say differently in his post-game presser.
Tyler Bozak:
Bozak might be available Friday in New York. Gardiner might need a little more time but both were on the ice this morning. #TMLtalk

— Paul Hendrick (@HennyTweets) October 26, 2015
Tyler Bozak is close to returning, but the Leafs do not need him. Kadri is their #1 centre, and Holland (despite being  a healthy scratch recently) is a positive possession player who hasn't played poorly at all. Arcobello, Winnik, someone from the Marlies…..the options the Leafs have at centre are not great, but they do have several players who can fill in for Bozak without the Leafs really missing a beat.
And, if Bozak does slightly make the Leafs better, we should keep in mind that winning isn't exactly the goal this year.  The Leafs have been rumored to have him on the block for some time, and there doesn't seem to be anyway they keep him through the rebuild. Over at Hockeybuzz, Eklund has reported that St.Louis and the Leafs have been discussing a possible trade.
That does make a degree of sense after the Blues suffered the loss of Paul Stastny and Jaden Schwartz to injuries recently. With so many team struggling early – Anaheim, Calgary, Columbus come to mind – and players going down with injuries seemingly every night, the time may be right for the Leafs to finally make another move to continue their rebuild.
Next Up:
The Leafs will face a challenge this Friday when they head to New York to take on the Rangers. They will then host Phil Kessel and the Penguins at home Saturday.
Thanks for reading.
Covering the Leafs for the Hockey Writers.