LEAFS DAILY:
The Leafs lost both games this weekend. last night was 4-0 to the Penguins and Friday 3-1 to the Rangers. The team has a single win so far this season, and whle the results are frustrating, they don't really matter. This season isn't about winning games, it's about Mike Babcock teaching his system, it's about managing assets ,growing prospects  and finding out who should stay as part of the rebuild.
That being said, it's still not very much fun to watch a team go 1-9 to start the year. At least, however, unlike the Ducks or Blue Jackets, the Leafs didn't have any expectations to start the season. I feel for those guys though, because we had expectations last year and it sucks not to meet them.
Anyways, not like we thought the Leafs were really ever going to the Playoffs this year, but this weekend's losses all but eliminated them from contention. The Maple Leafs would have to go something like 45- 22 – 5  to get to the 99 points it took the Senators to get the final Wild Card spot last season. Sorry to say it, but this team isn't going 23 games over .500 any time soon.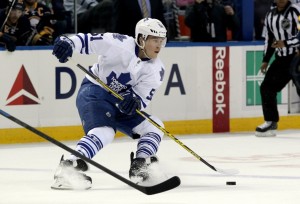 Kessel's Return
Phil Kessel was back last night and was not a factor in the game at all, registering a single shot. The only effect he has was that there was some sort of controversy over the fact that the Leafs didn't honour him prior to the game.
The Maple Leafs will not be providing further comment today on management and game ops decision to not acknowledge Phil Kessel's return.

— David Alter (@dalter) October 31, 2015
Why would they? Sure, he was a great player on an individual basis, but his run with the Leafs cost us Tyler Seguin, was marked by total failure from a team perspective, and it's not like he set any records or did anything too spectacular when you consider all his offense came at the cost of brutal defense. (Arguably not his fault, but still).
Why should teams honour anyone who leaves and comes back unless that player was an all-time franchise favorite or led the team to victory? Perhaps I'm just not sentimental enough, but I think we waste far too much time honouring former players who don't really deserve it. The time the Leafs honored Tie Domi was  a completely ridiculous and they are right to ignore kessel's return.
Who Should Stay/ Who Should Go:
Eventually, the Leafs will start making trades and shipping players out of town in exchange for assets that will help the team in the future. While we wait impatiently for this to begin, I thought it would be interesting to go through the current roster and see who the Leafs should keep and who they should bail on.
Kadri: He is 25 and on a one year deal. He's been excellent for the Leafs this season and should be re-signed as soon as the CBA allows him to be.
Bozak: A remnant of the former core, the Leafs will move him as soon as another team is desperate enough to take his contract and offer something half-way decent.
Holland: Perhaps the Leafs expect him to be able to score on a team where no one else really does, but he was a healthy scratch lately despite being a strong possession player and posting a 56% CF rating through the first three and a half weeks of the season. I could go either way on Holland, but with a properly structured salary cap he could probably be an elite fourth line centre.
He only makes $750 K against the cap, and probably wouldn't cost much to re-sign. I think he has some real skill and could give you an edge against most fourth line centres in the NHL.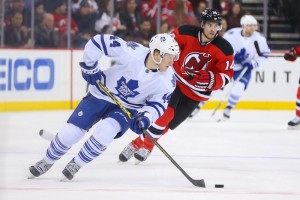 Arcobello: He's actually a useful NHL player and I think he could net the Leafs a mid-round pick later in the year, despite clearing waivers this week. A depth offensive player a team heading to the Playoffs could use as insurance.
Lupul: So offensively gifted, so bad at defense. His contract might be movable once the deadline approaches and opposing GMs can say "well, it's only two more years," but he isn't going to bring back much. I'd like to see him moved sooner than later so that his spot can go to someone who can use that ice-time to improve their value, because Lupul's value can't really go up – the injuries and contract make that impossible.
Van Riemsdyk: He has more trade value than anyone the team would consider trading and there is no reason to keep him, since by the time the team is ready to compete, he'll be older, somewhat declined and more expensive.  He currently has a cheap deal and the team who trades for him gets him for two more years after this one.  He is the one piece the club has to maximize in order to make this rebuild successful.
Komarov: He's been one of the better players so far this year and a pleasant surprise. I thought he was overpaid at about $3 million for the next two years after this one, but if he continues to perform like this, he'll buy himself a one-way ticket to a contender and net the Leafs a mid-round pick in the process.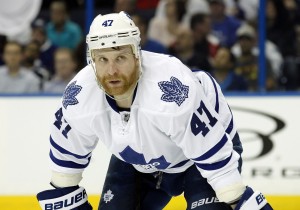 Matthias: A useful, versatile player – he's big, he plays centre, he has a bit of offense and he is currently a positive possession player. The Leafs will easily find a home for him later and turn a UFA into a draft pick. Good move, but he isn't a Leaf long-term.
Grabner: The Leafs picked up an expiring contract in exchange for the Islanders taking back several contracts and putting the Leafs well below the 50 contract maximum. That means that Grabner has already paid for himself and that anything he contributes or brings back in return is a huge bonus.  He will not be re-signed.
Winnik: Every team needs players like Winnik. The Leafs could flip him for an asset or they could keep him because you can't trade everyone and it can't hurt to have him around a young team. I like Winnik, but it's likely a Playoff team would want him – he's the gift that keeps on giving.
Spaling: A throw-in on the Kessel trade, he isn't long for the Leafs and anything he brings back is a bonus. His expiring contract is the best thing about him.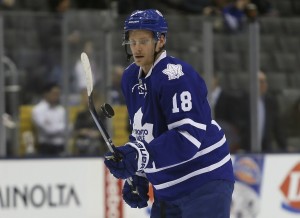 Parenteau: An even possession player who'll score occasionally and help the team keep the puck because of his speed. Someone will want him for Playoff insurance and the Leafs will oblige.
Clune: It's been one game, but I think it's safe to say that Clune isn't part of the Leafs long-term plans.  Great guy, great story, hope he sticks in the NHL.
Froese: I don't see him being part of the team's long-term plans.
Panik: Exhibit A in the case against Mike Babcock's infallibility. He's a point-per-game so far in the AHL and the  Leafs are a better team if he's on it right now.  If he isn't part of the team's future plans, they should try giving him some decent linemates and ice-time in the NHL and see how he does. I think he'd surprise. He's only 24, I could see him staying.
Phaneuf: I am a fan, but he will go, eventually.
Hunwick: At $1.2 million for next year, he is a steal and will definitely be turned into a draft pick or used as part of a trade. Why wouldn't all 16 Playoffs teams be interested in adding depth on the blueline at a dirt cheap price?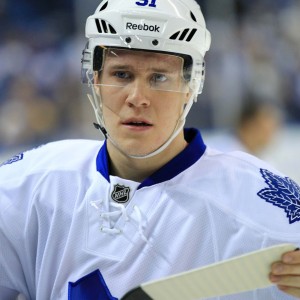 Marincin: Enough talent, and young and cheap enough to keep around and see what he is. Could develop into an absolute steal. Probably worth re-signing.
Rielly: Quite obviously staying. Should be signed to an eight-year deal as soon as possible.
Gardiner: At just a tick over a $4 million cap-hit, he has one of the best contracts in hockey and is the Leafs best all-round player at the moment, though likely soon passed by Rielly. I'd consider giving him a slight raise and tacking on a few more years to his contract. He's a player you build around.
Polak: The Leafs got a 5th rounder for Holzer, so Polak will bring back something. But he isn't staying.
Robidas: He likely won't play another game for the Leafs and has no trade value.
Harrington: Has the potential to be on the Leafs blueline for years. 54% Corsi on a last place team, as a rookie?  Yes Please.
Reimer: The likable Reimer should be the Leafs starter, but he isn't the goalie of the future. They don't have one – goalies like Price and Luongo (top picks who dominate the league, year after year) are super-rare and everyone else is a crap-shoot.
Bernier: He isn't as bad as he's looked, but the sad fact is the Leafs could have a winning record right now with just league average goaltending and he has been garbage all season. He could be traded. It's possible also that he's a franchise goalie. I'm not gonna try to forecast goalies.
Thanks for reading.
Covering the Leafs for the Hockey Writers.