If you are a fan of the Toronto Maple Leafs, the lockout shortened 2013 season will go down as somewhat of a roller coaster ride.
With few of the experts picking the Leafs to make the playoffs, Toronto shocked many by finishing fifth in the Eastern Conference standings (good enough for ninth overall) earning the Blue and White their first playoff birth in nearly a decade.
Toronto finished the 2011-12 with a record of 35-37-10, which was "good enough" for 26th overall in the standings. The lottery pick aside, the 2011-12 season was another disappointing season in a long line of futility from the Buds.
The Maple Leafs poor finish in 2011-12 could be attributed to a number of factors. An early season injury to netminder James Reimer was a huge factor, poor coaching also helped derail the Maple Leafs, as did their horrific penalty killing, which was amongst the league's worst.
Fast forward to the 2013 season and the view is much better for Leaf fans. Despite a few minor setbacks, goaltender James Reimer established himself as a true number one netminder, finishing the season with a 19-8-5 record. Reimer's numbers were solid across the board, registering a 2.88 goals against average (13th best), 0.924 save percentage (seventh best) and four shutouts (sixth best).
Reimer also held his own against Tuuka Rask and the Boston Bruins, finishing the playoffs with a solid 3-4 record, 0.923 save percentage and a 2.88 GAA. Reimer faced more rubber than any other goaltender in the first round, stopping 251 of 272 shots on goal.
With all that in mind, Reimer appears to be Toronto's goaltender of the future, which answers one of the Teams' biggest question marks heading into the 2013 season.
Like Reimer, there are a number of players with Toronto's forward corps that give the fans of the Blue and White a measure of hope for the future.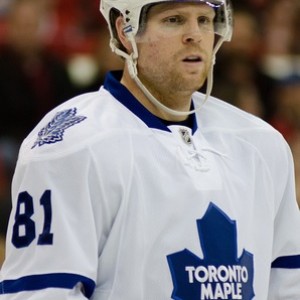 After a number of terrible efforts against the Bruins, Phil Kessel exercised his Boston demons in the playoffs, scoring four goals and adding three assists for seven points in seven games. Kessel also asserted himself as a much improved defensive player throughout the season and in the playoffs, finishing the regular season with a plus/minus-3 rating (he finished the 2011-12 season with a plus/minus-10 rating) and a plus/minus rating of plus+3 in the playoffs.
Despite all the crying about what former Maple Leaf general manager Brian Burke gave up for Kessel, his scoring prowess has proven beyond a doubt that he has a chance to be a perennial All Star and the talent to eventually evolve into a solid all-round player.
Boston fans can often be heard chirping Kessel when the Leafs visit town, especially on nights when Tyler Seguin scores a goal against Toronto. For the record, Kessel finished the 2013 season 20 points ahead of Tyler Seguin- who had one assist in seven playoff games against the Leafs. "Thank you, Boston!"
Another bright spot for the Maple Leafs up front continues to be Joffrey Lupul. While he does not wear the "C" on his chest, Lupul has quickly established himself as the Leafs leader on the ice and his offensive contributions are well documented.
If not for some injuries, Lupul could have finished the season in the top-20 in the NHL scoring race. Sadly, injuries are part of the game, so until Lupul gets them under control Leaf fans will have to accept him for what he is- an All-Star calibre player that is injury prone.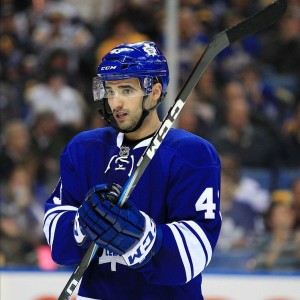 Perhaps the biggest surprise of the 2013 season was the play of youngster Nazem Kadri. After taking a ton of flack for showing up to training camp with questionable body fat levels, Kadri quickly established himself as one of the Toronto's most valuable players, registering 18 goals (18th overall), 26 assists (25th overall), 44 points (21st overall) and a solid plus/minus rating of plus+15(25th overall).
Kadri followed up his regular season dominance with a decent playoff effort, notching one goal, three assists and a plus+ 5 rating. Where many felt Kadri's best hockey would be played in another NHL uniform, it now appears that Kadri will play a huge role in any future success the Maple Leafs have.
After a quick start to the season, off-season acquisition James van Riemsdyk's play tailed off. His 18-goal, 44-point effort cannot be ignored. That said, Leaf fans are hoping he brings a more consistent effort to the table in 2013-14.
Of course, one of the biggest reasons for Toronto's success in 2013 was establishing their penalty kill as the Leagues sixth best, up from their abysmal 26th ranking PK in 2011-12.
A number of factors contributed to the Maple Leafs' success on the PK, including a better system, solid netminding and a better overall defensive effort. That said, no player contributed more to the Leafs' PK than unsung hero Jay McClement, who was solid both 5-on-5 and on the PK all season long.
On the back end, Mark Fraser (team-leading +18 rating) and Cody Franson (team-leading 29 points from a defenseman) were huge factors in the Buds success. Franson came from nowhere to establish himself as a candidate for team MVP, while Fraser finished with the League's 14th-best plus/minus rating.
Of course, captain Dion Phaneuf also had another solid season, finishing with nine goals, 28 points and fifth overall in time on ice, averaging 25:22 per game.
While there is plenty to be optimistic about in Toronto, there are some concerns. Defenseman John-Michael Liles appears to have played his last game in the Blue and White uniform of the Maple Leafs and will need to be replaced. After a decent run in the early goings of the season, rookie defenseman Mike Kostka's play fell off, leaving many fans wondering if he has what it takes to put in a consistent effort in an 82-game season.
Jake Gardiner appears to be ready to take on more ice time, and late season acquisition Ryan O'Byrne could pick up some slack. In the end, Maple Leafs general manager Dave Nonis will likely scour the free agent market in an attempt to bring in another veteran defender to help shore things up on the back end.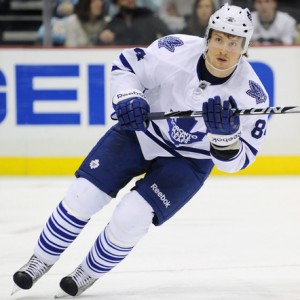 Up front the play of Mikhail Grabovski is of great concern. Grabbo saw little action in Toronto's top-six this season, which contributed to his 16-point effort. Still, when you are making the kind of money Grabbo is, a 16-point effort is unacceptable, as is his plus/minus-10 rating. Grabbo followed up his questionable 16-point effort with a horrific playoff, notching two assists and a plus/minus-10 rating in seven games. Grabbo was the only Leaf player to finish the playoffs with a double-digit plus/minus rating; in fact it was a league-worst, just behind linemate Nikolai Kulemin, who finished the playoffs with a minus-9 rating.
Going forward, a further reduction in Grabovski's icetime or a trade out of town would seem most likely, while Kulemin will be given another chance to succeed.
The Boston Bruins took advantage of the Maple Leafs in the faceoff circle, underlining an alarming need for the Buds, which is to find a player that can help them out in the dot. Tyler Bozak had a decent regular season in the circle, but his is not an elite faceoff man, and should never be cast as one.
Rumors will swirl that Roberto Luongo or another veteran goaltender could join the Leafs, but it appears as if Nonis will be content to stick with Reimer and backup Ben Scrivens. Both goaltenders were solid this season, and with teams looking to cut salary where they can both Reimer and Scrivens provide the Leafs with cheap/reliable options.
In terms of free agents, Nonis will have to make a decision on Clarke MacArthur, Tyler Bozak, Colton Orr, Ryan Hamilton, Mike Kostka and Ryan O'Byrne , who are all UFA's. Bozak should get some interest across the league, as should MacArthur and Orr, while Kostka and O'Byrne might become victims of the numbers game.
Nazem Kadri, Leo Komarov, Joe Colbourne, Frazer McLaren, Carl Gunnarsson, Cody Franson and Mark Fraser are all restricted free agents. Nonis will have his work cut out for him getting all of these players resigned, especially when you consider the tremendous seasons Kadri and Franson had.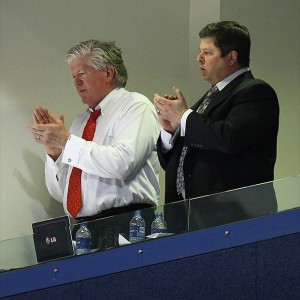 According to capgeek.com, Nonis will enter the off-season with 12 players under contract at a cost of $45,104,167 ($2 million of which will go to buyouts for Darcy Tucker and Colby Armstrong), which leaves him with $19,495,833 in cap space with which to re-sign his players and/or do a little free agent shopping to augment his already talented roster.
Some potential free agents Nonis may be interested include veteran left winger Brenden Morrow, and power forwards Nathan Horton and Ryan Clowe up front, while Mark Streit, Douglas Murray and Kostka may get consideration for backend duties.
While Toronto`s 5-4 overtime defeat to the Bruins will leave yet another scar on an already tortured fan base, there is hope that the future is promising for this young, energetic team. Nonis has proven to be patient in the past, let`s hope he gives the majority of his troops a chance at redemption next season.
Known as an honest, opinionated and trusted writer, Mark Ritter brings a unique view on the Maple Leafs and the NHL in general. Mark has been writing about hockey for almost ten years and is known for bringing an honest view on the Maple Leafs. You can view more of Mark's work at www.theslapshot.com
Please follow Mark on Twitter: @theslapshot