Last night, the Texas Stars lost game three of their AHL semifinals match-up with  the Oklahoma City Barons 4-0, as goalie Yann Danis put on another spectacular performance in net. Prior to the game, the Barons advertised that the first 2,000 fans in attendance would receive a free playoff T-shirt. My wife had joked that they probably ordered too many shirts.
She was right. Just 1,794 attended the game.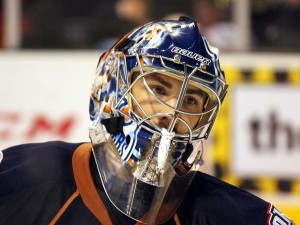 Granted, it was a Monday night. And sure, there were two game 7s in the NHL. And yes, the NBA's Oklahoma City Thunder were playing game 4 of their own playoff series.
Of course, that game was played in Nashville …
Barons writer Neal Livingston did his level best to put a fair spin on that lousy attendance, saying it was neither "great or good, but a success by AHL OKC postseason standards."
I have enormous respect for Livingston. He is the author of the most erudite and enjoyable playoff preview I have ever read. I don't know if OKC fans realize how fortunate they are to have such a skilled writer on their side. Since those fans by and large seemed not to realize how fortunate they were to have Jordan Eberle, Taylor Hall, and Ryan Nugent-Hopkins during the 2012 lockout, I suspect Livingston's value is lost on them as well.
At any rate, Neal is wrong. Even by the extraordinarily low standards of OKC, this was not a success. In fact it was the worst attendance in Barons playoff history.
It was also the smallest crowd the Texas Stars have ever played in front of, at home or on the road, regular season or playoffs, barely beating the previous low of 1,795, set by the fans in Rockford on 18 November 2009.
Barons Attendance Year By Year
At 1.3 million people, the metropolitan population of Oklahoma City ranks 43rd in the nation. Approximately one out of every three Oklahomans live here.
In three home playoff games this post-season, Oklahoma City has drawn a grand total of 5,827 paying customers, or 1,942 per game.
Here's where the team has ranked in attendance in the three years of their AHL existence:
2010-2011
Regular season: 22nd of 30
Playoffs: 16th of 16
2011-2012
Regular season: 26th of 30
Playoffs: 14th of 16
2012-2013
Regular season: 30th of 30
Playoffs: 16th of 16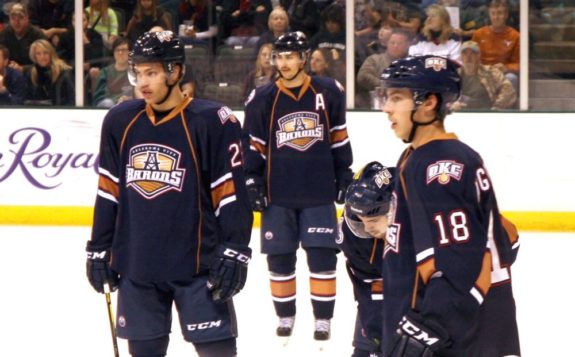 These abysmal figures do not point to incompetence on the part of the sales staff. Rather, they've gone above and beyond to try and lure Oklahomans to the Cox Convention Center. At Saturday night games this past season, the Barons gave away twelve new cars. They adopted "Winning Weekdays", in which, if the Barons won at home on a weekday, all fans in attendance would receive a free ticket to the next weekday game.
Like other teams, the Barons do "Chuck-a-Puck" where you buy foam pucks and between periods throw them onto the ice. The puck closest to a designated target wins. In Texas, the winner generally gets an autographed jersey, and the proceeds go to charity. In OKC, cash prizes as high as $5,000 are up for grabs.
Still, the locals are staying away in droves. The Barons' promotional slogan says a lot about what they believe they're up against: "THINK OUTSIDE THE BALL." As in football, basketball, handball, anything except a puck.
Falling Short
Back in March of 2010, before the Barons played a single game, AHL President and CEO David Andrews said that:
Barons fans can look forward to seeing intense competition, strong rivalries and the best young players in the world as they prepare for careers in the NHL.
In July of 2010, Oilers Director of Special Projects Barrie Stafford told Jen Sharpe of edmontonoilers.com:
I can tell you that right from the very first time I went to Oklahoma City, I could feel that there is a buzz in the air relating to hockey. There's a lot of excitement in the building, in the centre downtown, and they're very aware that the team is coming, that the AHL is coming. It's very encouraging to see.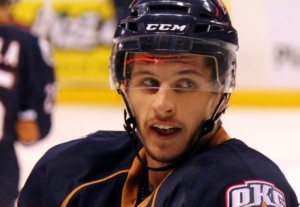 At the Barons' inaugural home game on 9 October 2010, this buzz was in the house, as 9,818 fans showed up to see home team take on the Houston Aeros. Sadly, the Aeros shellacked OKC 6-2. Alas, the following night, the buzz had become a hangover, as just 2,817 showed up to see the Chicago Wolves win 2-1.
It's been downhill ever since.
The Barons have established themselves as a tough, physical team with good coaching, great goaltending, and a winning tradition. The few fans they have are great hockey fans. They even have a player, Brendan Davidson, who was diagnosed with, and treated for, testicular cancer– this past season.
But I find the fact that the Oklahoma City community has failed thus far to show the team any support to be especially upsetting because the players and the organization deserve better, and because nine hours south, in Houston, there is an enormous, broken-hearted fan base who would kill to have an AHL team.
Maybe it's for the best that the Barons draw so poorly. This way, when the franchise is uprooted in a few years for no good reason, there will be fewer shattered fans left behind to grieve the loss.
Ross Bonander is a freelance health writer and book editor. He is the editor of 13 quotation collections– six of them hockey-related, including his most recent, Modern Hockey Quotations. His homepage is RossBonander.com.