Catch your breath, the Stanley Cup playoffs continue.  Before jumping back into the fray though, let's take a look at some of the more notable happenings around the playoffs in the NHL.
What we saw was a first round that produced three series' that went the distance, two number two seeds go down and one sweep.  Of the four Canadian squads to enter the tournament, only the Ottawa Senators remain.  Additionally, there are still four "Original Six" clubs left: New York Rangers, Boston Bruins, Chicago Blackhawks, Detroit Red Wings.  After trailing two games to none, the defending champion Los Angeles Kings rebounded to win four straight and exile the St. Louis Blues.  Plus we got one hell of a donnybrook between the Sens and Montreal Canadiens.
The B's David Krejci led all scorers with 13 points and tied for tops in goals with Pascal Dupuis and Patrick Sharp, tallying five apiece.  Nick Bonino, Slava Voynov, Patrick Marleau, Alex Steen, Kyle Turris, Krejci, Brooks Orpik, Raffi Torres, Henrik Zetterberg, Jason Zucker, Gustav Nyquist, Mike Ribeiro, Chris Kunitz, Damien Brunner, Mike Green, Bryan Bickell and finally Patrice Bergeron, all had game winners in overtime.  In net, Henrik Lundqvist paced all netminders in posting two shutouts, becoming the first Rangers keeper since Mike Richter against the New York Islanders in the 1994 Stanley Cup Quarterfinals, to post consecutive shutouts in a series, as Lundqvist blanked the Washington Capitals in games Six and Seven of the first round.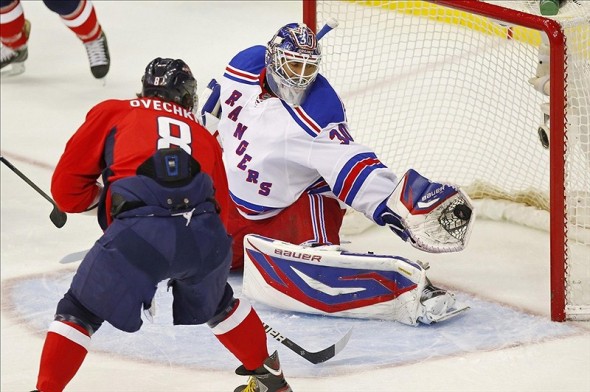 Not registering a goal in the first round, as high profile players are concerned: Max Pacioretty, Mikko Koivu, Chris Stewart, Derek Roy, Brenden Morrow, Tyler Seguin, Brandon Saad, Patrick Kane, Mike Richards, Jaromir Jagr, Daniel Sedin, Henrik Sedin, Corey Perry, David Perron, Jonathan Toews, Rick Nash and Alexander Ovechkin.
Montreal led the way with 185 penalty minutes.  Conversely, San Jose was the least penalized team, with 26 penalty minutes.  Pittsburgh boasted a league best 33.3% power play, while Minnesota ranked last at 0.0%.  On the penalty kill, not surprisingly Chicago was first, at 100%, on the flip side the Islanders were last, at 66.7%.
Along with those happenings, there were a whole lot of other observations and questions that I have, looking back and going forward.
Does anyone doubt that the Blackhawks are the best defensive team going forward?  Chicago held Minnesota off the board on the power play and Corey Crawford led all goalies with a goals against average of 1.32.  That all happened with zero goals from Toews and Kane. On the other side of the coin, I love the kid but I wonder if Zach Parise is stewing about not being able to go deep in the playoffs again?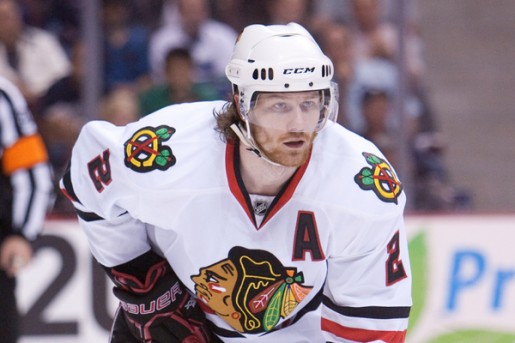 During the Anaheim and Detroit series, was it so much of a coaching difference with Mike Babcock over Bruce Boudreau or just a product of Zetterberg and Pavel Datsyuk taking over?
Are there any two teams that are steamrolling better than the Sharks and Kings?  Joe Pavelski and Jonathan Quick are such a joy to watch and the California series should be classic.  Although I do wonder how the Kings react to actually having home ice advantage for a change.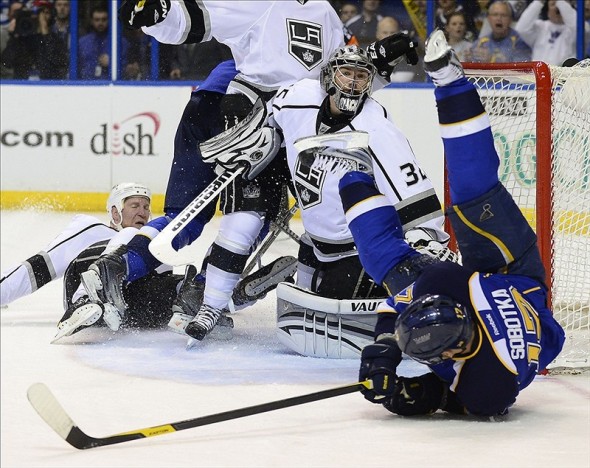 Three of the top five playoff scorers are Penguins, Evgeni Malkin, Sidney Crosby and Jarome Iginla.  Add to that the five goals of Dupuis and other players like Chris Kunitz, James Neal and Brandon Sutter and I don't have to tell you the Pens are stacked.  Yet, does the turning point switch to Tomas Vokoun in net, solidify this team enough to just take off and run with it?  Looking at the club the knocked off, in the Islanders, one can question how far they've climbed back and if they'll be back for good in the future but I'm a big Kyle Okposo fan after watching that series.
The Sens may be the most resilient club left in these playoffs and they learned how to finish in round one.
As bad as I feel for the Toronto fans and writers who had to crumple up their stories of the heroics of Cody Franson and Phil Kessel, I'm equally happy that Tuukka Rask didn't have to go out like that again, as the B's had previously done in recent years against Philadelphia and Washington.  Each club really fought proudly in this series.  The Maple Leafs rallying from down three games to one and forcing a Game Seven.  The Bruins scraping and fighting near the end of Game Six and ultimately doing the same again in Game Seven, coming back from a 4-1 deficit, before Patrice Bergeron tied it and won it in OT, for a 5-4 B's victory.
Raise your hand if you had Derick Brassard as the leading playoff scorer for the Rangers.  Not to obfuscate from the lack of scoring by the big guns but the real good sign for New York could be that they've finally gotten back to that gritty, shot-blocking style of play, along with Mr. Lundqvist in net, that made them so successful last year.
Looking at the next round, there's a lot to like.  You have two "Original Six" match-ups.  It could be the last time for some time that we see the Hawks and Wings go at it with high stakes.  Another reason I implore you to savor that is the fact that the Bruins and Rangers will be facing off in the postseason for the first time in 40 years.  Plus there's the intrastate battle between the Kings and Sharks.  Finally, you also have the high octane Pens and resilient Sens.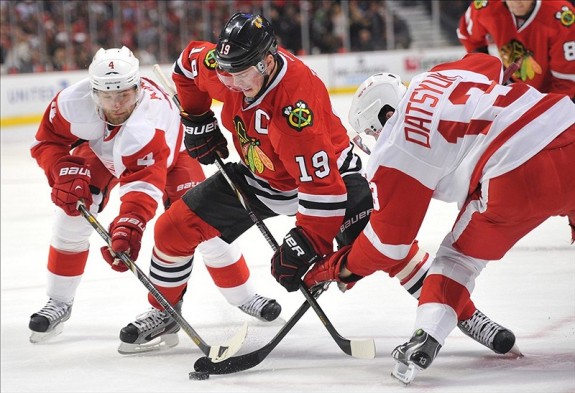 I'm not one for predictions but I'm all for more great playoff hockey.  On to round two.
Michael Gwizdala covers the New York Islanders for The Hockey Writers. Michael is also an Associate Producer at WNYT NewsChannel 13. Additionally, Michael was once a Media Relations intern for the AHL Albany River Rats. Michael is a graduate of The College of Saint Rose in Albany, NY.